'Only Murders In The Building' Season 2 Episodes 1 & 2 Spoiler Recap/Review
---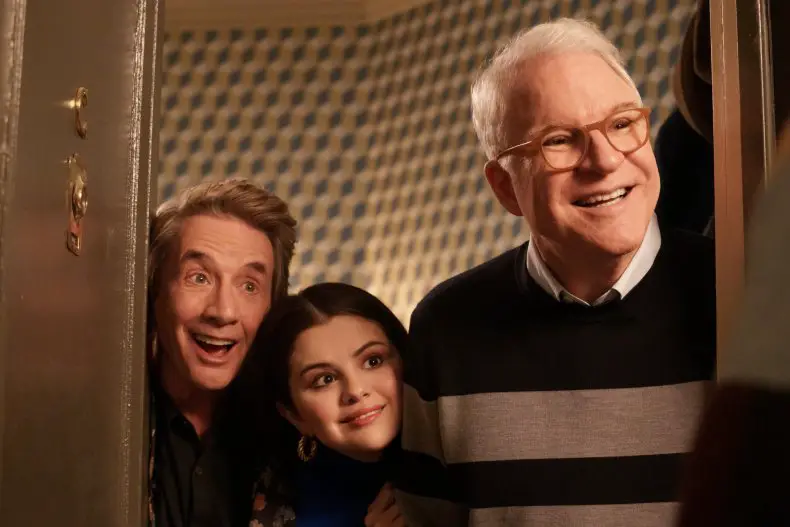 The Following Recap/Review Contains Spoilers for Episodes 1 & 2 of 'Only Murders In The Building'.
Hulu's hapless, albeit charismatic and determined murder mystery-solving trio is back as season two of Only Murders in the Building returns. Following the cliffhanger of Jayne Houdyshell's Bunny's brutal murder inside Mabel's (Selena Gomez) apartment, the latter is winds up in a police station with her cohorts Oliver (Martin Short) and Charles (Steve Martin). Picking the action up directly from where it left off allows fans to get immediate follow-up from what was a shocking conclusion to season one. Thankfully, the series does not shy away from the quirky, sassy, and at times clueless attributes of the cast's main characters. Mabel is unflinching in the face of uncertainty. Meanwhile, Oliver and Charles are simply trying to keep it together amidst a false bravado and understanding of the situation. Either way, the mystery remains: who killed Bunny?
The first two episodes of Only Murders in the Building offer very little information in terms of a foregone conclusion. In fact, while many viewers might assume the three main characters are absolved of any wrongdoing, the joint-season premiere actually sews the seeds of perhaps Charles or maybe Mabel being the killer. However, while Gomez, Short, and Martin continue to shine in their shared scenes due to some incredible chemistry and comedic timing, it is the show's new cast of compelling characters arriving on the scene that brings a new level of intrigue.

Among the new characters is a mysterious and elegant artist Alice, portrayed by Cara Delevingne. Her role serves as a catalyst for Mabel's newly heightened passion for her artwork. Elsewhere, Amy Schumer joins the series as a fictionalized version of herself, much like Sting in the first season. Amy wants to turn the Only Murders true-crime podcast into a limited series and begins courting Oliver for the rights. Charles also receives a big opportunity when his old sitcom Brazzos is receiving the reboot treatment. All three have their eyes set on new goals. However, they also all stand as persons of interest in the murder of Bunny and work to clear their names. When focusing on this singular task, the trio of problem-solving, well-meaning go-getters appears as a unified front.
The team makes their way into Bunny's apartment and discovers a secret elevator. However, when hiding in the closet from fell Arconia tenants also trespassing in Bunny's old abode, they overhear the biggest clue of all. Bunny was in possession of a million-dollar painting. Upon drawing the conclusion that whoever murdered Bunny must have the painting, its sudden appearance in Charles' apartment raises some valid concerns.
Does Charles have something to do with it? The story gets an extra layer of mystique when, in the second episode, it's revealed that the naked man in the painting is Charles' father who was having an affair with Bunny's mom (Shirley MacLaine). The deep dive into Charles, his upbringing, and his family life is not something viewers are familiar with. It allows viewers the chance to understand Steve Martin's character a bit more. It also might make him the top suspect, which even he acknowledges when putting together his trusty board of suspects.

On the other hand, it appears Mabel may not be. After discovering that the murder weapon is a knife and not her knitting needle, Mabel is seemingly in the clear of any wrongdoing. The first two episodes do an excellent job of separating the team and allowing them to find their own paths and motivations for solving the crime. The season two dual-premiere also packs in the funny.
Martin Short's Oliver is in rare form with the long, neverending stories. Moreover, Selena Gomez's Mabel delivers deadpan energy expertly. Similar to his utilization in season one, Steve Martin's Charles seems to share qualities with the murder victim. When comparing him to season one victim Tim Kono, his loneliness and isolation are on full display. With Bunny being the dead one in season town, Charles' own father sleeping with her mom may have caused a disruption in her life, leaving the bulk of the hotel's work in her hands.
With a new mystery to solve, new players involved, and one of the best casts in television today, season two of Only Murders in the Building is back and better than ever. The meta-humor lands and the characters are able to feel fully realized. A far cry from a ragtag group of folks who would never spend this much time together in real life. The series continues to push the whodunnit genre forward in a new, funny, and creative way. There's a lot of loose thread that needs to be tied by the season's end but the journey seems like it will be just as much, if not more fun than its predecessor. – Christian Hubbard
Rating – 10/10
Only Murders in the Building premieres Tuesdays on Hulu. 
—–
Did you enjoy this article? If so, consider visiting our YouTube channel, where we discuss the latest and greatest in pop culture news.
---
Trending Now