'Animal Kingdom' Season 6, Episodes 1 and 2 Spoiler Recap/Review
---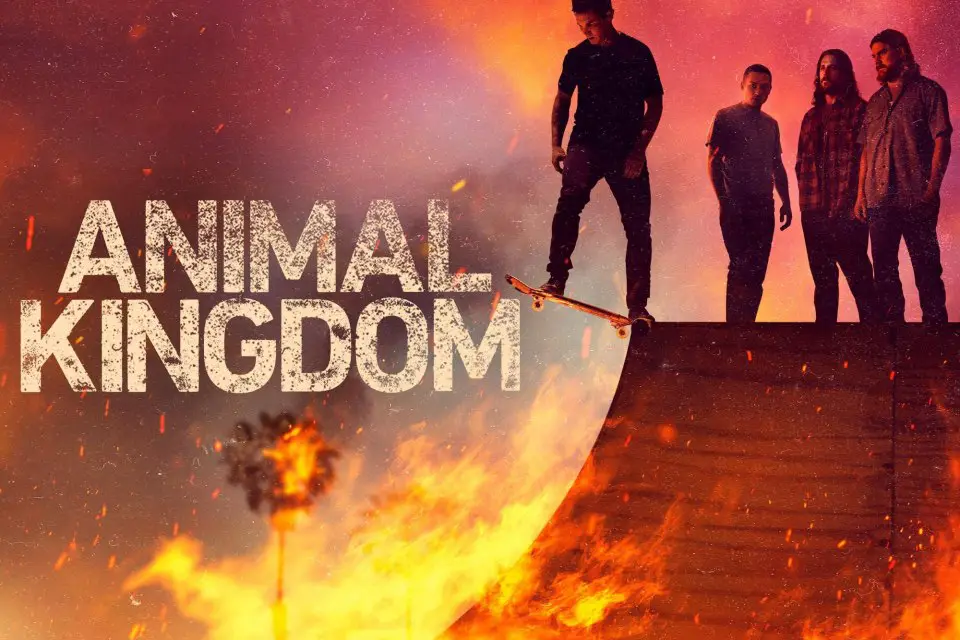 WARNING: This review contains spoilers for Animal Kingdom
Animal Kingdom has blossomed and expanded into a Sunday night phenomenon. Each season has ended in shock and despair. Catherine's death, Baz's Death, Smurf's death, and Pope pulling out Pete's eye are all examples. This show has thrived on several things from the plot to the dialogue, to the character development, it just encompasses everything you'd want in a show. It's also ending at the correct time. This is the series finale season, so let us take one last ride with the Cody family.
This season starts off in 1992 with Baz (Darren Mann), Andrew (Kevin Csolak), and Julia (Jasper Polish) stealing computers from their school. Now, we didn't see what lead to Baz joining the Cody family, but in this episode, we find out he's been with them for six years. When the group pulls the job, Andrew and Julia end up getting caught. Andrew beats a janitor with his skateboard and Baz leaves them there. Janine's (Leila George) first appearance was at the police station meeting, Andrew. We also see a young Deran and Craig as well.
The flashbacks show us a young Gia (Kristi Lauren) meeting with Smurf and how their deal came to be. Smurf and Gia swapped clothes for the computers Baz stole. Smurf thought stealing the computers was a bad idea at first, but came to appreciate them once she realized she could fence them. This establishes how long Smurf and Gia have been in business. This is why what happens in the present day isn't surprising at all.

J (Finn Cole) and Lark (Chelsea Tavares) are still hitting it off. She tells him he has to find a new lawyer though because of their situation. J is also starting to become money hungry. He means well, but he's trying to do anything he can in order for them to get money. Craig (Ben Robson) is opening a gym, J still has his bowling alley, and Deran (Jake Weary) still has the bar. J is trying to get Pope (Shawn Hatosy) to sell his lot or do something with it, which irritates Pope the entire episode. The boys are offered a job by Gia (Karena Loque), but they are hesitant since she basically betrayed them. After a family meeting, they decide to do the job. The Cody boys help Gia and rob the new fence in Oceanside. They also hurt Gia by blowing up her store. The boys "teach her a lesson" and let her know to never cross them again.
The parallels in the first episode are set up very easily. We see that Pope has kind of always been unstable. Also, it's pretty obvious that J is Baz and Julia's son. We see how intelligent they both are. The very odd jealousy that Smurf has of her, and how obsessed she is with Baz. She uses a vast range of manipulation tactics to keep them all in line. Julia is the only one that can see through her façade which I'm sure leads to her getting kicked out. The ending of the episode showing Julia and J in the same room with a wide range of parallels/ side by sides was simply amazing as well.
The second episode of the premiere focuses again on the parallels. How Julia was struggling to be heard, but her son now leads the pack. Jay is still trying to be the head of the family technically while getting pushback from Craig and Pope. They've just pulled a job, and are looking for more ways to launder the money. They also need a new lawyer among other things. They are still getting back into form post Smurf's death.

J is looking for a new lawyer and he finds one in Penny (Stevie Lynn Jones), whom he at first presumes is an assistant. We all know Joshua is a playboy and he uses these skills to try to lure Penny in. She's married and her husband is away on active military duty. J does what he can to make their relationship as comfortable as possible while getting what he needs and wants from it.
Pope, has J buy $18K worth of lumber. He finds somebody on his lot trying to steal and he gives him an ultimatum to either help him or get beat up. He helps Pope, and they eventually strike a deal. They end up building a skate ramp. We also see the flashbacks of what happened that made Pope stop skating. It was the thing that kept him from losing his mind. Julia pointing that out and how Smurf doesn't care about them leads him to burn his skateboard. He also almost catches her vehicle on fire.
Pope and Smurf meet with a lawyer, similar to what J is doing. They learn that she wants Pope to see a therapist and this makes both of them upset. Pope assaulted two public servants though, but after a hefty payday she gets Pope off. Smurf hovers this over him and uses it against him in a way, even as an adult. This is partially why Pope is all messed up right now.

Craig sees Nick, but his visits are monitored. He's also struggling to stay sober. After asking Deran to swap houses and getting denied he begins to spiral a bit. While working at his new gym, he meets a bike mechanic. The two men ride together and bond. Craig assumes the gentleman is a cop, The two men rob a diner together. He explains to Craig that he got to find something to feel the thrill alcohol and drugs gave him.
Deran is still running the bar of course, but in this episode, he's kind of doing unusual things. He's vouching for J, and not trying to take over like he had been in seasons 4 and 5. He's gotten soft on his nephew. He runs into a guy who used to run surfing competitions where Smurf would pay him to make sure Deran lost. He attacks the man as this episode was Deran getting revenge or serving it. A few influencers that aren't from Oceanside are keeping the neighborhood awake. After asking Deran to help, he finally goes to the house and lets the non-locals know who runs that city.
Nick Copus directs these first two episodes and it just feels like vintage season one of Animal Kingdom with a twist. These characters have developed and blossom in so many ways. The introduction to new characters as always was very interesting. Copus has a style that not many can copy. He seems to ease his cast members into their characters. There's a lot to like in these first episodes, but not much to hate. The parallels match up evenly, and the consistency is there.

Daniele Nathanson and Matt Kester give us good scripts for both episodes respectfully. The 90s flashbacks are amplified by the Nirvana music in the background. The needle drops are amazing. The scripts feed into the character development and while some traits remain the same, there definitely have been changes. That's what makes Animal Kingdom so entertaining. These characters aren't always predictable and often do the opposite of what we think. This writer's room has been great so far and these two episodes confirm that.
This is the last season, and it started with a bang. We definitely have a wild journey to the end ahead of us. I enjoyed these episodes as they embodied the first five seasons while encompassing a new path for each character. They've taken a group of men that have gone through hell and high water and developed them into smart savvy guys that just want to make it out. Crime family TV shows had taken a hit recently, but Animal Kingdom has helped elevate them. – Rascal F. Kennedy 
Rating – 10/10
Animal Kingdom premieres Sundays at 9 pm/8c on TNT
---
Trending Now