Orqwith Will Reportedly Be Featured In 'Doom Patrol' Season 4
---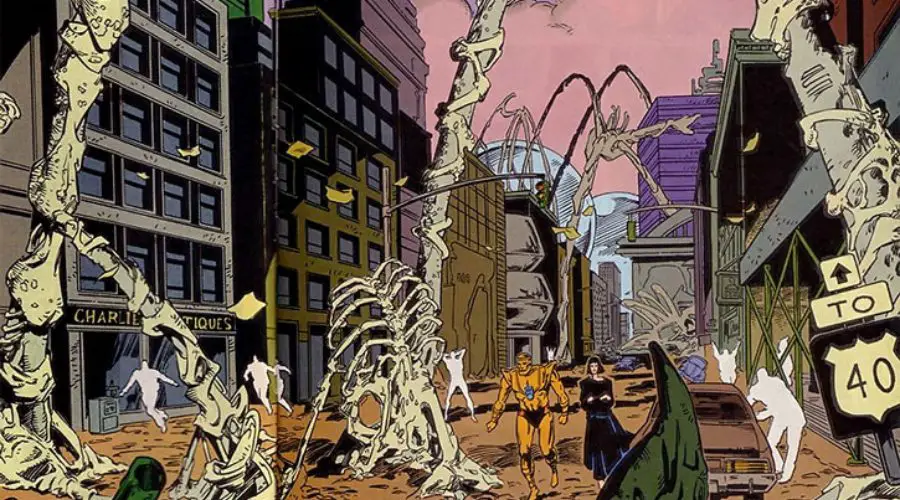 It looks like an obscure location in DC Comics will be making an appearance in the upcoming season of HBO Max's Doom Patrol. Based on new information from insider Lance Ausfresser of the Doom Patrol Facebook Group, the Doom Patrol will visit the imaginary world of Orqwith.
Created by Grant Morrison and Richard Case, Orqwith first appeared in 1989's Doom Patrol #20. It is an imaginary world that was created when a group of philosophers wrote an encyclopedia on a world that didn't exist. The book served as a gateway to Orqwith and ultimately threatened to engulf the real world. The world is inhabited by the Scissormen, creatures clothed in red and black suits with scissors for hands.
READ: Casey Brinke To Be Introduced In 'Doom Patrol' Season 4
Ausfresser recently revealed the titles of the first 11 episodes of season 4. Among them was episode 7, which is reportedly titled "Orqwith Patrol." Based on this, it seems that the location will either be introduced in this episode or heavily featured. It is not yet confirmed how large a role the place will play in the new season as it's possible it could be a one-off adventure, or it could play into the larger season narrative.
Are you excited to see the team visit Orqwith in season 4? What do you hope to see in the new season? Let us know in the comments below!
The series stars Diane Guerrero as Jane, April Bowlby as Rita Farr, Alan Tudyk as Mr. Nobody, Matt Bomer as Larry Trainor, Brendan Fraser as Cliff Steele, Timothy Dalton as Niles Caulder, and Jovian Wade as Cyborg.
Doom Patrol is currently streaming on HBO Max.
—–
Did you enjoy this article? If so, consider visiting our YouTube channel, where we discuss the latest and greatest in pop culture news.
---
Trending Now