'Chip 'n Dale: Rescue Rangers' Spoiler Review: "Disney's Best Live-Action Reboot To Date"
---
Warning – The following review contains spoilers for Chip' n Dale: Rescue Rangers.
For years, critics and audiences have complained about the abundance of reboots and sequels in modern filmmaking. Most of these critiques are pointed at the juggernaut of Hollywood, Disney. The studio has made it abundantly clear that no intellectual property in their catalog is off-limits. Whether it's Cinderella, The Jungle Book, or even a proposed Beauty and the Beast spin-off starring Gaston and LeFou, if Disney can milk that sweet nostalgia teet, they will. So it's a bit of a miracle a film like Chip' n Dale: Rescue Rangers even exists, ESPECIALLY from Disney.
It's clear early on what director Akiva Schaffer (Popstar: Never Stop Never Stopping) and writers Dan Gregor & Doug Mand (How I Met Your Mother) are aiming for with this film: a send-up of reboot culture starring two lovable 90's icons. The film's setting is a world where eclectic cartoons of all forms (2-D, CGI, uncanny valley monstrosities) interact with everyday humans. This hybrid world isn't new to general audiences but will still feel unique.
We first meet our protagonists, Chip (John Mulaney) and Dale (Andy Samberg), in elementary school, where they become fast friends. Despite the characters being two anthropomorphic chipmunks, their introduction and blossoming friendship feel genuine and universal. They're both outsiders who find each other and form a bond through slapstick comedy (as any cartoon character would). The two eventually head out West to make it big in show business. Following a few commercials and a guest spot in a well-known family sitcom, they strike it big with Chip' n Dale: Rescue Rangers.

The film does a phenomenal job of establishing the distinct personalities of its two leads. Moreover, they are the "leads" in every sense of the word. It feels like every other rebooted film starring a classic character is saddled with a human lead that takes up most of the runtime. Not Chip 'n Dale. This is their movie through and through. Early on, they meet Ellie (KiKi Layne), a young detective who looks up to the pair, and it seems like she might take the spotlight. But she's merely a supporting player to these two who have typically been "supporting players."
The idea of these cartoon characters being washed up or supporting players in "new" Hollywood remains constant throughout. Chip and Dale have drifted apart after Dale abandons the original show. The two need to put aside their differences when their co-star, Monterey Jack (Eric Bana), is kidnapped by an underground bootleg operation run by a grizzled old Peter Pan (Will Arnett). The two get help from forgotten side characters like a 2-D Lumiere from Beauty and the Beast, Tigra from the 90's Avengers cartoon, and even help from the original design for 2019's Sonic the Hedgehog (Tim Robinson), teeth and all.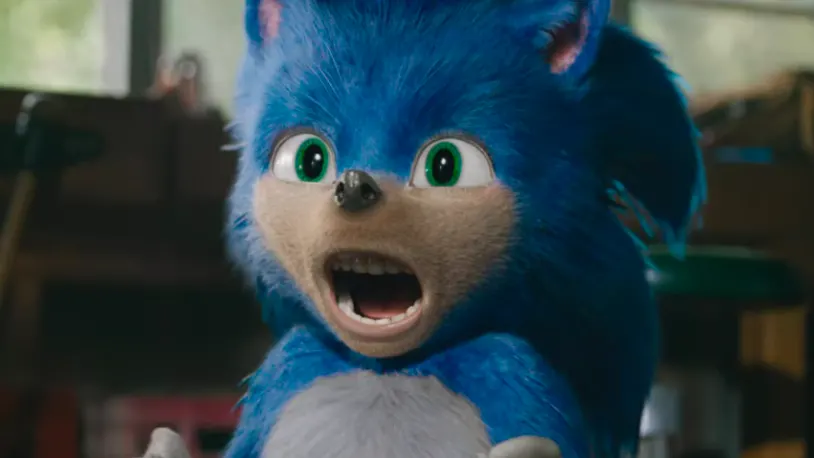 Having the film take place in a hybrid world means plenty of cameos. Even the marketing of the film has highlighted this aspect. But unlike the recent Doctor Strange in the Multiverse of Madness, it feels authentic. Without these recognizable characters meandering in the background, the film would feel hollow and disingenuous to the story. The team behind the film should be nominated for the Nobel Peace Prize the way they got character rights from other studios. On top of the aforementioned Sonic, we see characters from Nickelodeon, DC, Capcom, and everything Disney. The film feels as close to a Who Framed Roger Rabbit sequel as we'll ever get.
The film's plot doesn't stray too far from a conventional Disney movie of this nature, but the rapid-fire jokes help keep you invested. Kids will get a kick out of hearing the word "fart," whereas adults will enjoy the multiple references to the male dance troupe, Chippendales. Fear not, for you can expect 3-4 more jokes immediately if one doesn't land.
The film is a proper love letter to the '90s-'00s kids. Chip 'n Dale: Rescue Rangers feels like the natural progression in reboot culture. A meta-sendup of all that's come before while also treating its source material with dignity. The film doesn't tread any new ground, but the modern spin and the distinctive voice make the film stand out. This film deserved better than being scuttled off to Disney+. Chip 'n Dale: Rescue Rangers may be Disney's best live-action reboot yet. –Kellen Murack
Rating: 9/10
Chip 'n Dale: Rescue Rangers is Now Streaming on Disney+
---
Trending Now
You may also like