'Sonic the Hedgehog 2' Review: "The First Perfect Video Game Adaptation"
---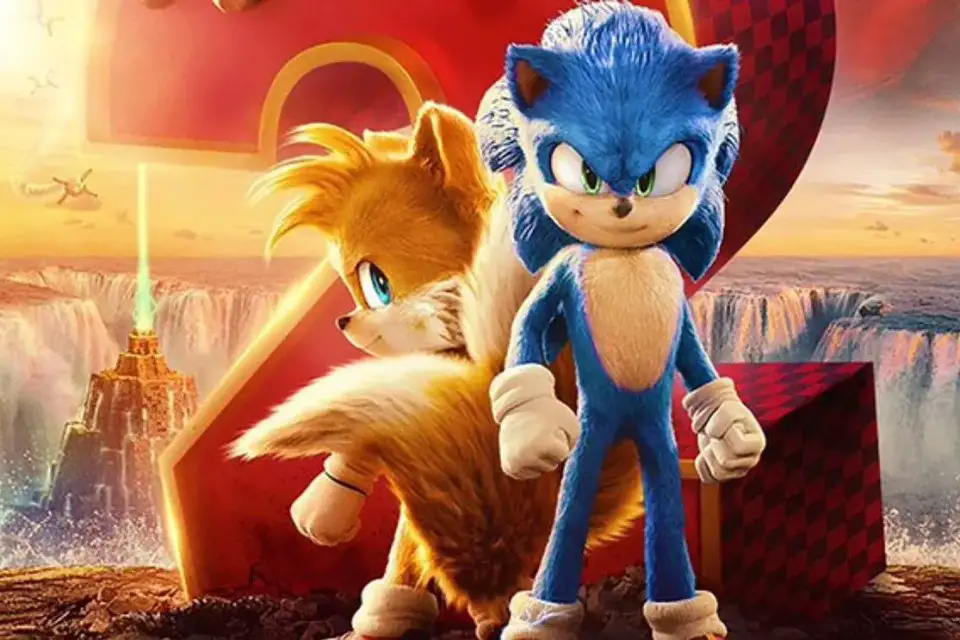 As far as game-to-movie adaptations go, the 2020 Sonic the Hedgehog movie is the gold standard. Now, that's not exactly saying much. The Blue Blur's cinematic debut received faint praise for being passable family fun. In my spoiler review, I saw it as an alright foundation for a potentially great franchise. Since money talks, and the first film made a lot of it, now that franchise is coming to pass. Sonic the Hedgehog 2 is a heck of a mission statement, not only improving on the first film in all regards but being the ideal adaptation of its source material.
After defeating Dr. Robotnik (Jim Carrey), our favorite anthropomorphic hedgehog Sonic (voiced by Ben Schwartz) is still living his best life on Earth. When his surrogate parent figures, Sheriff Tom Wachowski (James Marsden) and his wife Maddie (Tika Sumpter), go on Holiday for Maddy's sister's wedding, Sonic has a few days of skateboarding, chili dogs, and general mischief to look forward to. That is, until the return of Robotnik, aided by Echidna warrior Knuckles (voiced by Idris Elba), who are on the warpath for the source of ultimate power known as "The Master Emerald". Narrowly escaping, Sonic must team up with a young, anthropomorphic fox-like creature with two tails also not from Earth named Miles "Tails" Prower (voiced by Colleen O'Shaughnessy) to get the Emerald before Robotnik does.
All that worked in the first film is back in Sonic the Hedgehog 2. Ben Schwartz continues to embody Sonic with glee. His interactions with Tom and Maddy remain heartwarming, while there are still enough jokes to have kids rolling in the aisles and adults begrudgingly chuckling. Jim Carrey, obviously, gives it his all as Robotnik, though that doesn't feel appropriate. No, he goes much bigger than the first time around. His constant mugging and full-body tics play more like a cartoon villain than anything else. Carrey's doing his classic 90s bits at full blast, GIF-ready levels. Bless him for it. He represents the level of effort the film as a whole strives for.

Tails is a pitch-perfect foil for Sonic. His naivety allows Sonic to become something like a big brother, while O'Shaughnessy, who has voiced the character in the games for years, continues to bring her A-game. The fan favorite, however, will be Knuckles. He is a warrior, through and through, bound by a code of honor. Knuckles comes into the picture like the Terminator, Elba bringing the menace while allowing the damaged individual underneath to slowly come to the forefront. Outside of the Sonic mainstays, the human cast all shine in their own distinct ways. Marsden and Sumpter remain warm throughout, whereas the returning Stone (Lee Majoub) and Maddy's sister Rachel (Natasha Rockwell) continue to be comedic highlights.
Director Jeff Fowler seems to have carte blanche here to go downright wild with Sonic the Hedgehog 2. Blur Studio deserves serious praise for really upping the ante on the action sequences. A snowboard chase down a mountain, several Sonic vs. Knuckles fights, and a wickedly frenetic third act set high bars for the unadulterated pop entertainment you come to the movies for. Whether or not it looks "realistic" is beside the point. Seeing the Sonic characters move through their world is so smooth, clean, and clear, it sets a whole new meaning for the term "eye candy". In an age where blockbusters are content to wallow in a gray sludge, Sonic the Hedgehog 2 grabs hold of the audience's attention with great showmanship. It's a video game come to life, in the strongest meaning of the words.
Sonic the Hedgehog 2 proudly wears "video game movie" on its sleeve. In fact, it does so in much more of an overt way than in visual style. Jeff Fowler and co. trudge valiantly in the Sonic mythos to tell a story that honors the franchise's storied history. Moreover, it's so much more than a litany of callbacks and references. Sonic the Hedgehog 2's story steeps itself in the lore of the games. So much lip service has been paid to the Sonic franchise and its related fanbase as "cringey" that its fans are rarely given the chance to show why it's so revered. Yet, this film gets the opportunity to bring the wonderful science fiction/fantasy mashup that's kept so many invested. Frankly, it brings tears to my ears to finally see such a formative fictional world get its due.
No one can accuse Sonic the Hedgehog 2 of being a poor adaptation. It treats its material affectionately, though not without taking the proper steps to properly take advantage of the cinematic medium. Jeff Fowler's Sonic the Hedgehog 2 is the first truly essential video game adaptation; a rip-roaring adventure full of laughs, lore, and genuine pathos that brings the audience to the type of world they're not always exposed to. Maybe you can't get past the weirdness of a speedy blue hedgehog. Maybe the world-building is overwhelming. That is entirely fair. Nevertheless, for those who keep the faith, Sonic the Hedgehog 2 is a perfect Sonic movie. – James Preston Poole
Rating: 10/10
Sonic the Hedgehog 2 is now in theaters.
---
Trending Now