'Young Justice: Phantoms' Episode 17 Spoiler Recap/Review 'Leviathan Wakes'
---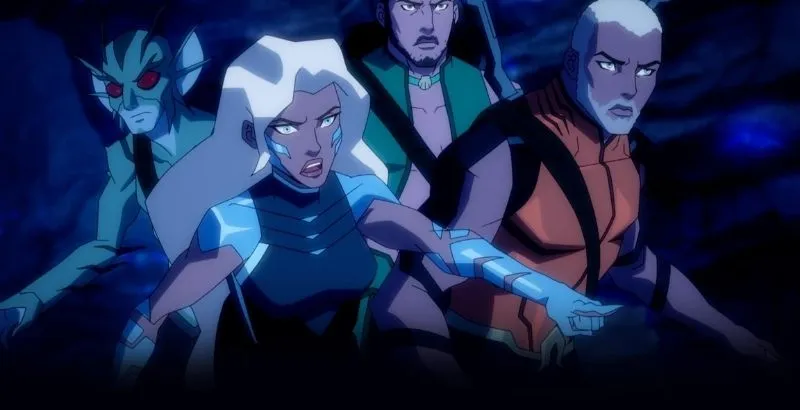 WARNING: The following review contains spoilers for Young Justice: Phantoms. For a review of last week's episode click here.
This season of Young Justice: Phantoms has been a story of beginnings, old and new. We always knew Vandal Savage was one of the first men on Earth. He came in contact with an Asteroid that gave him the ability to basically live forever. We've also gone in-depth this season and seen how Atlantis came to be. We saw Atlantis sink into the Ocean and Savage's son Arion the King of Atlantis get lost under it. Also how the war between The Lords of Order and Chaos began.
Arion returned in the mid-season premiere and the people of Atlantis have been clamoring for Arion to take his "rightful" spot as High King from Orin. Orin has Kaldur, Garth, and Wyynde are all on a mission to recover Arion's crown. While they are looking for the crown, Orin has realized that Orm is a clone and he's trying to figure out a way to show him he's a clone. So, he decides to have Megan open his mind and see his thoughts, which helps him realize that he is indeed a clone.

Kaldur and his group travel through what would be considered the Mariana Trench. The deepest part of the ocean. After they encounter a giant crab-like monster, they encounter the Leviathan. A giant underwater Kaiju creature that protects the secrets of the ocean. They eventually find Arion's crown. and Orin steps down as King of Atlantis. As they crown Arion, the Lords of Order claim him and take him away. As part of their original deal with Vandal Savage.
This in turn spoils Savage's plan for the foreseen future. He's been creating clones since the beginning of the show. It's helped him infiltrate and figure out the strategy's within the league. This also begs the question, is Arion a false prophet to his people now. King Nereus also believes it is he that should be the rightful ruler of Atlantis. In the end, Orin does pass on his throne to Mera and considers rejoining the Justice League.

We also see Superboy still struggling in whatever dimension he's in. It's not the Phantom Zone, but I am curious to see where he is. He's struggling to find himself and keeps being inside of his head. He's having a hard time figuring out what's real and what's fake inside the world he's currently trapped in. He kind of begins to figure it out, but he's scared and has no idea what's going on.
Vinton Hueck directs a very interesting episode of underwater chaos in Young Justice: Phantoms. There's a lot to digest but it comes in waves. Khary Payton delivers a fun script with a great story attached to it. The editing by Cris Mertens adds to the episode's nuance. It was a very well-paced 30-minute adventure. The character-defining moments for Orin and Aquaman are weaved into this episode, and it honestly makes it more fun.

Knowing the importance of Aquaman to the league and their relationship with the ocean, his return is pivotal. Kaldur serves as a good Aquaman, but Orin is the original and his mentor. We don't know what his new role in the league would be, but I'm sure it will be important. There's been a lot of changing of the guard during the tenure of Young Justice, and Mera as Queen is just another aspect of that. I am genuinely interested in seeing where the show goes from here.
This was a great episode. The pace was just right, The plot was simple but executed in a way where it didn't seem simple. Vandal Savage continues to be proven as one of the great villains in comic book lore. Even when he's not in action he's in action. As a fan of Young Justice, this season has been everything I've wanted so far. – Rascal F. Kennedy
Rating – 8/10
Young Justice: Phantoms premieres Thursdays on HBO Max.
---
Trending Now