'Young Justice: Phantoms' Episode 14-16 Spoiler Recap/Review
---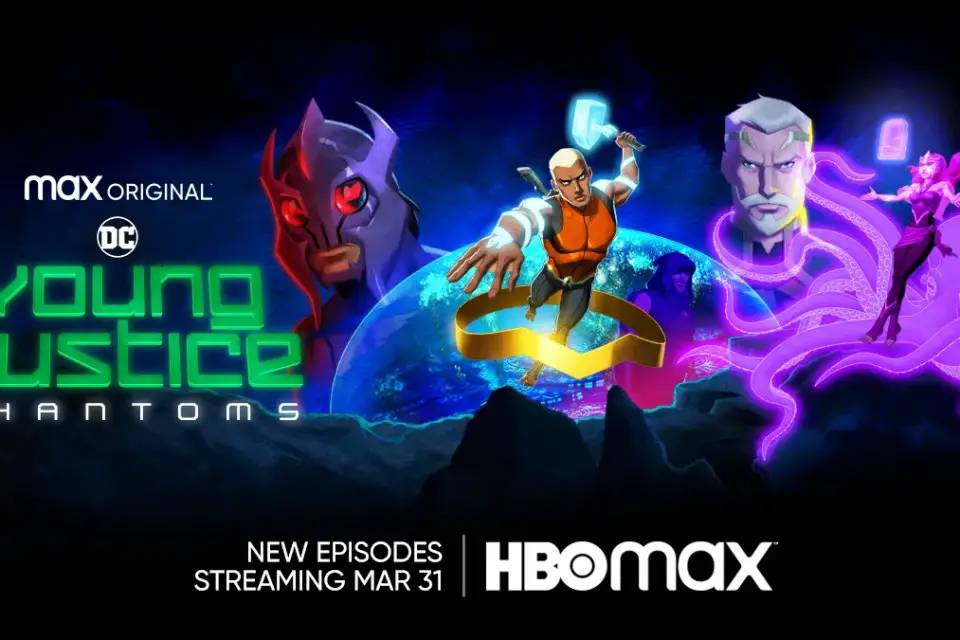 Warning: This review contains spoilers for Young Justice: Phantoms
After a long hiatus, Young Justice: Phantoms is back. There was a lot still to be tackled and covered in the remainder of the season. Connor Kent is dead, Beast Boy is struggling with his mental health, Megan is trying to keep everybody together… The Light is planning something ridiculous, and a truth is coming to Atlantis. These three new episodes were really interesting and good. There's a ton of conversation within them that makes for a deeper meaning.
Violet Harper goes to visit Madia. They discuss what it is to be Muslim and the culture of Islam. Violet is also struggling to understand who she is because of where she's from. She's partially a Motherbox, so she is struggling with her pronouns and orientation. The conversation with Madia goes very deep and there's a lot in it that's very interesting to hear. On the off-hand, We are in Atlantis, Poseidonis to be exact. Where Orin is sitting with a council to discuss Atlantis alongside Kaldur'ahm as they try to figure out how to further help their underwater country.

Orm/Ocean Master attacks the council and his brother. They defeat him and send him back to where he was hiding. Clark Kent gets a visit from two members of the Legion of Superheroes – Saturn Girl and Chameleon Boy. They tell him why they time-traveled to the past, they were trying to save Connor. He's an important piece to their future so they need to be alive, but they ask Superman to remember the date and be in Connor's place. In Atlantis, the council breaks out into a fight or disagreement. They are attacked by an Agent of Chaos, and Mera, Orin, and Kaldur'ahm must save Poseidinis. Arion, the original King, joins the fight, helps them win, and saves Atlantis.
Orin sends Kaldur, Garth, and Wyynde on a mission to recover Arion's crown. They cannot find a way to verify he's indeed Arion. They don't have Vandal or Cassandra Savage's DNA to confirm he is. Orin begins to suspect Orm may not be the REAL Orm. He goes to question him and realizes he isn't his brother. Now, that begins to beg the question, what is Vandal Savage doing? He's defeated The Child, and now he's sending clones to Atlantis. Also, the timing of Arion's arrival is very suspect. Which sends Orin on a mission to figure out the truth.

Beast Boy and Megan are dealing with Connor's death in very different ways. Beast Boy is cutting off everybody, self-medicating, and sleeping his days away. Megan tries to have an intervention, but it doesn't work. Everybody that tries to talk to him gets shot down immediately. Megan tells him that he may have to completely quit the League and Outsiders if he doesn't have a therapy session with Black Canary as required by Black Lightning.
Connor may not be dead either. It seems he's perished to some form of Purgatory. Where there's nothingness. Almost like he's in space but a side of it we can't see. He's trapped there with another hero, a woman. He sees hallucinations of Wally, Clark, Megan, and an evil version of himself. The Purgatory feeds off of his fears, sending objects to kill him. He isn't a ghost or spirit, but we don't know what he is. It could be the Phantom Zone that he's trapped in. For everybody that was sad during part one of this season, we can breathe a sigh of relief because he's still alive.

Each director has a unique style, but they blend well together. Christopher Berkley, Christina Sotta, and Vinton Heuck all create a really good trio of episodes. Brandon Vietti, Greg Weisman, and Mae Cat give us some interesting scripts. Young Justice has always dived into social commentary and done it well. This isn't just a show about superheroes. No matter the race, religion, origin, orientation, and gender; all of these characters are portrayed well. It's been great to watch this show bloom into something deeper than just superpowered people that save the world.
I enjoyed all three episodes and how they effortlessly blended so well together. I've been a fan of Young Justice for some time and watching its evolution throughout the years has been gratifying, to say the least. The show went from a focus on a few heroes to young Justice League members in their entirety. There's been so much growth and development that it just creates a great setting. The time it takes to come up with a show as creative as Young Justice must be nerve-wracking. It's outlived all of its DC animated predecessors and has the potential to be the greatest DC animated television show ever. – Rascal F. Kennedy
Rating – 8.5/10
Young Justice: Phantoms Premiers Thursdays on HBO Max.
---
Trending Now