'Halo' Episode 3 Spoiler Recap/Review "Emergence"
---
The following will contain spoilers for season 1, episode 3 of 'Halo.' For a recap of episode 2, click here.
Episode three of Halo opens up on Planet Oban: a waste salvage planet. We see a young boy and girl reading a story about life on other worlds. The two are forced to flee when the authorities find them. The boy is beaten and killed, and the girl gets captured and tased. Covenant forces arrive, searching for something. They save the girl, declaring how she is the thing they seek. Fast-forward, however many years, we see this was a young Makee, and she's kept the same book from her childhood. She's preparing to go after the Keystone and plans to return with the artifact and Master Chief's head.
We see Miranda Keyes and Admiral Parangosky examining the Keystone via hologram following the opening credits. Admiral Parangosky asks Miranda to run an additional team researching the Keystone concurrently with Dr. Halsey's team. We then cut to Dr. Halsey as she preps her flash clone that will eventually become Cortana. The clone is of a younger Dr. Halsey, who asks about the Spartan Program's success and their daughter, Miranda. This scene had the chance to add some real depth to Dr. Halsey's character and give the audience a chance to see what her ambition has done to her, but nothing new came of it. Her speaking with the ghost of her former self revealed nothing we didn't already know; that John is special and Halsey and Miranda have a strained relationship.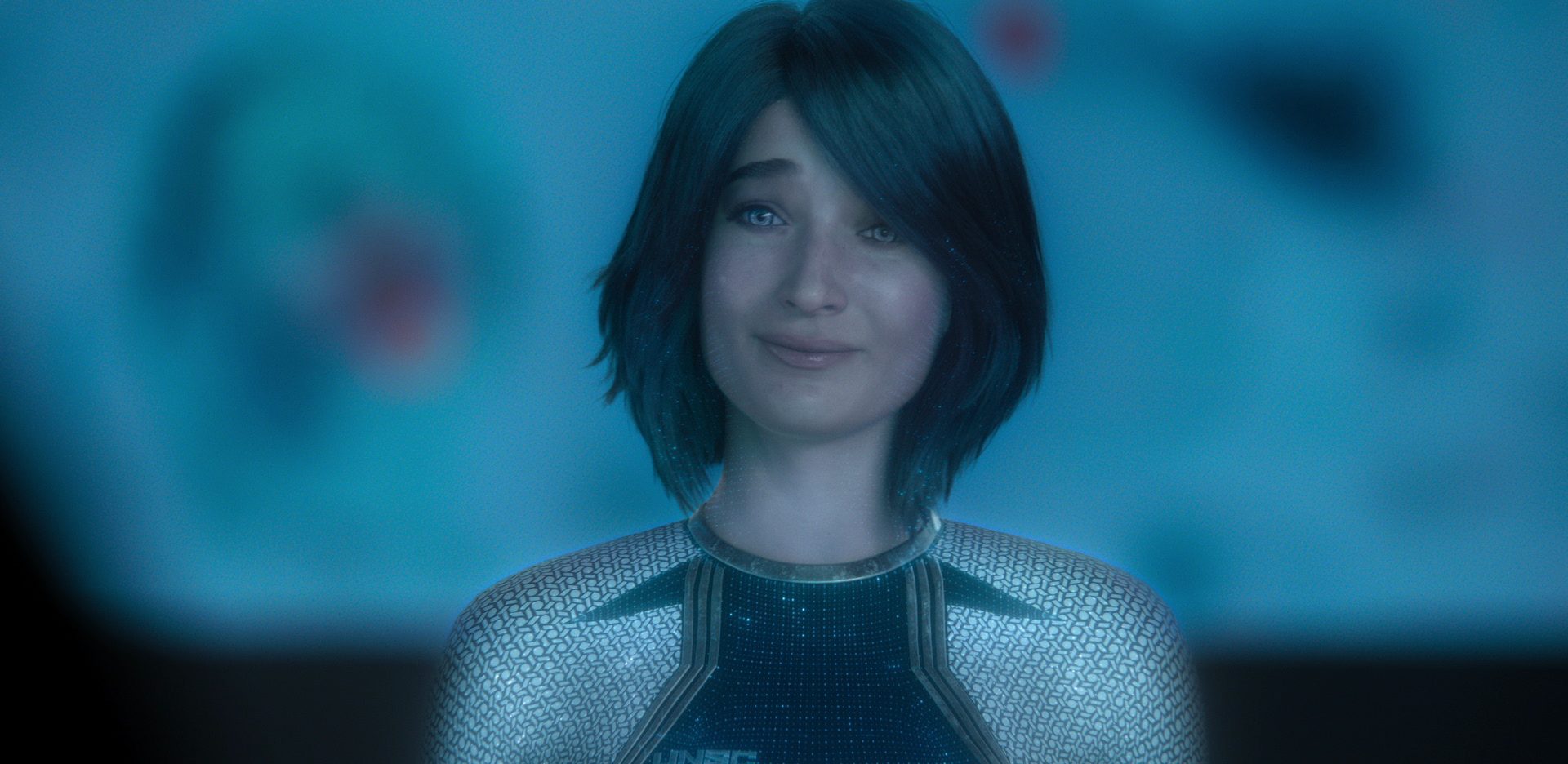 We cut to John, and the clone prepped for the implementation process. The clone's mind is integrated with Cortana and placed inside John's head. While John is still unconscious, Cortana (Jen Taylor, returning from the Halo video games) goes online and familiarizes herself with Halsey. Halsey asks Cortana to begin looking into the Keystone and why it interacts with John the way it does. We return to The Rubble and see Kwan exploring her new, temporary home. She finds Soren and asks for a ride back to Madrigal to help fight Vinsher's control over the planet. Soren disagrees, and Kwan storms off.
We cut to a UNSC ship in the middle of space. Then, from slipspace, a Covenant ship shows up and appears to be dead in the water. It is revealed that Makee is in command of the vessel and hails the UNSC cruiser, pleading for their help. Returning to Reach, Dr. Halsey prepares John and the Keystone in a laboratory. John touches the artifact and begins to have more glimpses of his childhood. With his mind elsewhere, Dr. Halsey tells Cortana to put John into stasis and examine the artifact. Once John is immobilized, the Keystone shuts down as well. Cortana releases control, and they end the observation.
We cut back to the UNSC ship as Makee exits her shuttle. The marines remain suspicious of Makee but eventually clear her. Makee then sends a horde of worms to kill the entire ship and begins to access the ship's files. Returning to Reach, we watch as John reconnects with the other members of Silver Team. They make up quickly, and as John's about tot leave, Cortana appears and introduces herself to the other three.
John leaves to begin a search for a particular planet, the one from his flashbacks. Cortana interrupts, offering to help him search for it. Cortana helps narrow down his search before they begin reminiscing about a planet where he was once deployed and where he lost a teammate. He says how he never truly felt that emotional loss. Cortana reminds him that's due to the hormone blocker in his spine. In a locker room, we cut to John, holding a knife, prepared to cut out the hormone blocker with John's Master Cheeks are on full display. Cortana warns Halsey of what John is attempting, and Halsey tells Cortana to assist him to build his trust. She returns to John and helps him remove the blocker. We then see Silver Team member, Kai-125, who had been watching.
With his emotions flowing for the first time since childhood, John explores Reach. While out in public, John sees a dog prompting him to return to base and the Keystone. John places his hands on the Keystone, and we get a little more information regarding his past. We see John and his father burying his dog. We also see John and his mother discussing some of his drawings, one of which is the Keystone. Young John tells his mother how the Keystone goes along with a larger object he has also drawn. John comes to and tells Cortana what he saw and that he remembers his home planet having rings of ice around the surface. Cortana is able to narrow down her list to three possible worlds. Cortana and John learn that the planet he was raised on was Eridanus II.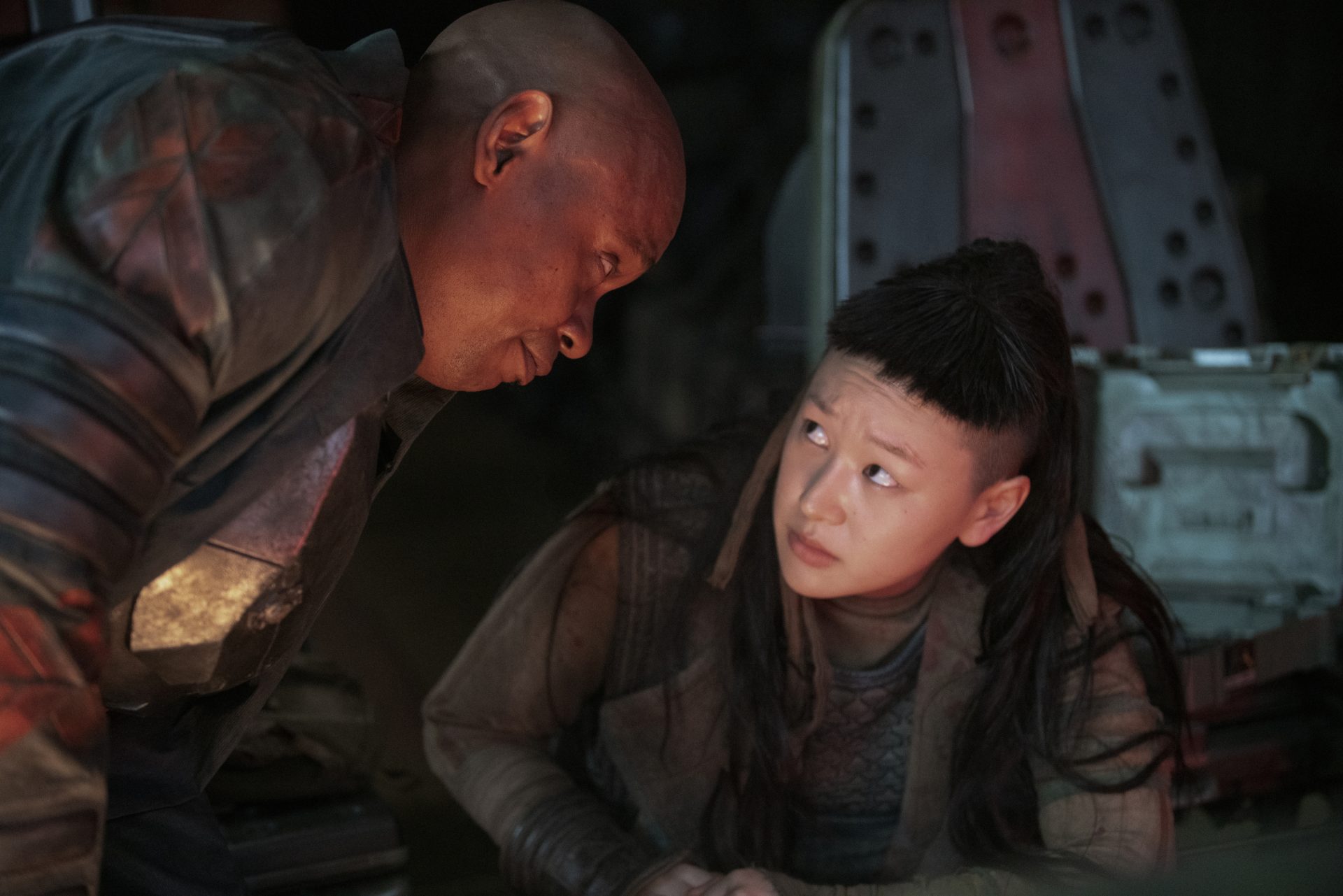 Distraught, John and Cortana begin researching the planet. It was a UNSC outpost planet that staged various scientists attempting research. Halsey arrives and John tells her what he saw. He tells her that he is going to Eridanus to see the planet for himself, and Halsey agrees to go with him. We cut back to The Rubble and see Kwan attempting to steal one of Soren's ships. He arrives to stop her and she informs him she has money and can pay him if he helps her return to Madrigal.
We cut back to Makee on the UNSC ship as she sends a signal to Covenant forces. We see Halsey and her assistant, Adun (Ryan McParland), examining a partial reconstruction of the other object John saw in his vision as they prepare to travel to Eridanus II. Adun is concerned that John returning to Eridamus will also bring back other memories that will "bring them all down." To which Halsey replies, "That is what Cortana is for."
This episode of Halo felt like it was both a filler and rushing, with minimal progression in the main story aside from learning more about Makee and John's respective pasts. Scenes that deserved more time to breathe (Halsey talking to her clone; John exploring the civilian side of Reach) were quickly abandoned. This episode set up exciting progressions for both John and Kwan's stories, but the episode itself wasn't as interesting. John and Cortana's back and forth was a highlight and to see that relationship progress over the series should excite many Halo fans.
Rating: 5/10
Season Rating: 6.7/10
---
Trending Now