'Turning Red' Review: "Accepting The Beauty Of Inevitability"
---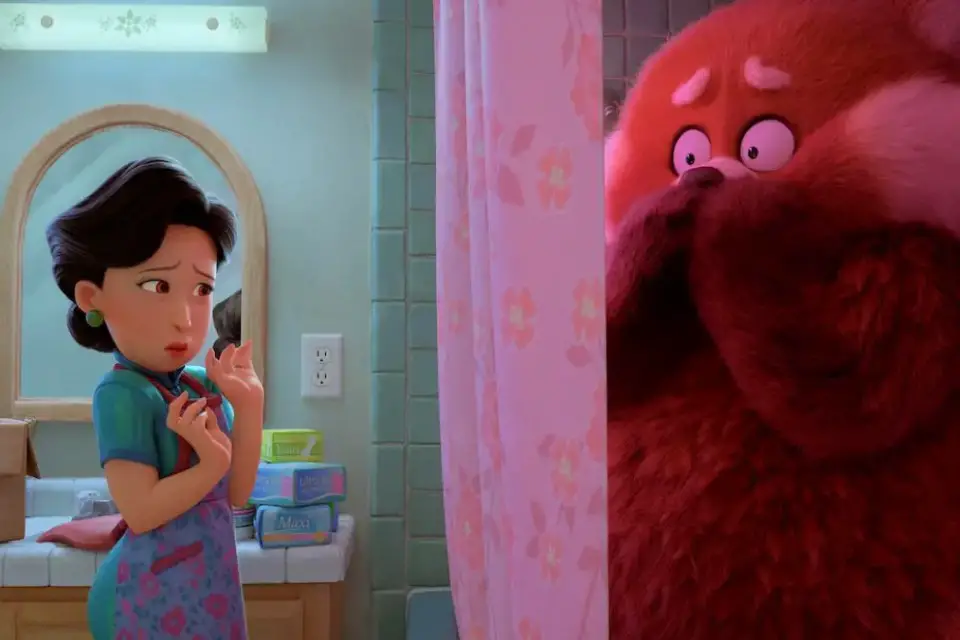 Pixar will go down in history as one of the most prolific animation studios of all time. Their groundbreaking work has not only earned them multiple Oscars but also billions of dollars worldwide. More crucially, they've provided families with entertainment and tools with which to educate their children. The latter is incredibly prevalent in the studio's latest film, Turning Red. The film's development is historic in itself as it features Pixar's first all-female leadership team. Directed by Domee Shi – who helmed the Pixar short Bao – and written by Shi and Julia Cho, Turning Red is dripping in charm, humor, and joy. However, the film offers incredibly important life lessons as well as vital, pertinent advice for both parents and children to live by.
Meilin "Mei" Lee (Rosalie Chiang) is a 13-year-old Chinese-Canadian student slowly evolving into what she believes is the best version of herself. She is smart, witty, confident, and surrounded by a seemingly incredible support system. Her best friends Miriam, Priya, and Abby are supportive, kind, and like-minded. Additionally, they are all huge fans of the boy band 4*Town, which serves as the catalyst of the underlying plot. As the young girls grow, both their bodies and minds develop. This is where the real education of the film begins. Never before has puberty and the transition into womanhood been the subject of such a high-profile Disney film. However, Turning Red takes this normal, commonplace development in human life and puts the struggles and fallout on full display.

Personally, Turning Red provides me with guidance. I am a 30-year-old, biracial man living in the suburbs of Chicago. However, I found myself glued to the screen. My relationship with my nieces is the reason why. Currently, my nieces Keianah and Xenon live in my house with their upbringing falling on my shoulders. I wake them up every day, feed them breakfast, and take them to school. When I get home from work, there they are, eager to share with me what they learned. However, my little girls are not going to be so little for very long. I come from a single mother who instilled in me several vital life lessons such as humility, respect, and kindness. But she never fully prepared me for what will happen to Keianah and Xenon when they reach their formative years.
Turning Red is a gift to me personally in that department. One night after having a nightmare, Mei suddenly wakes up to discover that she has transformed into a large red panda. After hiding from her parents, Mei discovers that she only transforms when she is in a state of high emotion; her parents believe her distress is caused by her first period. However, hiding a huge, 8-foot-tall red panda is just about as difficult as one might expect. When the truth is revealed, Mei's mother reveals a long-hidden family secret: the red panda runs in the family.
Ming explains that their ancestor Sun Yee gains the ability to transform into a red panda in order to protect her daughters. Afterward, every female member of the family inherits their own red panda when they come of age. Understandably, this becomes inconvenient and dangerous. Therefore, the red panda spirit must be sealed in a talisman on the night of the Red Moon. This process does not align with Mei's plans to attend a 4*Town concert with her best friends. However, the curse offers her a chance to continue down her own path, co-existing with her mother, also actively doing the same.

I struggle every day as a provider. I often bring my bad days home with me and clash with the wants of my nieces. They are becoming their own people and my daily goal is to provide them the room and resources to go after what they hope to achieve. I slip up. I yell when I shouldn't and go back to apologize and my alone time when they just want to feel a part of my life. It's hard. However, key moments throughout Turning Red offer comfort as I continuously cope with my reality. I took notes when Ming runs to gather pads, vitamin B, ibuprofen, and a hot water bottle when she believes her daughter is having her first period.
Moreover, the amount of concern on display made me realize the patience and care that I will have to one day possess. Later on, when the film reaches its climatic, and emotional, final beats Mei helps her mother overcome the ghosts of her past as they vow to face this overwhelming generational trauma together. We all want to make our parents proud but the focus on that pressure within Turning Red feels palpable and powerful.
Turning Red provides the unique opportunity for a common story to be told. Females make up half of the world's population and they all experience these awkward years of transition. Additionally, allowing this story to be told by a large group of women who experienced it all themselves makes it feel all the more real. Turning Red is a filmmaking triumph made for and by women that celebrates individuality and tackles generational trauma. However, everyone should be able to walk away from feeling as if they understand this thing called life just a little bit more. – Christian Hubbard
Rating: 10/10
Turning Red is streaming now on Disney+!
—–
Did you enjoy this article? If so, consider visiting our YouTube channel, where we discuss the latest and greatest in pop culture new
---
Trending Now