SXSW 2022: 'Everything Everywhere All At Once' Review
---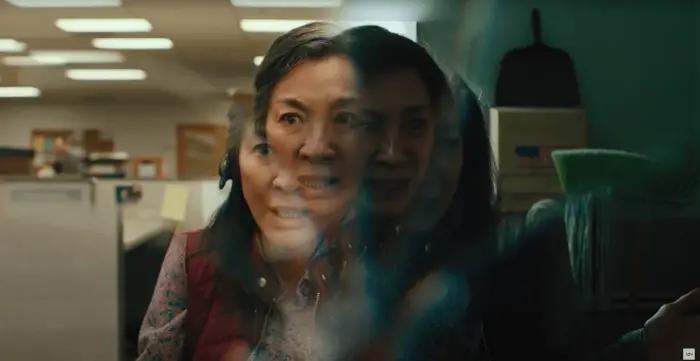 The following is part of our coverage of SXSW 2022. For more, click here.
Who knew the guys behind the "Turn Down for What" music video would be some of the most vital voices in Hollywood? Writing-directing team Daniels (Daniel Kwan and Daniel Scheinert) made their feature debut with 2016's Swiss Army Man. Among other things, that film featured a farting, anthropomorphic corpse, a makeshift civilization on a lost island, and buried under all that raw sentiment. Whatever they did next, I was in. Six years later, their follow-up Everything Everywhere All At Once is no less ambitious.
Evelyn Wang (Michelle Yeoh) is the Chinese-American owner of a laundromat. She has a hard time connecting with her daughter Joy (Stephanie Hsu). Her marriage with the aloof Waymond (Ke Huy Quan) loses its spark. In advance of a party for her father (James Hong), she goes to clear up a tax debt with a frigid IRS worker (Jamie Lee Curtis). Nothing can prepare her for what she's about to encounter. An alternate universe version of Waymond takes over his body. Frantically, he tells Evelyn that she's the only one who can stop an evil spreading across the entirety of the multiverse. The evil, known as Jobu Tapaki, can only be defeated by her accessing the skills of all her alternate selves.
Daniels establish a rip-roaring sandbox to play in. If the ubiquity of multiverses in mainstream fiction, namely Spider-Man: No Way Home, dilutes their appeal, Everything Everywhere All At Once restores vitality to the concept. For example, each universe has a distinct aesthetic courtesy of cinematographer Larkin Seaple. These include a universe where people have hot dogs for fingers. Or one where Evelyn is a popular action star. An animated universe- why not? The possibilities are quite literally endless, though it's not simply the look that makes Daniels' foray into the multiverse pop.

A key aspect of the film, mind you, is that to access the skills of a multiversal self, the jumper has to do something statistically improbable to activate a connection with her other selves. Namely, say, eating a full tube of chapstick or- no, I'll let the reader find that out for themselves. Just suppose that the body humor of Daniels gets its day in the Sun. That's to say nothing of the villain, whose dimension hopping manages to strike a genuine unsettling chord. An aspect likely to be a massive crowd-pleaser is the action sequences choreographed by Martial Club (Shang-Chi and the Legend of the Ten Rings). Frenetic, kinetic, precise, when the action happens it's simply perfect. Fights channel the visual beauty of something in the vein of The Matrix, whilst incorporating heavy slapstick comedy and having the built-in novelty of universe switching.
Simply put, it works. It really works. The loony tune spectacle of these fights, crude imagination and all, beats the snot out of any recent blockbuster. Yes, any. All the same, action and multiverse antics are only the hook. Daniels arm their film with gut punch after gut punch. Their story, really, is about generational trauma. The immigrant experience. Falling out of love. Not being able to relate to each other. Nihilism, and why optimism is so necessary. To loosely quote Daniel Scheinert at the film's Q&A, if nothing matters, then why not be nice to one another? Okay, that might be an oversimplification of the film's message, but it's a start.

Yeoh, Hsu, Hong, and Quan- who has not been seen on screen in about 20 years- bring a pathos to the central family that's just remarkable. I can't single out any individual performance, not because there's nothing to say, but there's too much to say. And truthfully this is something an audience member should experience for themselves. The central quartet guides us through an initially wacky adventure that climaxes in a psychedelic and ultimately cathartic, raw finale. As it sticks the landing with off-kilter grace, I immediately knew Everything Everywhere All At Once would become one of my favorite movies.
Each person has their own criteria for what constitutes a great movie. Some take you to a place you've never been before. Others make you feel things you'd never thought you'd feel. Or perhaps it's the admiration of the craft. With Everything Everywhere All At Once, you don't have to choose. This film is a reminder of the power of the cinema, and deserves to be as much of a blockbuster as anything else. Go support this film if you can- this is what the movies are all about. –James Preston Poole
Rating: 10/10
Everything Everywhere All At Once hits theaters March 25th.

---
Trending Now