SXSW 2022: 'The Unbearable Weight of Massive Talent' Review
---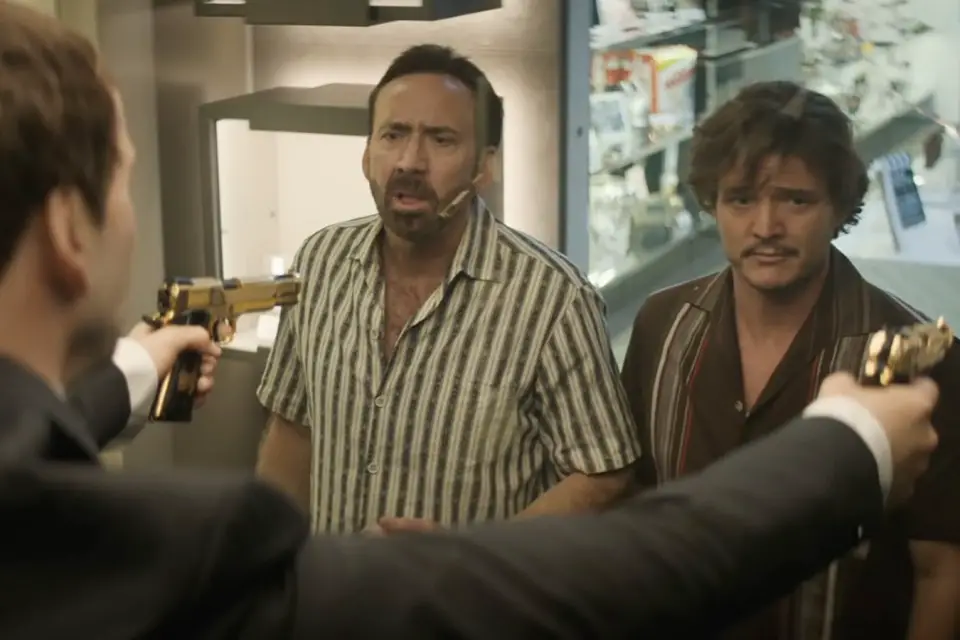 The following is part of our coverage of SXSW 2022. For more, click here.
Nicolas Cage… what can you say? Rather, what can't you say? The oddball actor has amassed a cult following, full of those who are confused by him, laugh at him, think he's a pioneer of a whole new type of acting, or all of the above. Full discretion, the man is absolutely my favorite American actor. He always gives 110% of himself into every performance, never repeating himself. His avant-garde choices may not pay off every time, but it's a treat to watch him work nonetheless. It was only a matter of time before a film like The Unbearable Weight of Massive Talent came along.
In The Unbearable Weight of Massive Talent, Cage plays the challenging role of himself. Rather, a fictionalized version of himself. Nic Cage is on a career downturn. Unable to book roles, estranged from his wife (Sharon Horgan) and daughter (Lily Sheen), and pestered by his imaginary alter ego Nicky Cage, played by a digitally de-aged Cage, he needs a break and he needs it fast. That break comes in the form of billionaire Javi Gutierrez (Pedro Pascal), who pays Nic $1 million dollars to appear at his birthday party. Accepting the offer, he and Javi become fast friends. However, Cage is snatched up by a CIA agent (Tiffany Haddish), who asks him to spy on Javi, suspected of running a massive crime syndicate.
Director Tom Gormican, who co-wrote the screenplay with Kevin Etten, doesn't reinvent the wheel here. Don't expect the incisive meta-commentary of a Being John Malkovich here. First and foremost, The Unbearable Weight of Massive Talent is a buddy comedy. In that respect, it's a pretty damn fun one. Cage brings the crazy, though totally affable, energy he's known for as a heightened version of himself. A lot of Gormican's take hinges on the sort of living meme/mythos that is Cage, rather than a super-accurate portrayal. It's a good choice, in the long run, giving the audience the wacky enigma they came for.

The Unbearable Weight of Massive Talent is at its very best when it's a hangout movie. Cage and Pedro Pascal's superfan Javi are dynamite together. Seeing their almost juvenile bond blossom works like gangbusters, and the laughs don't stop coming for much of the film. You get your traditional bits like them doing drugs together, coming up with movie ideas, geeking out over Javi's collection of Nic Cage memorabilia, and sharing a cry over Paddington 2. Tried and true stuff. So much of the film is a classic sweet (and raunchy) ode to the strength of male friendship, even if the friends in question are the biggest movie star in the world and a billionaire. It's a real shame when the overarching espionage plot takes over.
Haddish acquits herself just fine in her role, but anything involving crime or the CIA falls completely flat. Most of this is because it's played straight. A chunk of it is due to a lack of anything resembling good action. But mostly it's just a lack of imagination. You know exactly where it's going to go when it starts, it doesn't service the humor of the film, and mostly asks as a wet blanket to smother out what does work. Thankfully, what remains is still more than the sum of its parts.
The Unbearable Weight of Massive Talent knows what it is and doesn't aspire to be much more, but that's ultimately fine. It's hard not to want a version of this movie that's a bit weirder, or more focused, because there's a sharp joy to this Nic Cage-loving comedy. No matter what, Cage heads will get a kick out of it as a fun celebration of one of the best actors to ever do it. – James Preston Poole
Rating: 6.5/10
The Unbearable Weight of Massive Talent hits theaters on April 22, 2022.

---
Trending Now