SXSW 2022: 'The Lost City' Review
---
The following is part of our coverage of SXSW 2022. For more, click here.
Despite releasing in 2022, The Lost City feels oddly nostalgic. It's not based on any pre-existing IP, but it does feel ripped straight out of the mid-1980s. Directed by Aaron and Adam Nee, The Lost City owes its lineage to big romantic adventures such as Romancing the Stone. Although no one will be calling this specific film a classic in that vein, it does contain one thing that nearly saves the experience: tender chemistry between its leads.
Author Loretta Sage (Sandra Bullock) has hit burnout. Embarking on a press tour for her new novel, "The Lost City of D", she's ready to leave her writing career in the past. Said press tour comes to a screeching halt when billionaire Abigail Fairfax (Daniel Radcliffe) abducts her. His reasoning? Sage, who has a history studying ancient civilizations, could be the key to finding a mythical lost treasure. Lucky for her, her aloof cover model Alan Caprison (Channing Tatum) leaves on a journey of her own to rescue her from Fairfax's clutches. That is, if he doesn't kill himself in the process.
It's a fine story to hinge your movie on, and The Lost City is mostly content to be fine. Tatum and Bullock rarely ever aren't game whenever they show up to work. Sage's high-strung to more adventurous character development paired with the muscular stud who has more to him than meets than eye is junk food for undiscerning audiences. Junk food that has a bit of protein on it in the film's quieter moments, which allow the romance to fully blossom. Their bickering gives way to a sincere intimate tension to foster between them. You came here for them, you're not going to leave satisfied.

If you came here for any other reason, you're not gonna find much. The Nee brothers co-write the script with Dana Fox and Oren Uziel, based on a story by Seth Gordon. An easy comment to make is that the script feels like there are too many cooks in the kitchen. However, that's slightly inaccurate. If anything, The Lost City's screenplay feels closer to something written by an algorithm. Jokes are the low-hanging assorted fruits of slapstick and customary quips. They're all telegraphed from a mile away, none eliciting more than a chuckle. Make no mistake, the best bits are absolutely in the trailer, including a guest appearance by a very high-profile actor.
On the flip side, the actual narrative itself is woefully uninteresting. The central mystery of the hidden treasure exists simply to push the plot along. Radcliffe, who's made a habit as of late in starring in oddball, often great fare like Swiss Army Man, is reduced to a screaming villain. The Lost City bends over backward to establish supporting characters who are there more for people to clip the scenes for easy memes rather than actually serving the story. Faring better than most is a hilarious Patti Harrison (I Think You Should Leave), but that's less a credit to the movie than it is to the actress.
There are a few moments of genuine wonder to spice up the central frenemies to romance formula. Yet, that's not enough to save a movie that's remarkably underachieving. People say studios don't put out original romcoms like The Lost City anymore. What should be a credit to the film instead makes its shortcomings more apparent. The Lost City is an underachieving film in a genre that allows for a lot of possibilities. Come for Tatum and Bullock, stay for nothing else, forget about it in two days. – James Preston Poole
Rating: 5/10
The Lost City hits theaters on March 25, 2022.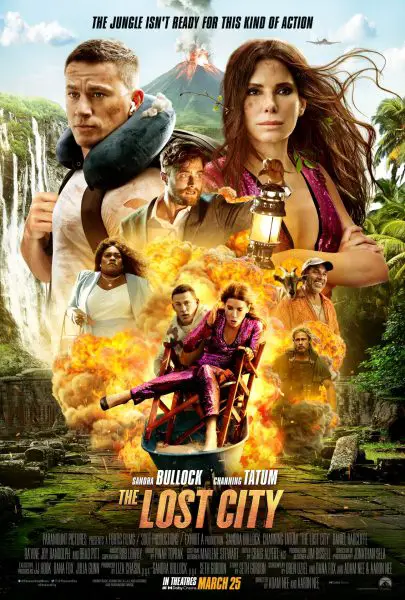 ---
Trending Now