'Servant' Season 3 Episode 2 Recap/Review: "Hive"
Posted On January 28, 2022
---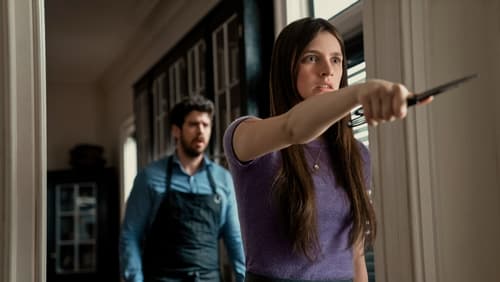 The following contains spoilers for season 2, episode 3 of Servant. For the recap/review of last week's episode, click here.
Hope you like paranoia, because that seems to be the modus operandi for this season of Servant. Following an installment strictly intended to build an atmosphere around Leanne's (Nell Tiger Free) mental state, we get an installment strictly intended to further said atmosphere. "Hive", written/directed by Ishana Night Shyamalan, is a fine piece of filmmaking on its own. Constantly, however, there's a sense that there needs to be a bit more going on.
Dorothy (Lauren Ambrose) is hosting a "Mommy and Me" day for affluent mothers in the area. It's a typical production a la Dorothy that gives Sean (Toby Kebbell) the opportunity to prepare some Caribbean cuisine. Not happy at all is Leanne, who is petrified that the Church of the Lesser Saints will come after her. Per use, Dorothy waves away her concerns, telling Leanne that she vetted all the mothers. Plus, the Turners have recently installed a six thousand dollar security system to be monitored by Julian (Rupert Grint) and his girlfriend (Sunita Mani).
This does little to ease Leanne's discomfort, although the Turners could seem to care less. As far as they're concerned, the situation has been handled. Part of the fun of Servant is the obliviousness of the characters; the prioritization of the mundane pressures over looming danger. Being with Leanne in this episode is akin to a gaslighting simulator. Dorothy goes about her self-serving "mommy and me" activities. Completing this sanitized brouhaha is an odd children's entertainer, known as "Mr. Smiley".
Leanne confides in Sean her fear. Sean surprisingly is receptive to what Leanne has to say. Which is, in this case, to look out for people with scars on their back or those dressed oddly. Bringing hors d'ouevres out to the party, she notices light scarring on one of the mother's backs. She retreats up to her room, trying to talk herself down. Yet, while she is hiding in the closet, one of the mothers comes in, looking under the bed suspiciously. Leanne confronts her, and she claims she was just looking for her baby's pacifier. In a bit of brilliant framing, we're unable to tell whether or not the pacifier was already there or if she placed it only to pick it up.

As any sharp-witted person would, Leanne freaks out, prompting Julian's intervention. She rushes downstairs, confronting Mr. Smiley. Immediately, she senses something off with him. Putting on a spine-chilling grin, there clearly is something wrong with him. She holds a knife to him, demanding to know his identity. At this moment, Dorothy and the rest of the mommies walk in, horrified. But Leanne keeps pressing, making Mr. Smiley take off his shirt in front of everyone.
Alas, there are no scars. Leanne is sent up to her room and berated by Dorothy for her behavior. I feel immense sympathy for Leanne by this point, as every moment of her life is spent in abject fear while the people who are supposed to be protecting her don't seem to care. For instance, Dorothy is more interested in going downstairs and trying to salvage the party with a champagne toast.
As they tend to do on Servant, things go awry as a bunch of moths pile out of the furnace. It's a moment reminiscent of The Birds, almost – whether or not the horror of the outside world is coming for Leanne and the Turners, the sins of what's happened in the house won't let go. The party is over. Pest control handles the situation. Dorothy is distraught. But not entirely by the party ending.
Earlier in the day, a mother brought up a report that Dorothy allegedly did on a "hot summer day". This triggered something in Dorothy, as if she's starting to remember Jericho's death that she had long since forgotten. She laments to Leanne that she feels cursed. Meanwhile, Julian and his girlfriend talk about Jericho, Julian promising to get to the bottom of where Jericho came from, operating under an assumption that he's actually Leanne. Clearly, he's not privy to the real truth we all know, but his nosiness threatens to tear apart the faux-tranquility the Turners have built for themselves.
There's not much to say about this one. "Hive" is another great effort from Ishana Night Shyamalan and Servant as a whole, I just wish we had more momentum. After all, at this time in the last season, there were already a few major game-changing events that had happened. No matter, I'm content to let Servant crack its knuckles and do what it does best. – James Preston Poole
Episode Rating: 8/10
Season Rating: 8.5/10
Servant seasons 1-2 and the first two episodes of season 3 are now streaming on Apple TV+.
---
Trending Now