'Ozark' S4 Part One SPOILER Recap/Review – 'A Long Ride With A New Devil'
Posted On January 27, 2022
---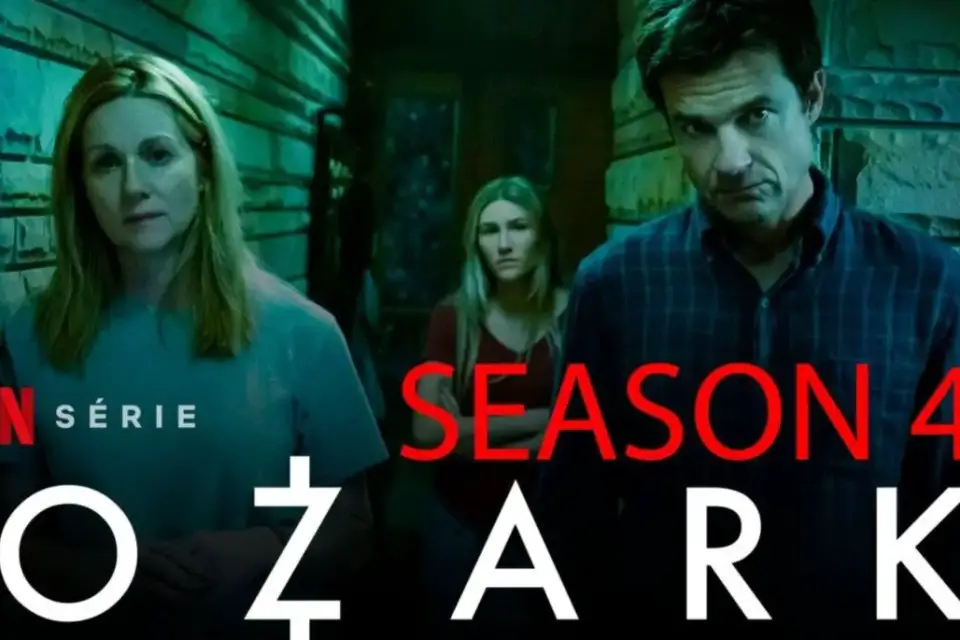 Ozark has been one of the most successful shows on Netflix. The show that premiered on the streaming service in 2017, and picked up after a two-year hiatus in 2020 has become prominent on social media. Ozark is a Emmy nominated and award winning show. After three amazing seasons, the fourth released this past weekend. Unfortunately, all good things must come to an end, and this fourth season will be the last.
Ozark's season four is a two part series finale. The first part is a slow rolling, but interesting uphill battle for everybody involved. We get new characters that will be very important to the story, and we lose some of our original characters; of course. This is a story at it's core about a man trying to keep his family alive in the face of the Cartel, FBI, and drug dealers.
The seven episode first half of Ozark's final season starts immediately where season three left off. Omar Navarro (Felix Solis) has just killed Helen Pierce (Janet McTeer) at his child's baptism. We see Byrde's Marty (Jason Batemen) and Wendy (Laura Linney) cleaning themselves after. The couple is still trying to help Navarro cut a deal with the FBI through agent Maya Miller (Jessica Frances Dukes). This is where we begin as we make our way through this hellish part one of the final season.

We have characters dealing with grief in Jonah (Skylar Gaertner) and Ruth Langmore (Julia Garner). They are bonded by the death of Ben Davis (Tom Pelphrey), who met his fate at the hands of his sister, Wendy. Wendy must deal with the consequences, which include her son pushing her away, and working for their rival, Darlene Snell (Lisa Emery). This creates a turmoil as Ruth must stay to loyal Darlene for the sake of her relationship with her cousin Wyatt (Charlie Tahan). She even goes so far as to buying a motel to launder money through.
Meanwhile, Charlotte is trying to decide what she wants to do in life. She stays close to her parents though, as she realizes what Jonah doesn't; every choice her parents make is to keep them alive and out of jail. Which is a complete 180 from her original stance, which is understandable because she's gotten older. Helping out at the casino and watching a FBI agents baby are choices she makes as a young adult.

Wyatt and Darlene are continuing their heroin production, and trying to cut deals with the KC mafia. Frank Cosgrove (John Bedford Lloyd) doesn't want to do deals with Darlene, considering she shot his son Frank Jr. (Joseph Sikora), but he goes against his judgement. It ends up costing him a lot more than just money. As Wendy steals Darlene's idea and begins creating rehab facilities all around Missouri.
There is also the problem of the detective hired by Helen's husband to find her. This is Mel Sattem (Adam Rothenberg). He spends an episode snooping around and digging where he shouldn't. He even goes as far as to visit Wendy and Ben's father Nathan Davis (Richard Thomas) about Ben's 'disappearance.' He seems to dig himself into a hole that could lead him to eventual death, and with how many bodies we get this season… It's not that far out of the question at all.

Wendy builds her campaign for the rehab centers through the Byrde Foundation created last season. She also pretends to assume her brother is missing instead of dead. However, this seemingly draws more attention to the Byrdes than Marty wants. He spends the season juggling multiple things, while also trying not to die. Wendy cuts a deal with a pharmaceutical company called Shaw Industries ran by CEO Clare Shaw (Katrina Lenk). They use the company as a front for heroin distribution; the same thing that led to the opioid crisis to begin with. We also are introduced to our new villain Javi Elizonndro (Alfonso Herrera), Navarro's nephew. Who is more ruthless and less patient than his uncle.
Darlene is back to distributing heroin, against the will of Marty and Navarro. She is also dealing with Wendy stealing her rehab center ideas which creates turmoil between her and Frank Cosgrove Sr. (John Bedford Lloyd), as he was her means of construction. Also, his son, Frank Jr. (Joseph Sikora) deals with her on the drug deal end, even after she shot him in his penis. The dynamic is very wild and boils over after she murders Frank Sr. She also loses her mind after finding out Ruth orchestrated a deal behind her back to help out Marty. Darlene spirals with Wyatt caught in the middle, and it gets very dangerous on the Snell land.
Omar Navarro has been discussing a deal with the FBI since season three. In season 4 part one, he actually goes ahead and cuts the deal. As part of the deal, it's required for him to continue as the head of the Navarro Cartel, in exchange for freedom down the line. However, Agent Maya Miller double crosses him and the Byrdes, and has him arrested. This leads to several ripples, including the FBI using Javi as the head of the Cartel now. Also, agent Maya Miller has video evidence of Javi admitting to a crime, so considering the circumstances… Navarro's arrested may not be what it seems.

Part one of the final season lays out an interesting premise, and it meshes together a lot of things that will end in the final seven episodes. Mainly, what will happen to the Navarro Cartel and the Byrde family. Moreover, Javi has killed Sheriff Wilkes, Wyatt, and Darlene. The latter don't matter, but with Wyatt comes Ruth's wrath. There are several layers, and how this ends is truly a toss up.
This first portion of the final season of Ozark is some of the best the show has to offer. The pacing starts off slow, moving at a rate that gets your anxiety going. However, there's uncertainty in the air. The writers aren't afraid to kill anybody, and they focus on continuity. There are plenty of smokescreens and things that throw you off, but they never stray from the story. Martin Zimmerman, Jed Rapp Goldstein, Chris Mundy, Bill Dubuque, and Mark Williams are a great writer's room and have given us a great season so far.
Andrew Bernstein, Alike Sakharov, and Robin Wright direct the episodes in Season 4 part one. They each had a different style and dynamic that they brought to their episodes. They each seem to have fed off of each other's energy and it paid off. Shawn Kim's cinematography is absolutely stunning, especially in the last sequence of episode seven which, containing some of the greatest acting I've ever seen. Julia Garner is definitely winning her third Emmy. The angst, the anger, and framing of the shot are designed to upset the audience. Leaving everyone eager for season two. Television dramas have come a long way, and Ozark just may be the pinnacle of them at this time.
One small gripe is the pacing we get from the beginning. The previous season ended with a shot of adrenaline. Not following up with that same pacing can be frustrating. However, once the insanity begins it doesn't stop, hopefully continuing in part two. Continue the anxiety inducing pace to get the audience worried. Nobody is safe. For a show like Ozark, that's necessary. The stakes have been raised extremely high and this shows greatness all depends on how they stick the landing. – Rascal F. Kennedy
Rating – 9/10
Ozark Season 4 Part One is streaming on Netflix
---
Trending Now