'Servant' Season 3 Episode 1 Recap/Review: "Donkey"
Posted On January 22, 2022
---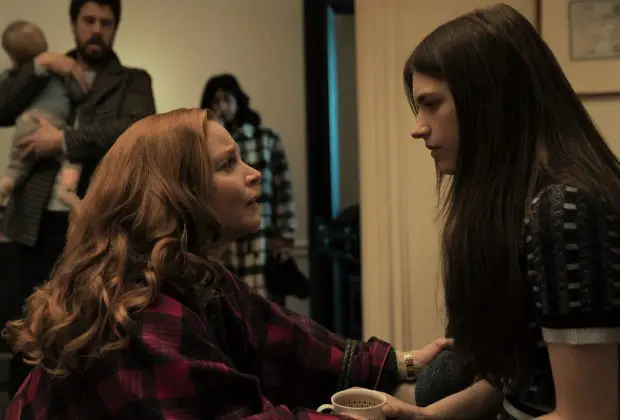 The following will contain spoilers for the season 3 premiere of Servant. For the recap/review of the season 2 finale, click here.
During my tenure at Full Circle, some of the most fun I've had are the recaps I did last year for Servant. Breaking down the Apple TV+ original provided an ample opportunity to digest my favorite show currently running on television, with some theorizing and an audience to boot. So of course, the time has come to return to the Turner household. With a season premiere directed by M. Night Shyamalan to boot!
Our grand return to the world of Servant, "Donkey", begins with a new intro, venturing into the backyard and ending on a shot of this episode's central focus: Leanne (Nell Tiger Free). As the episode starts, Leanne is in deep paranoia. Rightfully so, after the Church of the Lesser Saints dispatched Josephine to kill her. Her paranoia hyper-fixates on the moths that circle the room. From frame one, Nell Tiger Free makes it clear that she will be bringing the same intensity that made her the star of season 2.
Sean (Toby Kebbell) and Dorothy (Lauren Ambrose), however, seem non-plussed about the affair. After all, they have their baby Jericho back and think that Josephine simply agreed to leave. Yet, they have enough sense to realize that Leanne is still shaken by the threat that the cult pose. Naively, they believe that Julian (Rupert Grint) taking a walk with Leanne might calm her nerves.
While Julian might be much healthy, after a stint in rehab following his OD (see here), he's still the same disheveled ball of cynicism we know of. On the walk, he attempts to break off the pseudo-relationship between the two of them. Although it seems like he's doing this from a place of goodwill, it's really because he has a new girlfriend, Vera (Sunita Mani). Before they can finish their conversation, Leanne spots a man that looks suspiciously like Uncle George. She violently accosts him, before backing up – realizing he's not the right man. As she's backing away, a chunk of the Turner residence near the roof falls off, narrowly missing them.
Now that Leanne's paranoia is manifesting itself in supernatural ways, things could go south. Fast. This thought is undercut by a nice scene between Dorothy and Leanne, where Dorothy gifts Leanne a two-piece bathing suit for their day at the beach. It's a moment of saccharine sweetness that shows how far their relationship has come. The prospect of Leanne going to the beach ends when Julian's aforementioned girlfriend, Vera, arrives. Leanne opts to stay home instead, which is a clever trick on series creator Tony Basgallop's behalf to keep the series set in the home.

Taking Sean's advice to calm down in the wine cellar, Leanne begins drinking one of his coveted bottles. She sits down by the sinkhole, which starts to bubble with mud. Suddenly, something overcomes Leanne. She begins scribbling down checkmarks in her diary. A look of pure horror washes over her. It's almost like possession. Shyamalan is a true maestro when it comes to delivering these moments of unexplainable terror.
After calming down, Leanne FaceTimes Dorothy. The family trip seems to have soured slightly due to a flock of seagulls attacking Jericho. Looking down at her diary, seeing all the checkmarks that resemble the birds, there's a dark implication. Something must have made Leanne send the seagulls after Jericho. Could she perhaps be controlled by someone less than heavenly?
Things escalate as Leanne spots a man clad in all black rifling through the drawers of the Turners' bedroom. She immediately FaceTimes Sean, who tells her to hide and that he's calling the police. In a pulse-skyrocketing sequence, Leanne goes from room to room to evade the assailant, eventually ending up in the crawlspace behind her room where the dead body of Josephine, infested with moths, sits. Whether it be the psychological terror of the cult or the physical remains of one of its higher-ups, the Church of the Lesser Saints has a grip on Leanne.
So much so that she traps the assailant in the restroom, making the assumption that he's in the cult and telling him he doesn't have to be. He escapes just before the Turners and the police at large can arrive. Dorothy assures Leanne that they will take extreme preventive measures to assure something like this never happens again. A shell-shocked Leanne is shocked to find her dagger missing, noticing a moth on her lampshade.
And that's Servant this week! Though light on huge plot developments, "Donkey" doles out a healthy wallop of atmosphere, as if to immerse the audience back into this show's world. Shyamalan's directing is sharp, and Leanne will clearly be the focal point of this season. After the wall-to-wall reveals of the back half of season 2, it's nice to see them teasing out the story to come rather than sprinting ahead. It's good to be back, Servant. –James Preston Poole
Episode Rating: 9/10
Season Rating (so far): 9/10
Servant is now streaming on Apple TV+.
---
Trending Now