Full Circle Flashback: 'The Animatrix' Review
Posted On December 22, 2021
---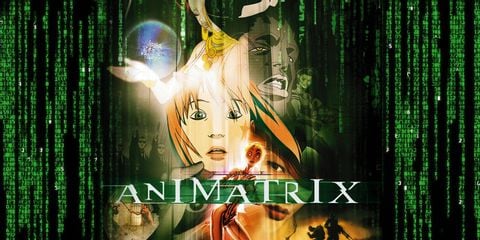 With The Matrix Resurrections hitting theaters this week, Matrix fever is in full swing. After re-watching the trilogy many times over, I was hungry for more. Naturally, it was time to clear up a big franchise blind spot: The Animatrix. Featuring heavy input by The Wachowskis, the film is a collection of nine animated short films spanning four different animation studios. Each film will be graded individually, those ratings combined and averaged out to bestow the film its overall score. Without further ado, let's get to it!

The Second Renaissance, Part I – Studio 4°C 
Coming out the gate hot, Mahira Madea's first contribution to The Animatrix fills in some key lore left up to the imagination in the original film. That being the rise of the machines. Through eye-melting animation, the future human race's decadence is in full display, as is the growing dissent in the subservient species of machine. The implications are clear as their struggle draws a stark parallel to the struggles of the disenfranchised. Not only is it a strong opening to this collection of shorts, but it's also a breathtaking ground zero for the franchise as a whole.
Rating: 10/10
The Second Renaissance, Part II – Studio 4°C 
The Animatrix keeps the momentum going. If the first part was getting us to understand the motivations of the machines, the second part is their sweet revenge. Or, sweet from their perspective at least. Part II is an onslaught of brutality.
Deeply uncomfortable in the right ways, its hyperviolence portrays the long-overdue rebellion of those kicked down. As it rockets to a devastating climax, the viewer is torn between the feeling of victory and deep sadness at what human beings become. One of, if not the, best pieces of media in the entire Matrix saga.
Rating: 10/10
Program – Madhouse
They can't all be The Second Renaissance. The Animatrix's third segment is a marked step-down, though not entirely without merit. As implied by the title, it takes place inside a training sim reminiscent of ancient Japan where Cis (Hedy Burress) converses with her friend Duo (Phil LaMarr), who tries to convince her to stay in the Matrix. They scuffle, she wakes up, Duo was part of the test. It's over before it even starts, treads no real new ground, but hey- it's pretty to look at.
Rating: 5/10

World Record – Madhouse
World Record is a marked improvement over Madhouse's prior contribution to The Animatrix. Track athlete Dan Davis is attempting to break a world record in a 100 m run. His colleagues tell him that he's pushing his body too far. This catches the attention of agents who sense that he's starting to wake up. As Dan pushes himself, he begins to push through reality and… dies. That's basically it. Yet, its slightness works considerably better than Program for the reason that it plays more strongly into the theme of defying what's considered possible. Not bad at all, especially with how striking it all looks.
Rating: 7/10
Kid's Story – Studio 4°C 
In a similar vein to World Record, the next segment of The Animatrix is a simple tale of someone waking themselves up. However, due to its unique perspective from the eyes of a high school student, it fares slightly better. Kid (Clayton Watson), a character who would go on to be featured in Reloaded and Revolutions, is your typical disaffected youth. Someone who can't help but feel life has a greater purpose than what he's currently living through. Only for this particular disaffected youth, he's right.
What follows is a heart-racing journey of a character fighting his false reality. It echoes a lot of Neo's story, and that's purposeful. Therefore, it comes across quite effectively, and the short mines the golden narrative that forms the crux of the original film. A meaningful cameo from Keanu Reeves's Neo is the icing on the cake. Solid stuff.
Rating: 8/10
Beyond – Studio 4°C 
If there was an award for most charming short of the bunch, Beyond runs away with it. Teenager Yoko (Hedy Burress) is looking for her lost cat and is led by a group of kids to a "haunted house" where she might be. Turns out this haunted house is plagued by glitches in the matrix, which she and the kids discover as magic. And magical it is. As one of the longer shorts in the bunch, Beyond earns its runtime by presenting a new interpretation of how bending the limits of the matrix could be interpreted by its citizens. It's the stuff of loving craft, and by the end, you feel like you've watched a Studio Ghibli picture set in this fictional universe. If only this were feature-length.
Rating: 9/10

A Detective's Story – Studio 4°C 
Studio 4°C continues their high-effort work in The Animatrix with another unique view of the universe. In this story, a gumshoe detective is paid to track down the hacker Trinity (Carrie-Anne Moss). Bathed in black and white, it's erotic and cynical as all good noir stories come. What really makes this short stick out, though, is its lead character's decision not to take the red pill, instead choosing to remain in his comfortable life. Nevertheless, he doesn't pursue Trinity further. An ending right in line with the genre it's homaging, A Detective's Story works excellent as Matrix by way of, y'know, a detective's story.
Rating: 9/10
Matriculated – DNA Productions
This one took me by surprise. Put together by writer/director Peter Chung with little input from the Wachowskis, I had no idea what to expect. Matriculated harkens back to The Second Renaissance by portraying a machine as a thinking and feeling being. A small group of humans is attempting to have a robot join their ranks. Their idea? Putting it in a matrix of its own to see the value of humanity.
Not content to employ this plot device in a generic way, DNA Productions takes us through a head trip of an awakening. Abstract, confusing, deeply emotional energy engulfs the robot. By proxy, the audience is taken along for the ride. Furthermore, we get a true inverse of the very concept of The Matrix. Before we can begin to ponder the implications, Matriculated ends in a harrowing way. Audiences will feel unsure of what they watch with this one. Yet, that discombobulation stings so well.
Rating: 10/10
Final Flight of the Osiris – Square USA
By the strange chance you only know of one Animatrix short, it's probably this one. That's because of the photorealistic animation, done in a similar style to the studio's Final Fantasy: The Spirits Within. Akin to that film, there's not much going on under the hood. The story of the crew's last stand does get some callouts in Reloaded and the video game Enter the Matrix, so that's nice, but what does it actually do a standalone short? Not much of anything, unfortunately. Its visuals still look stunning to this day, and the short does an admirable job of recreating the feel of the movies. Sadly, there's nothing more to say. File this in the "ending with a whimper rather than a bang" category.
Rating: 5/10

The Animatrix is a worthwhile curiosity. As all anthologies are, this one is a mixed bag, but the highs are high enough to make it required viewing for those who (like me) are caught up in Matrix Fever. The best thing about this film is that it exists. Outside of superhero films, this level of transmedia storytelling is rare. For that reason, I cherish this thing. – James Preston Poole
Rating: 8.1/10
The Animatrix is now streaming on HBO Max, available on digital HD and home video.
---
Trending Now