'The Matrix Resurrections' Review: "Enter the Blockbuster Revolution"
Posted On December 21, 2021
---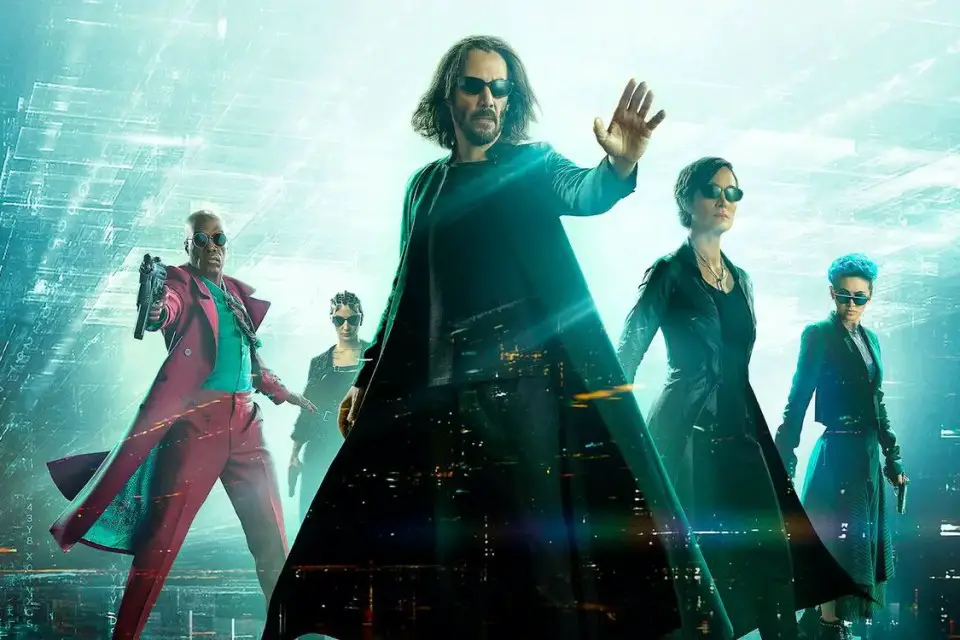 Once in a while before writing a review I have to give a certain disclaimer. A declaration of bias, if you will. The Wachowski Sisters are, in my opinion, the greatest disruptors to mainstream cinema. Their Matrix trilogy (yes, all three of them) is untouchable in how challenging, invigorating, and singular they are. Similar sentiments are applicable to further Wachowski projects such as Speed Racer and Cloud Atlas. What I'm trying to say is that when I say The Matrix Resurrections, writer-director Lana Wachowski's return to the franchise sans sister and creative partner Lily Wachowski, marks a major shift for the modern tentpole, I know I have to make my case.
Warner Bros. has done an uncharacteristically swell job hiding the secrets, reveals, and even basic premise hidden from the marketing of The Matrix Resurrections. This review intends to honor that promise, so look elsewhere for a full breakdown. What I can tell you is that the film follows Neo (Keanu Reeves) living under his original name Thomas Anderson in an uncanny reality with no memory of a life beyond it. His therapist (Neil Patrick Harris) prescribes him blue pills to keep at bay the feeling something is amiss. Trinity (Carrie Anne-Moss) is also in this reality living blissfully unaware. Neo pines for her, despite the two not having any recollection of one another. It's only when a mysterious blue-haired, reality-bending woman named Bugs (Jessica Henwick) and a man with a striking resemblance to Morpheus (Yahya Abdul-Mateen II) appear that Neo tumbles down the rabbit hole once more.
That sparse recollection of the marketing material won't prepare audiences for what Wachowski's latest really is. Really, The Matrix Resurrections is akin to getting two films for the price of one. The first is a proper Matrix 4, full of the expansion to the lore and mind-blowing visuals one would want after all this time away. The second is a meta-textual manifesto against the state of modern popular filmmaking. Both form a wicked symbiosis, working in concert to produce a product that feels like a lot. Nevertheless, don't consider a gorge, consider it an impeccably eclectic multi-course meal.

For a casual audience, The Matrix Resurrections is full of the kind of "Whoa" moments a mind-bending science-fiction flick should have. As a matter of fact, it over-delivers! Naturally, cinematographers Daniele Masacesi and John Toll keep "The Matrix" and the real world looking as sleek, iconic, and diametrically opposed as ever. Thrillingly, they also conjure up images of the like we've never seen before. Beyond explanation in a non-spoiler essay, the very nature of the kind of images we see in mainstream fare is obliterated. Resurrections contains so unbelievably weird you might think they were going for a sequel to Eraserhead. It's invigorating!
Invigorating as though it is, The Matrix Resurrections's action sequences do falter a bit. Far too many of the big fights feel awkwardly handled, with tons of tight close-ups that feel out of place. Perhaps it's the sheer volume of visual ideas each fight is trying to cram in. Either way, it lacks the graceful reality-shattering ballet of the original films. The writing in some sections of The Matrix Resurrections suffers from a bit of the same lack of grace that handicaps the action.
Wachowski's screenplay, co-written by David Mitchell and Aleksandar Hemon, has a smidge of a wordiness problem rivaled by a distinct desire to add mountains of lore to an already rich thematic universe. It's all great, it's simply overwhelming. But just like Reloaded and Revolutions, this apparent bit of mess could turn out to be a brilliantly constructed machine in a few years. That's a bet I'm willing to take. In any case, new characters such as the Bugs, Sequoia (Toby Onwumere), and Lexy (Eréndira Ibarra), form a lively new crew in Wachowski's evolving sandbox.
Now it's time to discuss the other element of the film: the meta-textual narrative. Not content with simply making a new Matrix, Wachowski goes the New Nightmare route. By that I mean The Matrix Resurrections is her opportunity to air her grievances with the state of the film industry. Nostalgia is the enemy here, a parasite that keeps us looking backward to avoid moving forward. There are a variety of lines that feel as if they're speaking directly to the audiences of today; how we've become so desperate for stories hinge-ing so hard on the past that it's kept us in stasis. As Neo must break out of his false reality, so must we.
Wachowski incorporates characters with echoes of the past, such as Abdul-Mateen's, the scene-stealing Jonathan Groff, and an uncommonly mesmerizing Neil Patrick Harris. These characters each serve as a comment on what The Matrix means to pop culture, how the films are interpreted, and what a new Matrix absolutely shouldn't be. Parts of it border on didactic, but you know what? Wachowski has earned the right. Her commentary is an abrasive, though righteous rebel yell against the inability of a culture to move forward, and the tyrants that keep us in place.

Uniting both parts of the story is a love story, that between Neo and Trinity. Reeves and Moss pour their heart and soul into this narrative. It's a story of star-crossed lovers learning to move on from their past, find each other again, and create a better future. Their finding of their way back to each other is as romantic as it is poignant for a whole generation of filmgoers. I challenge any viewer to find a better thread to hang this movie on.
The Matrix Resurrections is a lot of things. It's messy. It's dense. Mostly, it's the next step for the modern blockbuster. By confronting the past and paving a glorious new future, Lana Wachowski establishes a tale that fits as comfortably within the confines of this franchise as it does sitting next to some of the great critical treatises on modern pop filmmaking. Many will hate it, many more will love it. Some will simply not get it yet. And that's fine. Wachowski and the cast and crew behind her reclaim what taking the red pill is: waking us up. The Matrix Resurrections has my eyes wide open. –James Preston Poole
Rating: 8/10
The Matrix Resurrections is in theaters and streaming on HBO Max on December 22, 2021.
---
Trending Now