When Darkness Falls On 'Ted Lasso's Sophomore Season
Posted On October 12, 2021
---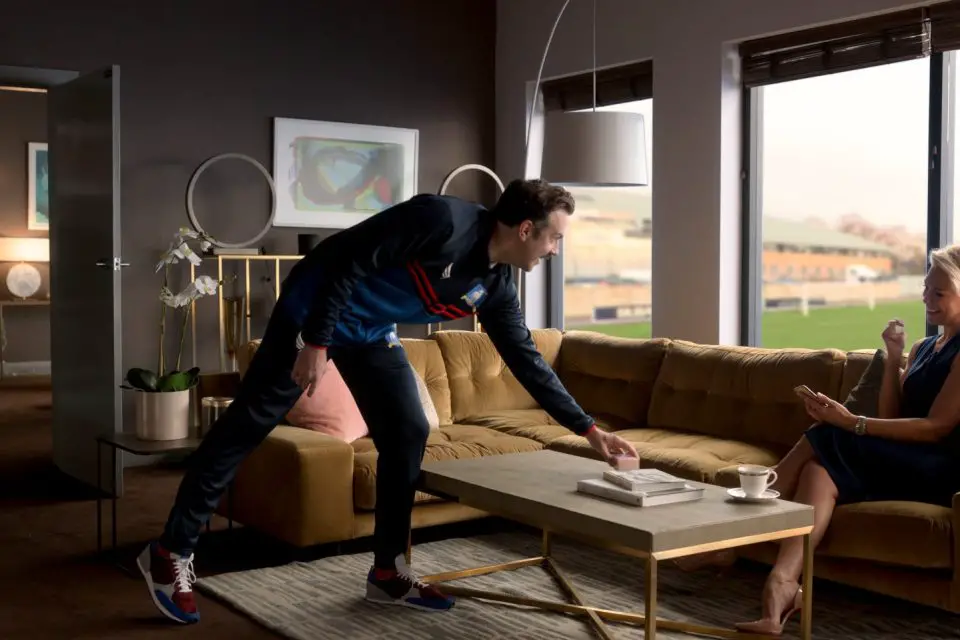 Ted Lasso. One of the most notable names of 2021. Some, in hearing, smile while others… not so much. It's become a polarizing force that strangely derives from a character fashioned of good old Southern charm and puns. Despite the base level assumptions of Ted himself, there's more than meets the mustache.
Ted Lasso became the primary source of many people's affection, displeasure, and even indifference. You know, not liking something for the sake of its popularity but never verging on complete hatred. Some either found it too optimistic or just the antidote they needed to get by. The series has taken on a life of its own ever since its premiere in August of 2020. It's been the subject of many think pieces — this one included — as well as the source of comfort for several others. Much like every other cultural phenomenon that surfaces every other week on social media, Ted Lasso somehow became so much more than that. It outlasted the praise and even the backlash it received earlier in the summer. 
Good or bad, Ted Lasso struck a chord with its audience. It wasn't a difficult chord to strike, considering the uphill mountain that continues to be living in the midst of a pandemic. Ted Lasso uncovered the fragility of humanity underneath the rubble of dread and darkness that's shrouded it for years now.  It appeared to remind us that there's still a little kindness within us all — that we should practice nurturing it now and then. For others, it represented all the bland and one-dimensional things television can do. Flat out rejecting the narrative of a Southern man's penchant for rapid-firing pop culture references. Of someone like Ted capable of giving meaning to life through his journey as a once American football coach now in charge of leading a Premier League team to victory. Or maybe it's the blind optimism, with his obnoxiously yellow "believe" poster that didn't bode with some. Here's the thing, Ted Lasso has become more than the now infamous sign. 

This is not to insinuate the show is preaching the gospel of kindness and on its merry way it goes. Since its pilot, Ted Lasso has equally showcased the virtues, and faults of people. Whether it's Ted's (Jason Sudeikis) painful call with his now ex-wife at the end of the pilot or Rebecca Welton's (Hannah Waddingham) calloused remarks and actions that veil so much hurt, Ted Lasso has always been about the pitfalls of humanity. Ted Lasso is not interested in incriminating us for the things we lack but in sustaining the things we already hold. We all can break and be damaged, just like we have the potential to grow from these experiences. Ted, as a character, is merely a conduit that leads back to the things that we as human beings have lacked in the past couple of years. 
"All people, are different people."
He is also a reminder that all things that shine can break. This is the running theme of its second season. It's hard not to compare when a series premieres with a solid first season and falls short in its second. 
Despite his sunny disposition and whimsical anecdotes, the second season of Ted Lasso unearthed the broken man behind the mustache (a pun necessary in honor of Ted himself). In fits of panic and anger, Ted unravels before the viewers. Unleashing so much sadness that it's almost too much to bear unto one human being. Yet, there's this feeling of relief. To see the show acknowledge that Ted, underneath the optimism, is just as fallible as every other human being. That he simply is a man on the brink of a transitional period in his life. That the weight he carries also makes it impossible for him to keep going. That it's foolish to ever really be a goldfish. That to keep trudging along and pretend everything is okay is just a temporary solution. A bandaid to a deeper wound. Sometimes, and most often, it's about seeing someone like Ted overcome his greatest fears that give everyone else watching a tiny glimmer of promise. At least enough hope to get out of bed. 

Notwithstanding Ted's emotional arc this season, it wouldn't be fair to the show if not to highlight some of the significant flaws of the season. It's not in hopes of diminishing the important work the show is trying to do here. However, this season felt like being lost at sea with no compass. Aimlessly wandering the dark sea for a horizon that never shows. Several things could attribute to these mistakes and misses: perhaps writing a show during COVID, or a demand from Apple to have showrunners write two extra episodes after the season was laid out, or maybe it's the week-by-week viewing experience with an audience used to the binging format. For whatever reason, Ted Lasso's sophomore season lacked the emotional depth and clarity that season one offered. There seemed to be a misunderstanding in pacing, and the emotional beats that were supposed to land but didn't. 
A brunt of these concerns came down to the narrative choices made for its female lead, Rebecca Welton. Most of the male characters in this season were allowed to explore some of the more tragic and obscure undertones of their characters. Ted's depression and his father's suicide, Nate's gradual descend into an egotistical bully and even Roy's internal struggles with leaving football gave these characters depth. It's a shame not the same was done for Rebecca this season. It's more or less the show's knee-jerk reaction to explore Rebecca's more intimate life in a way that both compromised her characterization and debased her to the stereotype of the older "cougar." 
There's been a firm resistance from the show to acknowledge some of the precarious positions Rebecca unjustly placed in this season. As I've stated in the past, it's not so much her arc centering on her love life but the imbalanced nature of it. It teetered its audience too much on just one aspect of Rebecca to the point of making her almost unrecognizable to its audience. Making them question half of her decisions this season, reducing her to just that person aimlessly walking around the halls of AFC Richmond, eyes glued to her phone. Of lacking any real emotional realization by the end of the season for Rebecca. 

As refreshing as watching a middle-aged woman navigate love after her divorce is, the show failed to make that happen for Rebecca. The problem was not seeing much of Rebecca engage with her feelings regarding love. We got a Rebecca who didn't know what she wanted and from one episode to the next magically made that realization. Ted Lasso also failed to acknowledge how a psychologically abusive marriage impacts these romantic decisions. How does Rebecca view intimacy after Rupert? What is she looking for in a partner? How does Rebecca see herself after her marriage? How does all of the damage she endured in her marriage impact who she is in the context of an intimate relationship? The show pretty much left these questions unanswered, much to the detriment of Rebecca's characterization. It also became clear that Rebecca became a plot device to, yet again, induct a younger man into "maturity" as some weird rite of passage.
The closest we ever got to understanding Rebecca, both as a woman and as a partner to anyone, is during her father's funeral. And what episode that was for both Sudeikis and Waddingham, respectively. "No Weddings and Funeral" was the episode that ever came close to doing right by Rebecca Welton this season. It opened old wounds that Rebecca needed to grow. It recognizes, to some degree, just how much Rebecca has modeled her love life according to that of her mother and father. How all these years, she saw her mother through the prism of someone ignorant of her husband's betrayal. Of the silence her father cruelly imposed on her and robbed her of ever understanding why he did what he did to both her mother and to her. It was a genuine moment for Rebecca to finally, if ever so briefly, address the root cause of a lot of her problems. 

However, that becomes short-lived as the last two episodes of the series setback the work they did in that episode. Throughout Rebecca's journey of self-discovery, Rebecca begins to date one of her young players Sam Obisanya (Toheeb Jimoh) after meeting through the anonymous dating app Bantr. It's not so much a shocking turn of events but a perplexing one. A choice writers seemed to make out of shock value that benefited neither character this season. It created this chasm between wanting the viewers to invest in Rebecca's love journey while ignoring the evident conflict of interests and moral dilemmas this relationship conceives. An ethical and moral conversation that the show flat out refused to participate in, almost willfully ignoring the optics of what this relationship could do to Sam, Rebecca, and the club itself. 
Age gap semantics aside, the show failed to acknowledge the power dynamics that raised these moral questions between Sam and Rebecca from its viewers. Not once did the show take issue with this. Not through its plot nor through other characters close to Rebecca. Oddly enough, the show only doubled down on framing the nature of the relationship as this "sweeping romance" that Rebecca appeared to be willing to risk her entire career as a club owner on. Romanticizing Rebecca's more problematic actions, like showing up at Sam's doorstep after he was offered a spot in a Nigerian team. Being there in itself is already a transgression of Rebecca's role as Sam's boss, as she attempts to prudently sway Sam's decision on whether or not he should go. It's layer upon layer of clear conflict that the show refused to touch upon, like Bantr becoming of the team's major sponsors. The same app Sam and Rebecca met on. 
READ: What If…? Episode 9 Review: "A Break From Tradition"
Ultimately, the storyline ends quite unceremoniously and quite humiliating for Rebecca. Sam decides to stay, but only for himself and his "personal journey", breaking up with Rebecca in front of Ted. This leaves a blindsided Rebecca, swallowing down a full glass of champagne after Sam leaves the office. This also leaves a question out in the air of what did this season actually mean for Rebecca? What did she actually gain from all of this? Her character is humiliated, and her arc is sacrificed in order to push Sam's narrative arc forward. The show takes a moment where it could provide a spot for a discussion on power and wealth, and reduces it to an episode of lovesickness. 
It's not so much the framing of the "romance" that makes this all so infuriating to watch but more on the lack of nuance in the entire relationship. It was never about addressing Rebecca's traumas or even recognizing the show's motto of "accountability" but more about serving this strange fantasy bordering on The Graduate and Mrs. Robinson, having Sam fulfill this life-changing moment and leaving Rebecca as a hollow reminder of who she could've been this season. Back in square one. 

That's a lot of what this season was made of, emotionally hollow and empty moments. Moments that were supposed to hit emotional peaks, like Jaime (Phil Dunster) and Roy (Brett Goldstein) embracing in episode eight, only to have Jaime become this brief rift between Keeley and Roy, later on. The season became confusing fits of conflict that got resolved almost immediately in the same episode. Or, situations that demanded conflict but never did. Like the sporadic, and brief moments we actually saw Rebecca running the club, only for it to be undone when Ted doesn't seem to run significant decisions past Rebecca; like bringing Jaime back or hiring Roy as an assistant coach. Or Roy's insecurities regarding his and Keeley's relationship in the finale. There's no gradual build-up to these tensions the show suddenly brought out. No real connection. It seems the show initiated conflict simply for the sake of conflict. Filling in gaps that weren't there.  
Ted Lasso got in the habit of implying behind-the-scenes moments as opposed to showing its audience. This hurt the pacing and realism of what the show was trying to accomplish. 
While all of these things failed the show this season, I believe the conversation on mental health, primarily centered around a man and manager of a sport, was necessary and well done. Most of it had to do with Sudeikis's easy rapport with Sarah Niles as Dr. Sharon Fieldstone. I'd be remiss not to mention Niles's incredible work this season as the sports psychologist. Her portrayal of silent resolution and strength through Dr. Fieldstone is some of the best work seen on television this year. Not only that, Dr. Fieldsone became a fully fleshed-out individual with problems of her own. She didn't become just a pawn in Ted's journey of healing, but it was reciprocated for her. Ted became an integral part of her own arc in becoming a better psychologist and human being. I hope we get to see more of Sarah Niles's beautifully crafted Dr. Fieldstone, especially in scenes with Rebecca Welton, who clearly needs some therapy of her own. 

None of this excludes the great work this show has done overall. I do believe the writers can salvage things in season three. Can it all be done in one season? For the sake of transparency, and to flesh out several arcs that were left unresolved this season, I hope so. Realistically a fourth, if not a fifth season is needed to untether a lot of these major conflicts the show dumped in the second half of this season. That being said, I must end this by reiterating that my grievances don't equate to demands. I am not in the business of demanding writers to do anything, especially with my self-interest in mind. It's not, and should not, be up to me and its audience to determine how this story goes. 
However, I do believe that there's a symbiotic relationship between writers and their viewers. We enter into this contract where the writing or story becomes a promise to its viewers. A promise that whether or not the writers wish to fulfill is ultimately their choice. But, as viewers, it is well within our right to accept that choice or not. That's how all of "art" as an abstract concept goes. We can accept the artist's vision while criticizing it. Both aren't and shouldn't be mutually exclusive. 
Here's to love, to hate, and the indifference that Ted Lasso has invoked in all of us. At the end of the day, if even for a single moment, hasn't this show provided us a little life amid so much monotony and darkness? I think that does count for something, in the end.  – Mariana Delgado
---
Trending Now