'Queenpins' Review: "A Harmless Ensemble Piece"
Posted On October 2, 2021
---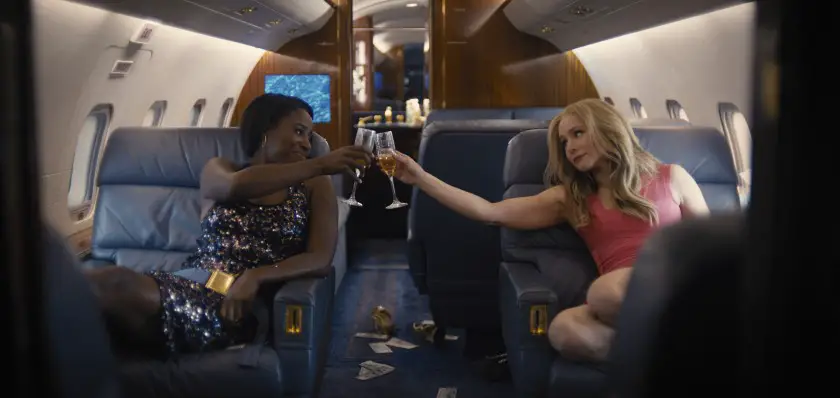 Movies inspired by true stories can be hit or miss. Depending on the subject matter, these kinds of films can pay homage to the real-life people who lived the events or leave a bad taste in the mouths of those watching it. In the case of Queenpins, neither of those things are true. Instead, the film is a harmless way to spend a Saturday afternoon. The film features some genuine laugh-out-loud moments and solid performances from a rather impressive ensemble cast.  Just to name a few, the cast features Kristen Bell, Kirby Howell-Baptiste, Joel McHale, Paul Walter Hauser, and Vince Vaughn.
The film tells the outlandish true story largest coupon counterfeit scheme in American history. The plot charts two best friends in Phoenix as they create counterfeit coupons and run a $40 million scam. The film presents itself as a comedy featuring some cheap gags and quirky writing. However, it quickly attempts to pack an emotional punch when Bell's lead character, Connie, reveals she suffered a miscarriage after multiple IVF treatments. However, while the attempt is there, the film's goofy nature and seemingly glorification of grand larceny are wild enough to pull away from the seriousness the film tries to go for.

Bell's old co-star from The Good Place, Kirby Howell-Baptiste appears to be an actress on the rise. With a highly anticipated portrayal of Death in Netflix's Sandman series, one has to imagine the British multi-hyphenate is only just beginning the upward trajectory of her career. Thankfully, she is given plenty of opportunities to flex her comedic timing as JoJo Johnson, a down-on-her-luck businesswoman in Queenpins. The actress pulls off a certain level of charisma in the middle of a totally ridiculous tale.
However, the film's true MVP is unequivocally the powerhouse that is Paul Walter Hauser. Portraying the loss prevention officer of the corporation Connie and JoJo are scheming against, Hauser is absolutely marvelous. As a character desperate for respect and purpose, Hauser's Ken Miller is a bright spot in the film's unique premise. Later on, Hauser gets to team with the incomparable Vince Vaughn, who joins the movie as an investigator for the U.S. Postal Service. As always, Vaughn is absolutely fantastic in this role and brings his trademark brand of comedy to the cast. With two middle-class, suburban women pitted against two low-level investigators, the film does not waste its potential for humor. Moreover, it delivers when it counts.

Written and directed by the husband-and-wife team of Aron Gaudet and Gita Pullapilly, Queenpins does what one has to believe it is designed to: bring a team of recognizable actors together and give each one fun things to do. Thanks to memorable moments and performances from the ensemble, Queenpins is a solid comedy flick with some longevity in terms of being able to rewatch. – Christian Hubbard
Rating: 6/10
Queenpins is streaming now on the Paramount+ streaming service!
—–
Did you enjoy this article? If so, consider visiting our YouTube channel, where we discuss the latest and greatest in pop culture news.
---
Trending Now