Comedy's Misunderstood Masterpiece: 'Freddy Got Fingered' At 20
---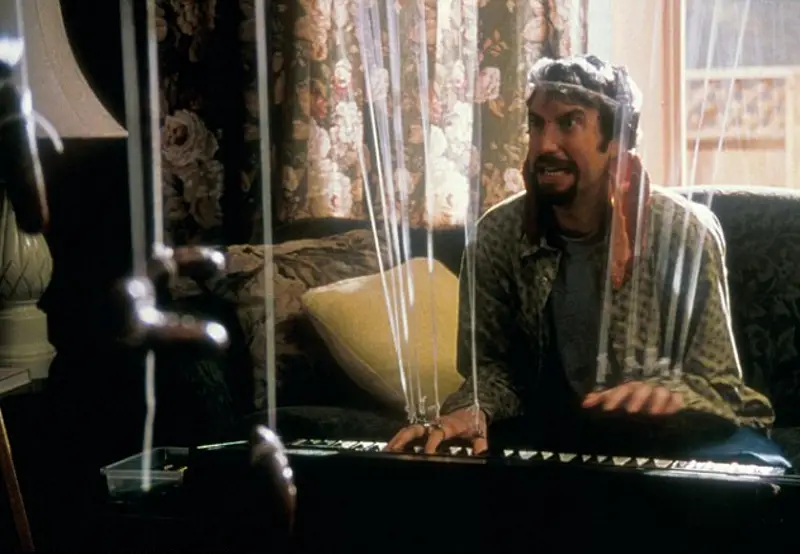 Let's talk about Tom Green. At one time something of a phenomenon, Green made his name in prank comedy in the late 1990s. His aptly titled show, The Tom Green Show, was a smash hit for MTV. Naturally, the lucrative offers began rolling in for Green to translate his small-screen success to cinema. Ultimately, Green partnered with 20th Century Fox to write, direct, and star in a $14 million feature. This resulting feature is Freddy Got Fingered, and its reputation precedes it.
Released on April 20, 2001, Freddy Got Fingered became an instant flop. No, much more than that. Freddy Got Fingered was lambasted. Decried. Referred to as one of the worst films of all time, cleaning up at the year's Golden Raspberry Awards. For years, the film lay in infamy; a paragon of bad taste. Now, 20 years later, under a small but dedicated cult following, its reputation is something different entirely. Ardent fans "get" what it's going for, holding it up as a masterpiece of anti-comedy. After revisiting the film not once, not twice, but three times this past week, I can say with all sincerity: they're absolutely right.
Freddy Got Fingered is the holy grail of cinematic comedy. A movie with an agenda so niche, so bizarre it still flies over most audiences' heads. I can't say it's hard to blame them. The film is filthy, bathed in bodily fluids, dead things, and all sorts of genitalia, among other taboos. One's experience with the film either involves nervously laughing while the person you're showing it to sits stone-faced (if you're lucky), or you are the stone-faced person reconsidering if you even still want to be friends with the person who's showing it to you. Then again, that's kind of the point.
Tom Green is pulling a prank. The prank to end all pranks. A major studio gave him nearly $15 million to put whatever he wants on the screen with very little interference. And what he did was sabotage their goodwill. Green creates a dark mirror of the type of big studio comedy that was popular at the time, only he takes it to the extreme. He warps the sensibility of, say, an American Pie or There's Something About Mary until it becomes a Cronenbergian beast. The thing is, you can't look away.

Our lead character, aspiring cartoonist Gord Brody (Green), resembles a typical comedy protagonist on the surface. He's a slacker who still lives at home before trying to make it in the big city of Hollywood. Beyond that archetype, Gord couldn't be more different. At his core, Gord is a wild-eyed sociopath. He's the type of person who will put down everyone around him, shoving his new car in his brother's face within his first two minutes of screen time. He'll say the head of a cartoon studio's wife has died so just so he can get access to him to pitch his cartoons. Perhaps most telling of who Gord is? When on his way to Hollywood, Gord passes by a stud farm. Like any normal person, he screams, slams on the brakes, runs to the horse, and starts manually stimulating it while exclaiming "Look daddy, I'm a farmer!".
So… yeah. Gord is a menace to society. Freddy Got Fingered's script, however, refuses to acknowledge that. It goes on like everything is normal, using the normal comedy framework. One would even say generic. Green's dialogue is as simple as it comes. In the opening scene, Green and his father keep reiterating how he's going to make him "proud". During the span of a few seconds, they utter that word no less than five times. Gord continually refers to himself as a "28-year-old man". Everything is repetitive as if to remind us that we're watching a normal comedy. The kind of pleasant lull of suburbia that David Lynch touched on in Blue Velvet. Also, like Blue Velvet, there's some serious darkness underneath.
Freddy Got Fingered makes its way through all the classical comedy beats of the era but does them… differently. The aforementioned scene where he tries to get to the head of the animation studio (Anthony Michael Hall) has him putting a gun in his mouth when the head rejects him. Advice to "get inside" the heads of the animals he's drawing leads to him wearing a deer's corpse before getting hit by a car. To quote Anthony Michael Hall's character when seeing his drawings, "What the fuck is happening here?"
And this is only the first act. As soon as Gordy has to move back home, he and his father, Jim (Rip Torn), engage in a wacky war of sorts, a trope often seen in slacker comedies. Only here, Gordy is totally in the wrong, but his father also verbally abuses him constantly. This leads to bizarre sequences like Tom Green wearing a meat suit playing the keyboard with his fingers connected to ropes holding sausages hanging from the ceiling while he sings "Daddy Would You Like Some Sausage?". He wears his father's suit while walking backward, singing a song about being the "Backwards Man". He wears a Scuba Suit in the shower. The guy's got a love for suits, really.

It's hard to look at any of these scenes as anything more than peak surrealist comedy. They're total non-sequiturs: a character being annoying for the sake of being annoying. Only it's not annoying: it's disruptive. It's so outside the realm of what is conventionally funny that it circles back to being side-splittingly hilarious just for how bizarre it is. As a storyteller, Tom Green is a bull in a China shop, setting up what the studio expected and laying it to waste. Green boils down the archetypes surrounding Gord to their bare essentials or perverts them to the extreme. His rocket scientist love interest (Marisa Coughlan) is characterized only by her desire to give Gord oral sex. The clutzy character who always gets injured is this time a literal child who actually gets hurt from his injuries, getting progressively more beat up as the film goes on.
It's the juxtaposition of this profane, disgusting humor to the heart-on-its-sleeve structure of late 90s comedy that makes it a demented treat for the adventurous. A scene where Gord delivers a baby (against the mother's will) and then swings it around by the umbilical cord he just bit off to wake it up ends with a completely straight-faced sentimental moment. There's such a tonal whiplash all you can do is laugh. Even Gord and his father make up by the end despite the fact that his father was outright abusive and Gord had lied about his father's sexual misconduct. Oh, right… we haven't even addressed the title.
Freddy Got Fingered refers to a subplot in the film where during a family therapy session, Gord accuses his father of molesting his younger brother Freddy (Eddie Kaye Thomas), who A). is 25, B). lives away from home, and C). denies that ever happened. As a result, Gord's mother divorces his father. Moreover, despite being an adult man, Freddy goes to the "Institute for Sexually Molested Children" where children run around out-of-control and watch The Texas Chainsaw Massacre in their spare time. Then the script does not mention the subplot again. It's uncomfortable. That one sentence is enough to put someone off of the film entirely.
What I'm making a case for is Freddy Got Fingered as something of a factory of discomfort. Tom Green took the money Fox gave him and flushed it down the toilet, making a film so purposefully abhorrent and on the surface "terrible" that it could go down as the best prank of all time. That is, if it weren't legitimately good.

The real prank of Freddy Got Fingered is its intrinsic value. It has a punk rock sensibility, letting surrealism, discomfort, and chaos reign supreme. It goes beyond being a spoof- this isn't lampooning the comedy establishment, it's blowing it the hell up. One could argue it basically invented a style of comedy playing on audience expectation and taking us into a territory that straddles the thin line of comedy and horror. It's more than shock, it's a deconstruction of comedy that modern giants like Tim & Eric and Eric Andre have refined.
Am I saying that Tom Green is an auteur? That Freddy Got Fingered is a hidden opus of comedy? Yes, that's exactly what I'm saying. 20 years later, it may not click for most, but give it 20 more years. Freddy Got Fingered deserves to be studied. It deserves a spot in the Criterion Collection. And I'm not saying this as some kind of ironic joke. I believe this film is a downright fascinating work of art, one that will never be agreed upon, but one that will always be talked about.
Early in the film, Gord is at his job at a cheese sandwich factory. Unable to sit still, he grabs a giant slab of ground meat, pretending it's his genitalia, while the classic Sammy Davis Jr. record "I've Gotta Be Me" plays in the background. Never stop being you, Tom Green. – James Preston Poole
Rating: 10/10
Freddy Got Fingered is now available on DVD and Digital HD.
---
Trending Now