'City Of Lies' Review: "An Unfinished Story Still Worth Exploring"
---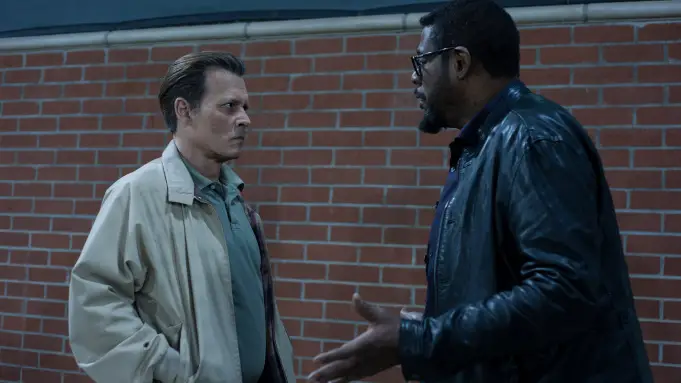 Christopher Wallace, AKA Notorious B.I.G. and Tupac Shakur are two of the most prolific hip-hop artists in recorded human history. Ever before their lives were cut short due to senseless acts of violence, they changed the world of music forever. However, after the unfortunate loss of life, the intersecting stories of these two performers didn't end. In fact, the still-unsolved murders have become the centerpiece for a bevy of new tales currently being told.
Hailing from director Brad Furman and screenwriter Christian Contreras, City of Lies is one of these new tales. Based on Randall Sullivan's non-fiction book LAbyrinth, the film follows the real-life story of LAPD detective Russell Poole. In addition to the intrigue of seeking the truth about who killed Tupac and Biggie, the film benefits from its two leading men Johnny Depp and Forest Whitaker. What presents itself as a true-crime drama eventually unfolds into a murder mystery with twists and turns galore.

Depp portrays the aforementioned detective Poole attempting to fulfill a self-appointed mandate: figure out what happened to the two megastars and discover the role the LAPD played. His counterpart is reporter Jack Jackson (Whitaker), who is desperate for the truth. Together, they find themselves knee-deep in scandal drenched in racism, dirty politics, and a whole lot of hush money.
The film begins with the killing of LAPD Officer Kevin Gaines by LAPD Officer Frank Lyga in March 1997. The two undercover agents' secrets and intentions unravel as Poole peels back the curtains to their personal lives. Gaines works for Suge Knight's Death Row Records, Tupac's record label, and his death occurs nine days after the death of Biggie. The power of Suge Knight and his influence during this time looms over the plot. Similarly, Los Angeles serves as an overarching backdrop for the film with the shadow of the department's attack on Rodney King looming. From there, the narrative dives deep into just how far Depp's Poole is willing to go and how much time he is willing to invest to figure out what really happened leading up to the gunshots heard all around the world.

However, despite the film's mind-blowing conspiracy revelations, it suffers from how often it relies on flashbacks and timeline-hopping. A complicated story told in a complicated manner leaves confusion as to which plot thread is being followed at any given minute. Additionally, the attempt to weave real-life footage of the murders, and the moments leading up to them, falls short due to their seemingly random placement. This is a reminder that this is a story of real-life investigators solving real-life murder cases. This is a reminder that two young Black men are dead. The powerful imagery ultimately serves its purpose provides an emotional appeal to keep viewers interested.
One thing working to the movie's advantage is the stellar on-screen duo of Depp and Whitaker. The two bonafide legends demonstrate some believable chemistry as two men sharing a common desire for the truth. Depp's passion for justice coupled with Whitaker's insatiable hunger for knowledge creates a solid partnership. Notably, the film shapes this team as most likely to figure out what really happened the night of Biggie's murder.
Moreover, City of Lies shines a bright light on how corrupt many American police departments can be. The film looks at the actions of LAPD officers through a microscope. The way the plot plays out forces the viewer to connect the dots in real-time. And while racism is a common theme for stories involving white police officers, it's the lust for power and wealth that causes some Black police officers to dip their toes into corruption as well. City of Lies does an exceptional job of bringing all associated parties to task.
Finally, hearing the voice of the always eloquent Voletta Wallace over clips of her song is enough to earn a few tears. Moreover, seeing Wallace as herself in a meeting with Poole and Jackson is jaw-dropping when recounting her strength as a mother who has lost a son. The legacies of The Notorious B.I.G. and Tupac Shakur go on with a constant stream of documentaries and posthumous honors and awards. However, the mystery of their murders remains unsolved. Viewers would be hardpressed to walk away from this movie feeling as if the death of Biggie, in particular, is a fine example of the justice system failing Black Americans.
Overall, City of Lies is a real-life crime mystery that invokes curiosity and frustration. One man's quest for the truth remains open-ended and the men responsible for the deaths of Tupac and Biggie remain at large. The performances of Depp and Whitaker resonate in a film that's largely been forgotten thanks to years of release limbo. While the ending leaves a lot to be desired, so do the true details surrounding the actual murder cases of Christopher Wallace and Tupac Shakur. – Christian Hubbard
Rating: 7/10
City of Lies is available now on various on-demand platforms.
The film stars Johnny Depp, Forest Whitaker, Shea Whigham, Neil Brown Jr., and Toby Huss.
—–
Did you enjoy this article? If so, consider visiting our YouTube channel, where we discuss the latest and greatest in pop culture news.
---
Trending Now