'The Falcon and the Winter Soldier' Episode 5 Review
---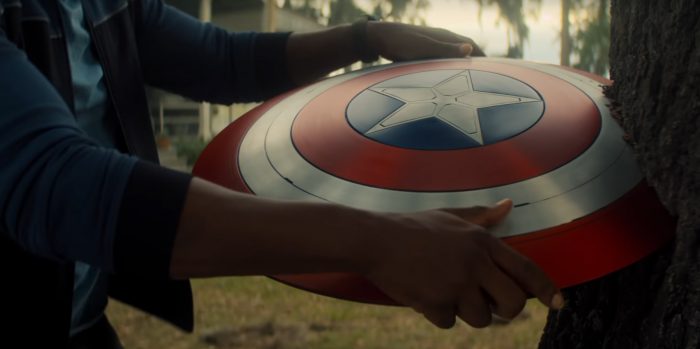 This is a SPOILER review for Episode Five of The Falcon and the Winter Solider. For last week's review, click here.
Falcon and The Winter Soldier has been an incredible series so far. A landmark entry in the Marvel Cinematic Universe, the show has really fleshed out its two leads. Taking the time to explore what it means to be Captain America, the show has thrived. Under sharp direction from Kari Skogland, each episode has taken its time in the exploration of Sam Wilson. The fifth episode is no exception.
After the exploration of power and what the symbol of Captain America means, we're faced with the consequences of what that symbol can potentially be in the wrong hands. Following a bloody and costly mistake made by John Walker, Sam and Bucky are left to pick up the pieces. John Walker is shown with a fractured psyche, his obsession with the mantle taken too far. What follows a quite literal battle for the shield.
Watching Sam and Bucky take on an unhinged John Walker makes for an incredible opening sequence. Seeing two characters so closely tied to the shield fight for its integrity was a sight to behold before we even get to the title card. As metaphorical as it is literal, watching John rip off Sam's wings and nearly killing him for the shield was a near right of passage for him. Bucky fighting tooth and nail alongside him for it was as good of an opening sequence as it gets.

Moreover, the introduction of a classic Captain America villain (which I won't spoil here) was an interesting setup early on in the episode. John Walker goes full antagonist at this point, in denial of not being right for the mantle of Captain America.
The episode slows its pace for Sam, who is at a crossroads. Now in possession of the shield again, he's unsure of how to move forward. Going to Isaiah Bradley for advice, Sam and Isaiah have a heart to heart. Touching on issues of identity erasure, we get more development for Sam in one episode than we have in all previous appearances in the MCU. Really understanding Sam not only as the one to pick up the mantle but as a person of color is what this episode does exceptionally well.
Watching Sam become disillusioned but forming some sort of acceptance of the legacy of the shield was incredible to watch. Sam understands the erasure, pain, and mistreatment of Isaiah. Just one example from an entire race unjustly robbed of what was theirs. His life, history, and family were taken from him. Instead of staying disillusioned, though, Sam decides to continue to stand up and fight. In both his fights at home and in the larger world, Sam unites with his community to preserve his family history and accepts the mantle of Captain America to finish what he started with the Flag Smashers. His refusal to give up in the face of overwhelming obstacles is quintessential to Captain America.

Sam and Bucky make peace with the absence of Steve and their newfound friendship as well. Coming to terms with the new status quo, our characters are geared up and ready to go for the final episode. However, a minor complaint about this episode would be how some plot threads established throughout the series are tied up messily. Loose threads such as the power broker, Batroc, and continued development for Karli are pushed to the wayside.
While Zemo was thought to have played a bigger villain role, it was more of a supporting turn. Watching him be taken away and his escape resolved peacefully came out of left field. It's a proper subversion for a nuanced villain. Moreover, seeing him be taken away only to inevitably appear later makes this viewer excited for his future.
Moreover, we're treated to rushed scenes just to almost check off a list of what needs to happen before the series ends. John Walker, while given a great opening scene, is barely in this episode. Additionally, when he is in it, it's for half-hearted character moments. While people like Sam and Buck have opportunities to grow, newer characters are pushed to the wayside with little development. It seems to be something of a vicious cycle in the MCU. Still, though, it is a small complaint in an otherwise fantastic episode.

With the flag smasher planning one last attack in New York, Sam prepares to take the mantle. After reflecting on what the shield means with others and finally deciding for himself, we get to see him make sense of it in a more literal way. Watching Sam prepare physically to take on the role was really satisfying. The physical preparation and the practicing with the shield show Sam's dedication and his urgent need to do the job right.
Overall, despite some lost potential in previous plot threads, this penultimate episode of Falcon and Winter Soldier continues to show this is one of the best MCU installments to date. Sam Wilson, fully realizing his identity and potential as a Black Captain America, rises to the occasion. Sam won't be someone who will stand for the erasure of his history and culture. Neither is he one to stand idly while nations are divided. Moreover, with disillusioned revolutionaries seeking to take advantage of the chaos. Sam is ready to put a stop to it. If that isn't Cap, what is? – Ernesto Valenzuela
Grade –  8.5/10
New The Falcon and the Winter Soldier episodes premiere every Friday on Disney+
---
Trending Now