'Thunder Force' Review: "A Diluted Action Comedy"
---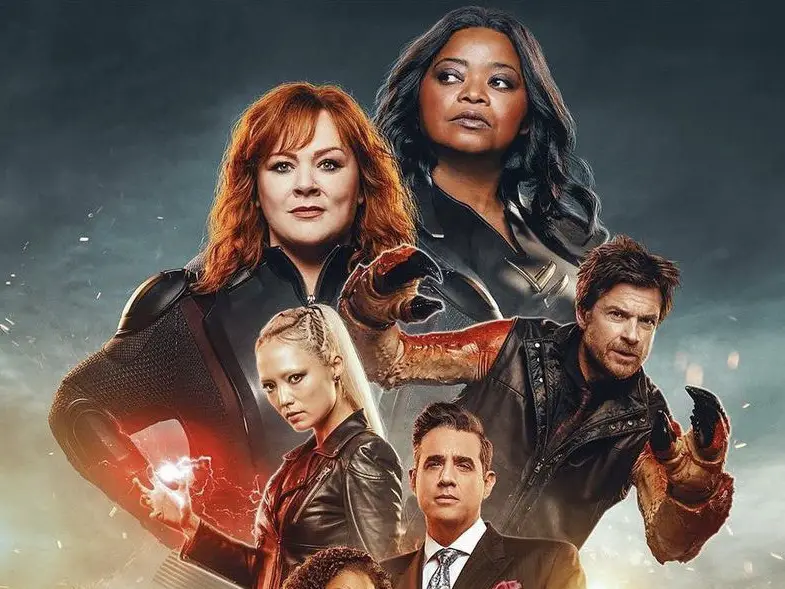 Naming every reason I could have interest in a filmmaker's latest project would take up a whole essay. But more than anything, it's that person's aspiration to try something new that gets my full attention. Whether that involves playing around in a different genre, any change can help someone grow as a storyteller. This brings me a particularly strange finding: Ben Falcone, who spent his early years directing loud raunchy comedies like Tammy, now makes family-friendly genre movies that lean towards a specific genre. Superintelligence, his previous film, demonstrated this career shift by placing a wholesome romantic comedy around a sci-fi premise. With his latest movie, Thunder Force, he continues the trend of making genre-blending fare that the whole family could watch.
To keep with modern trends, the story follows an established template in modern cinema: the origin of the superhero. In the early 1980s, cosmic rays struck Earth, causing the genetics of various individuals to transform. Unfortunately, this transformation led to the introduction of supervillains rather than superheroes. As a result, decades passed without anyone to stop the chaos these so-called "miscreants" caused. It was not until the modern-day that someone figured out how to fight back. That "someone" is scientist Emily Stanton (Octavia Spencer), who pioneered a treatment to give powers to average people. Along the way, Emily's estranged friend Lydia (Melissa McCarthy) tries to rekindle the relationship they once had as kids. But little does she know that their rekindling will soon involve them gaining powers and teaming up to fight crime.

Those last few sentences make it seem like I am exaggerating the divide between the superhero material and the Emily/Lydia material. However, this clean split is just as evident when actually watching it. One of the biggest challenges in blending genres is keeping the disparate tones visible in every moment. Unfortunately, Thunder Force misses the mark thanks to only centering on one tone in a given scene. Quite often, scenes are either action-oriented or comedy-oriented, and this severely limits the overall fun. It's not hard to imagine a timeline where this movie has the mentality of "action can be funny". But since we do not live in that timeline, we have a movie that runs around not living up to its potential.
Perhaps the banal genre-blending would be easier to stomach if it was great at crafting humor. Alas, five movies in and Falcone still does not have a tight grasp on comedy. While the specifics of the gags are different, his approach remains as undisciplined as ever. Any time a character makes a lengthy improvised remark, Falcone and editor Tia Nolan make it their mission to preserve every frame of it. Even in situations where it would benefit from major trimming, their love for the improv sessions reigns supreme. This is most notable in the scene where Lydia meets Emily's daughter Tracy (Taylor Mosby) and makes a fool out of herself by doing her best Urkel impression. While this moment effectively conveys Lydia's dated sensibilities, the interminable length does nothing to heighten the comedy. If anything, the non-pacing shows how thin the screenplay really is.

On that note, it's worth pointing out that Thunder Force lacks nuance even in its more intimate moments. When it's not demonstrating the physical strength of its main characters, it's demonstrating their emotional strength. But instead of conveying the latter through their interactions with average citizens, it achieves it through repeating platitudes to no end. Emily gets the worst of this, with her remark of "I'm not a nerd, I'm just smart" becoming a catchphrase of sorts. And if making one character say it was not enough, Falcone eventually makes Tracy say the same thing. To its credit, this choice draws a necessary parallel between mother and daughter. Nevertheless, it fails to be rousing because of its heavy-handedness.
Considering its many issues, it's safe to assume that Thunder Force stumbles when tackling the superhero angle. And let's be clear, the flat action sequences don't do enough to make that assumption incorrect. At the same time, being in the superhero sandbox means more time in the company of its villains. As it turns out, Falcone at least understands that opposing forces are an essential part of a hero's origin. This means we get adversaries that ride the fine line between spectacle and humor. The absolute stand-out of the bunch is The Crab (Jason Bateman), a criminal with an ever-growing conscience and meaty crab arms. In addition to being the source for the film's best visual gags, Bateman plays him with a level of casualness that never ceases to be funny.

The performances, in general, seem to be the things that make Falcone the most alert. Admittedly, saying that he got a lively performance out of McCarthy is like saying water is wet. McCarthy is a naturally engaging presence on her own, and Falcone – being the faithful husband that he is – gives ample time for her to shine. But what makes her portrayal of Lydia noteworthy is how prickly she gets when interacting with Emily. If most dynamic duos have a strong amount of chemistry, the pairing of Emily and Lydia has a strong amount of anti-chemistry. While this seems like a put-down towards McCarthy, the anti-chemistry is consistent with how the character is on the page. Emily and Lydia are two estranged childhood friends, after all, so not playing well with each other comes with the territory.
I would very much like to see someone with real talent make a superhero comedy in which its heroes are middle-aged women. Too bad Falcone is not someone with real talent, because the Thunder Force we have is a rather diluted affair. As a comedy, it refuses to make any of its improvisational moments concise. And as a piece of spectacle, it often ignores flashy staging in favor of flashy visual effects. None of this is actively bad, and enough of it works for me to say it deserves its place on streaming. But if this is a true demonstration of Falcone's growth as a director, all I can say is that he needs to sit at the kids table for a lot longer. – Mark Tan
Rating: 4/10
Thunder Force is now streaming on Netflix.
The film stars Melissa McCarthy, Octavia Spencer, Bobby Cannavale, Jason Bateman, Pom Klementieff, and Taylor Mosby.
---
Trending Now
You may also like