'Coming 2 America' Review: "A Welcome Wave of Comedic Nostalgia"
---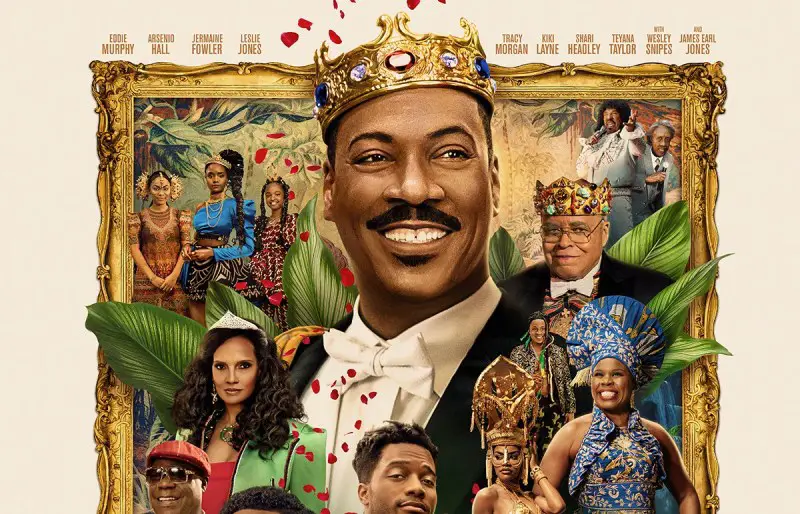 Nostalgia is a tricky thing. Sometimes it can be used to create something fresh and worthwhile. However, more often than not, films laced with nostalgia can leave a stain on the memories of moviegoers. Thankfully, this is not the case for Coming 2 America. Coming towards the latter half of his career, Eddie Murphy delivers one of the most delightful performances in a return to grace following questionable choices like Norbit and A Thousand Words. The original is a classic that stands the test of time, and thankfully, the sequel offers something new. In a different way than seen in the original, progress bucks tradition. Coming 2 America achieves something great while using nostalgia as a tool to further the journies of beloved characters.
Dolemite Is My Name director Craig Brewer assembles the original cast with Murphy, Arsenio Hall, James Earl Jones, and Shari Headley reprising their roles. Additionally, Murphy and Hall dive back into their other characters from Coming to America as well. Viewers get the chance to catch up with Randy Watson, a soul singer with the fictional band Sexual Chocolate, and Mr. Clarence, the local barber, who arguably perform in some of the film's most memorable scenes. Additionally, Hall plays Reverend Brown, a reverend of the church, as well as Mr. Clarence's right-hand barber, Morris. However, the two powerhouse comedic actors shine best as Prince Akeem and Semmi. Although, while the return of the original film's cast is a welcome wave of nostalgia, Coming 2 America is propped up by the introduction of new characters played by some of Hollywood's best and brightest. Bringing in Leslie Jones, Tracy Morgan, and Wesley Snipes bolsters the ensemble.

This time around, Prince Akeem is on his way to taking the throne himself as King of Zamunda. However, his father, King Jaffe Joffer, reminds him that only a male heir to the throne can secure the royal line. However, Akeem has three strong and dutiful daughters (KiKi Layne, Bella Murphy, and Akiley Love). The oldest of which, Layne's Princess Meeka, is preparing to take the throne for herself as Zamunda's first Queen. Unfortunately, it appears misogynistic tradition will overcome once again. After learning of his bastard son living in Queens, New York, Akeem and Semmi return to America to find him. This is when the incomparable Jermaine Fowler's Lavelle Junson joins the story. Lavelle is in for the shock of his life when he finds out his absentee father is actually a King.
The additions to the cast expand the film's story and add layers to what could have been a one-dimensional movie. Lavelle is destined to become the King simply because of his gender. But Meeka is far more suitable to lead the nation. The film's more heartwarming moments stem from these two estranged siblings coming together to realize that perhaps the future of this country is tied to both, not one of them. The modern time period offers the characters to experience growth internally and for the story to be more progressive than its predecessor.

When Coming to America came out in 1988, the world was a vastly different place. The jokes in this film are not nearly as edgy as the original's. However, they still land and come together to create 2021's funniest big-screen offering so far. When Murphy brings dramatic elements and laces them with his impeccable comedic timing, the outcome is spectacular. Taking the highly-anticipated sequel and using it to hold a mirror up to the world and shine a light on progress is a choice that could have backfired. However, thanks to its screenplay, written by Kenya Barris, Barry W. Blaustein, and David Sheffield, one-liners and goofy gags separate themselves from personal turmoil and character development.
The film benefits from its supporting characters. However, when Murphy's Akeem is the focus, the film reaches its pinnacle. Fortunately, Murphy's Akeem finds a worthy adversary in the form of the iconic Wesley Snipes as rival General Izzi. Best known for dramatic and action-filled turns, Snipes's comedic capacities deserve a wealth of credit for keeping Coming 2 America's plot moving forward. Casting the multihyphenate Teyana Taylor as Izzi's daughter was a stroke of genius as she brings a level of intensity through her sheer star-powers she oozes.
By the end, Meeka is ascending the throne and Lavelle is finding true love. Moreover, Akeem is the supportive King and father to both. While it may be strange, Coming 2 America leaves the viewer with a warm feeling. Comedies are at their best when they bring joy in an inoffensive way. While Murphy's work in the past has been controversial at times, his latest offers a striking contrast with pure silliness. The movie is a welcome wave of comedic nostalgia that uses its premise to buck tradition in an effort to make way for progress. Finally, any film with a large ensemble cast filled with beautiful Black superstars gets a favorable review from this writer. – Christian Hubbard
Rating: 9/10
Coming 2 America is streaming now on Amazon Prime Video. The film stars Eddie Murphy, Arsenio Hall, Jermaine Fowler, Leslie Jones, Tracy Morgan, and KiKi Layne.
—–
Did you enjoy this article? If so, consider visiting our YouTube channel, where we discuss the latest and greatest in pop culture news.
---
Trending Now