'WandaVision' Episode 4 Recap/Review: "The Plot Thickens"
Posted On January 29, 2021
---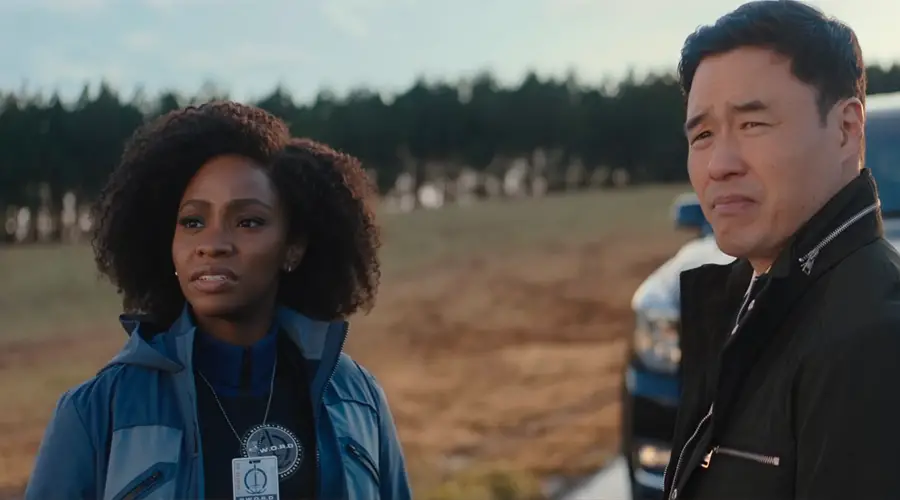 Warning: The following article contains spoilers for episode 4 of WandaVision. For a catch-up on all that's happened previously, click here.
At the end of last week's WandaVision episode, it revealed an encampment outside the show's hometown of Westview. This week's episode builds on how they got there and is a break from the show's typical sitcom take.
We start off learning more about Monica (Teyonah Parris). We learn she was a part of "The Blip" population, and she came back into a hospital room only to figure that out. She wasn't the one being tended to in the hospital, rather her mom, Maria Rambeau was, five years ago. But while her mom's procedure successfully removed cancer, it returned two years later and killed her.

This causes Monica to throw herself back into work, S.W.O.R.D work to be specific. She returns to duty three weeks after The Blip, intent on overcoming her trauma by forgetting about it. However, she finds out that she is the first missing person to return to duty. Then as she enters the new director's office, we get a small history tour of S.W.O.R.D. Also, we learn that Maria created the group after Captain Marvel, serving as the director before she passed. There she immediately gets a mission, though not one she would have expected. It appears Monica took after her mom and was a pilot, maybe even going into space.
Monica arrives on the outskirts of Westview, New Jersey, where she meets FBI Officer Jimmy Woo (Randall Park). Jimmy tells her his witness has disappeared, and no one remembers them. Better still, when interviewing the police officers, they tell Monica that Westview doesn't exist. This plays into the idea being thrown around that someone is holding the whole town hostage. Whether that be Mephisto, Wanda, or someone else, it abundantly isn't clear yet.

Monica takes the drone – which resembles a helicopter – and starts it up, flying it past the Westview sign, where it then disappears. Monica, investigating, walks up to the line to find an electromagnetic barrier, preventing her from going further from a first glance. She pushes into it a little further, and is sucked in to become Geraldine!
What next commences is the setup of the camp we see in the last seconds of episode 3 and the return of Darcy Lewis (Kat Dennings). I appreciate her returning, especially after some of the hate on the character after her appearances in the Thor films. Darcy's a quirky scientist, and I love that so much. Director Matt Shankman plays through this relatively quickly, but Darcy figures out a way to see what's going on inside the Westview bubble with her equipment, getting through the CMB radiation waves, and thus brings us into the WandaVision sitcom. Some might recall this, but CMB radiation is a concept from the Big Bang cosmology, which is also what caused the Infinity Stones to emerge.
The S.W.O.R.D. group starts the investigation into the people shown on the WandaVision screen. They identify all but one of the main characters, Agnes (Kathryn Hahn). We also get a shot of someone picking up the helicopter drone – now a simple toy – in the 1960's episode. This is intriguing as it indicates the passage of time between Westview and the outside may not be happening quite so concurrently. S.W.O.R.D. also asks the same question a lot of viewers have had. Why was the helicopter in color?
During this time, they sent in someone dressed in radiation gear in hopes of the bubble only going from the ground up. It turns out that whoever runs the show sent the bubble all the way through, and we see the agent's gear transform from radiation to beekeeper, complete with bees. We also see him lose connection on the cable, as what crosses with him turns into the end of a jump rope.

One of the final events that occur is a longer scene of Geraldine getting thrown out of Westview. While we initially did not see how it occurred, we find out that it was Wanda that tossed her out. This is again, intriguing for two reasons. One, when Darcy witnesses the scene on the television, it cuts from Wanda saying Geraldine has to leave, to the end credits of WandaVision.
Almost immediately after that, the proximity alarm goes off, and Monica falls to the ground. Indicating the timing between the show and the outside world isn't what we would expect it to be. The second item is that we see Wanda's red glow indicator for her powers return in two steps, her throwing out Geraldine, and repairing the damage from said toss out. This is the first time we've seen her glow when she uses her power since Avengers: Endgame.
Ultimately, WandaVision has been fantastic so far. It's the best thing out of the MCU for a very long time, and that's coming from someone who has not been excited for something in this universe in quite some time. The production quality is great, but it's also been delicate. Sticking to the exact qualities of a decades' sitcom type is nothing short of extraordinary for modern-day television. But knowing when to break out of it to keep things different is even better. Is it next Friday yet? –Katie Rentschler
Rating: 9.5/10
Series Ranking (So Far): 9.25/10
---
Trending Now