'Wandavision' Episode 3 Recap/Review: "Why Did You Say That Name?"
Posted On January 22, 2021
---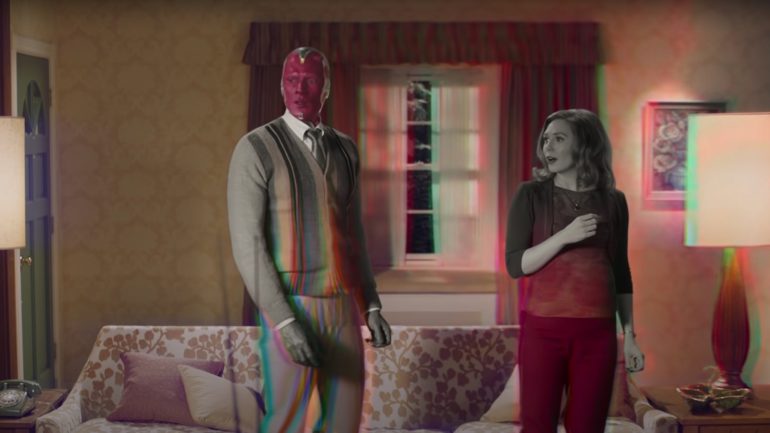 Warning: The following article contains full spoilers for episode 3 of Wandavision. For our mostly spoiler-free review of the first two episodes click here.
Well, now we certainly have a lot to chew on. After two episodes full of delightful sitcom antics and hints towards something sinister, the last third of this week's episode of Wandavision gives us major clues as to what's really going on in the first installment of Phase 4.
That's not to say there isn't plenty of sitcom antics to be had. Another wonderful theme song by Robert Lopez and Kristen Anderson-Lopez opens up the episode. Now in full color, this week Wandavision pays homage to sitcoms of the 1970s. The theme even sounds eerily similar to The Patridge Family's "Come on Get Happy". The happy-go-lucky antics continue when Dr. Nielsen, whose name is likely a reference to the Nielsen Ratings system, confirms that yes, in fact, Wanda (Elizabeth Olsen) is pregnant. Naturally, Vision (Paul Bettany) tells him to keep it a secret.
Ecstatic couple Wanda and Vision cannot wait for their baby to arrive- which is apparently in only three days. They debate over the name; Wanda wants Tommy, Vision wants Billy. Keen viewers will immediately recognize these names as corresponding to Marvel Comics characters Speed and Wiccan, respectively. In the comics, these characters were children of Wanda and Vision who the demon Mephisto had a hand in the creation of. Is Mephisto behind the strange reality of Westview they now find themselves in? It's certainly something to consider.
But we don't have much time to mull over that, as Wanda begins to experience third-trimester contractions. The hijinks slow to a dead standstill, as Vision seemingly silences the laugh track. He senses something's wrong, terribly wrong. In a flash, a jump cut puts the kibosh on that line of thinking, as the scene replays and Vision gives a comforting speech about parenthood. It's… disturbing, to say the least, and very much jarring. Clearly, someone is messing with this reality- is it Wanda avoiding the truth? Or someone else?
Director Matt Shankman doesn't want us to ponder this for long as, suddenly, the baby is coming! Vision rushes over to Dr. Nielsen and the episode is interrupted by a commercial. This time, the commercial is for a bathing product called Hydrasoak. Now, in the previous two episodes, the commercials have involved Stark Industries and Baron Von Strucker, both entities that have caused Wanda Maximoff a great deal of trauma in the past. This continues the trend- signaling reality crossing over into the fantasy of Westview.
A respite comes when Geraldine (Teyonah Paris) shows up to borrow a bucket from Wanda. Wanda desperately tries to hide her pregnancy- and a stork that's magically appeared from nowhere- from her as Geraldine gloats about her new promotion, but the charade doesn't last long when Geraldine wanders into the bedroom fit for the coming child. The ruse is up- and Wanda is about to give birth. With no time to waste, Geraldine welcomes Wanda and Vision's first child into the world!
Vision and Dr. Nielsen show up just shy of seeing the birth of the kid. Vision affectionately gives it the name "Tommy". This heartwarming moment is quickly broken up with the arrival of a second baby! Ecstatic, Wanda and Vision could not be happier, and they wish Dr. Nielsen a farewell. When Vision asks if Dr. Nielsen plans on still taking his vacation, he laments that small towns are so hard to escape.
So, we have a pretty typical episode of Wandavision from what we've seen so far. Sitcom homage mixed with a mystery undercurrent of what's really going on. Like always, Bettany and Olsen give game comedic performances that make this a great watch no matter what. Yet, that's not all there is.
Vision goes out to the front lawn and Liv (Kathryn Hahn) and Herb (David Payton) ask if Geraldine is inside with Wanda. They indicate that she's new to the neighborhood, and stop just short of saying "does she know that we're-". Does she know that we're what? Fake? Working for someone? Perpetuating Wanda's reality?
The questions pile up, while inside Wanda and Geraldine look after the twins. Then, a bombshell drops. Wanda mentions that she used to be a twin, and that her brother's name was Pietro. Now, this is essentially the first time Pietro Maximoff (Aaron Taylor-Johnson) has been brought up since Avengers: Age of Ultron, so something is very, very off. The laugh track and happy music come to a standstill. Wanda sings what appears to be a Sokovian lullaby to her babies.
Geraldine, then, ratchets up the tension- asking if Pietro was killed by Ultron. Wanda freezes. Geraldine knows a lot more than she lets on. Wanda questions her as to what the insignia on her necklace- which looks like the S.W.O.R.D. logo from the comics. More importantly, Wanda has a rage in her eyes.

Vision, unaware of what's going on, walks back into the home to see Wanda taking care of their babies. Wanda claims Geraldine had to go. The episode ends with a shift from our 4:3 ratio to the typical widescreen video of most Marvel productions. Geraldine is violently thrown out by an unseen force outside the gates of Westview, which a mysterious force field protects. As trucks pull up, which may or may not be affiliated with S.W.O.R.D., the episode ends.
Whew. For those who follow the casting announcements, although she's purportedly playing Geraldine, Teyonah Paris is officially playing Monica Rambeau. Therefore, it's safe to assume that she's an agent of S.W.O.R.D. attempting to pull Wanda out of whatever reality she's in. Who's creating the reality- we still don't know. But we do know it is a physical space, and that the mere mention of Wanda's trauma continues to tear the reality apart.
Wandavision is 3 for 3 so far. It's exuberant in its homage to sitcoms of various eras, while also being deeply unsettling. What counts, though, is that it's fresh. It's rare to have no clue what's going to happen in a television series these days, and for an MCU program no less to inspire that hints at nothing more than an "age of miracles" incoming. Whether it's Wanda, Mephisto, or another unseen force that's trapping Wanda and Vision in this reality- I'm hooked on Wandavision. –James Preston Poole
Rating: 9/10
Series Ranking (So Far): 9/10
---
Trending Now