'All Together Now' Review: "Auli'i Cravalho Shines In This Unexpectedly Heartfelt Melodrama"
Posted On August 31, 2020
---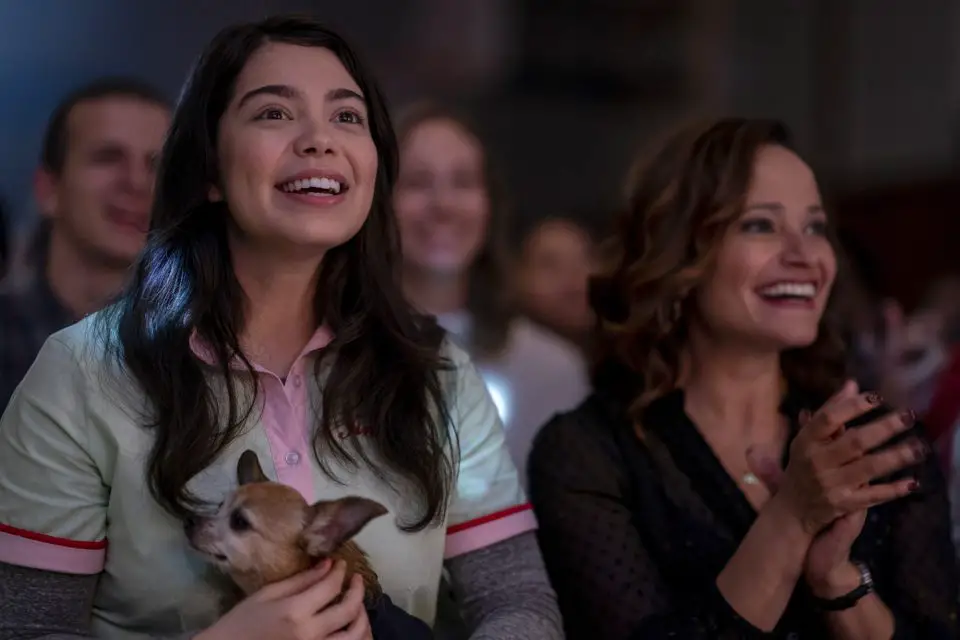 When Auli'i Cravalho crashed onto the scene in 2016 as the voice of Moana, her sincerity endeared her to audiences around the world. Since then, the young star continues to shine in roles that require a beautiful voice and the ever-elusive "it" factor. Starring in the short-lived NBC series Rise and ABC's The Little Mermaid Live! readied Cravalho for her latest starring role on Netflix. Hailing from Hearts Beat Loud writer and director Brett Haley, All Together Now blends elements from films like Good Will Hunting with giddy optimism sprinkled throughout its 92-minute runtime. Based upon the novel Sorta Like a Rockstar by Matthew Quick, the feature proves to be a simple, yet genuinely touching story.
Cravalho stars as the perky and positive Amber Appleton. From moonlighting as a cashier to serving as an ELS teacher at a retirement home, the teenager shines a light on everyone she meets. However, once the workday is over – which for Amber is near-midnight – she doesn't go home to a conventional suburban home. Instead, she and her single mother (Justina Machado) are sleeping in a fenced-off school bus depot. Despite the reality of her living situation and her mother's drinking problem, Amber's talent opens the door for her to audition for the world-renowned Carnegie Mellon University. However, when facing the notion of moving across the country, she must decide between her dreams and her responsibilities.
Throughout the events of the film, positivity remains a recurring theme. Cravalho's naturally sunny disposition allows her personality to shine through her character. Additionally, she surrounds herself with people who provide context from the "real world" outside of her positive thinking lifestyle. From the legendary Carol Burnett to the devilishly talented Fred Armisen and Judy Reyes, the movie certainly makes room for its supporting cast. Moreover, actors like Rhenzy Feliz, Taylor Richardson, Anthony Jacques Jr., and newcomer Gerald Isaac Waters help draw viewers in and forces them to root for a positive outcome.
Although All Together Now features a story that's been told several times over, unexpected and emotionally devastating twists and dramatic flairs provide it with enough to stand out. By far the most memorable sequence features Cravalho singing a song titled "Feels Like Home" accompanied by Rhenzy Feliz's Ty on piano. Instead of concluding on a campy romantic note, it goes for a delightfully sarcastic tone. The narrative and the performances layer the movie with personal tones that will resonate with young men and women. The film shines when developing its characters' motives and emotions.
Haley manages to help the film avoid classifying itself as an average teenage melodrama. It shies away from cliché and is unafraid to deliver intensity driven by real-life issues like alcoholism, homelessness, and tragedy. In fact, the narrative relentlessly chips away at its main character's bright-eyed optimism before reaching its climax. All Together Now excels beyond a teenage flick and ends an authentically touching story with a satisfyingly campy happy ending. The ability to put on a happy face and get lost will hit home for an entire generation. Auli'i Cravalho is a star coming into her own right before our very eyes. – Christian Hubbard
Rating: 8/10
All Together Now is currently streaming on Netflix.
The film stars Auli'i Cravalho, Justina Machado, Rhenzy Feliz, Judy Reyes, Anthony Jacques Jr., Gerald Isaac Waters, and Taylor Richardson.
Did you enjoy this article? If so, consider visiting our YouTube channel, where we discuss the latest and greatest in pop culture news.
---
Trending Now