'Bill & Ted Face the Music' Review: "A Most Triumphant Return"
Posted On August 31, 2020
---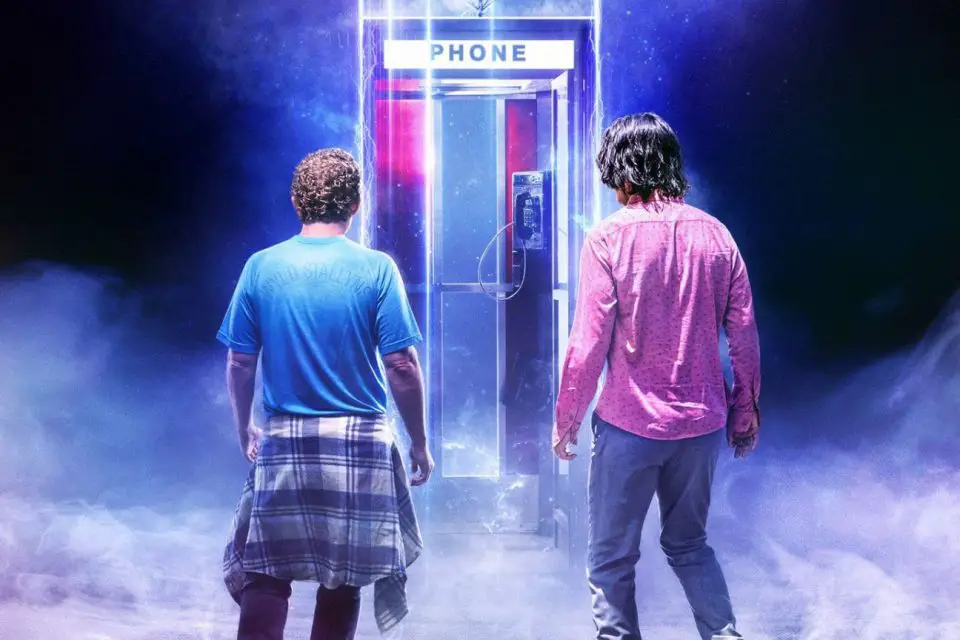 For almost 10 years, there have been rumors of a third Bill & Ted movie. At one point, it seemed like it wasn't going to happen at all. So when this long-awaited sequel went into production, I was both excited and scared. How would a Bill & Ted set in today's climate work? Would it even be good? Does anybody really want to see two dudes in their fifties acting like, well, Bill and Ted? To my surprise, it seemed as though the filmmakers of Bill & Ted Face the Music thought the same thing.
The movie starts off with a recap of the first two films, only to show us that Bill (Alex Winter) and Ted (Keanu Reeves) haven't accomplished much since then. Their band, Wyld Stallyns, are playing weddings, small bars, and haven't been the greatest of influences on their daughters Billie (Bridgette Lundy-Paine) and Thea (Samara Weaving). On the verge of calling it quits, the pair are summoned to the future and are told they must write the song that will unite the world by the end of the day or time will collapse on itself… no pressure, though.

Overall, Face the Music is a fun installment to an already fun series. It doesn't take itself very seriously and brings back some old tropes in a way that doesn't feel recycled or stale. It was nice to see them back in the old phone booth. Going in, I was afraid the filmmakers would scrap it for some modern-looking CGI monstrosity, but no. They gave the fans exactly what they wanted.
READ: Full Circle Showdown: 'The New Mutants' Review – Was It Worth the Wait?
Reeves and Winter fall into their old roles perfectly! The two still have amazing chemistry. For two very respected actors to slip back into their iconic dim-witted roles without coming off as weird is a huge accomplishment! They were exactly what I imagined out of an aged Bill and Ted. They're not wiser or smarter. They're just them. What more could you want?

Of course, the movie adds new characters to the line-up. Bill and Ted's daughters Billie and Thea make a really nice addition to the group. It's tough for fans when movies allow new characters to take some of the reigns in a franchise with characters that have taken on a life of their own. But this is one of the areas where Face the Music really shines. At no point did the movie feel like a cheesy passing of the torch. In fact, Billie and Thea added to the movie by sharing the fun without stealing the spotlight.
They play an important role, but it still remains a proper Bill & Ted movie. While one can argue that they felt more like a bad imitation of the title characters than their own characters, but it's a Bill & Ted movie. I love the franchise for the laughs, not the substance!

The air guitar sounds have always been an important part of the franchise. Guitar nerds like myself praise Bill & Ted's Bogus Journey for giving guitar duties to the legendary Steve Vai. Thankfully, Face the Music does not disappoint in this aspect as the wonderful Tosin Abasi of Animals As Leaders fame provides the guitar sounds for the film.
As someone who can recite the first two movies by memory, there is one inconsistency that disappointed me. In the first movie, Bill and Ted ask about the music playing in the background while in the future. Rufus (George Carlin) tells them that Robbie Robb's "In Time" is actually a Wyld Stallyns song, which will unite the world. Meanwhile, the song that unites the world in this movie is something completely different. Sure, it's my fault for assuming, but I know I'm not alone on this one. The song that does unite the world, however, is something that will leave audiences smiling from ear to ear. I'm not going to spoil anything, but I will say it's something that we could all use right now. – Derek Flores
Rating: 8/10
The film is now available on VOD and in theaters.
Bill & Ted Face the Music stars Keanu Reeves, Alex Winter, Kristen Schaal, Samara Weaving, and Brigette Lundy-Paine.
---
Trending Now