'Host' (2020) Review: "Zoom Into The Spirit World"
---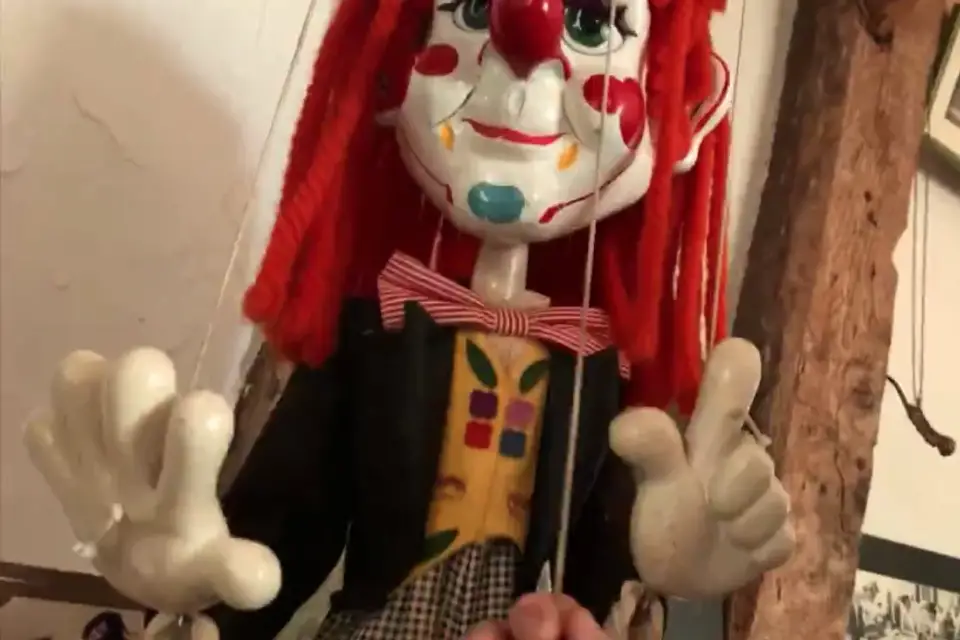 The found footage genre has slowly adapted to tackle more modern uses of technology. Films like Unfriended and The Den use laptops to convey a chilling adventure. Other films like Searching make use of multiple electronic devices to piece together a mysterious disappearance. These types of entries have been met with mixed results, as some make great use of their restrictive medium while others fall short.
Enter Host, the next big genre attempt at storytelling through a computer screen. This time around the filmmakers have the audience in their favor as they turn Zoom, currently one of the most used apps, into a vessel for a terrifying séance nightmare. Layout-wise, Zoom is very similar to that of Unfriended's Skype. but it's the tie into our current quarantined reality that makes Host feel extra immersive.
Right off the bat, viewers will immediately realize the film takes place in a COVID world. The whole concept of the story is a result of the characters having to social distance from each other. One early dialogue exchange has characters poking fun at another for coughing. Characters wear masks when they go outside and even embrace each other with elbow touches. This type of dialogue and comedy is so refreshing to see as it reflects the world in which audience members are currently living.
By showing that these fictional characters are dealing with the same unsettling circumstances of the world, viewers will immediately be immersed. Quarantine has brought a plethora of great home-streaming premieres such as The King of Staten Island, but none have actually reflected the current state of reality. As an added bonus, watching on a computer screen will surely make audience members feel as if the video call is playing out on their screen in live time.

The premise of Host is relatively straight-forward. Young adults unite on Zoom for a unique experience with a medium. They have hopes of connecting with the spirit world, while also getting as drunk as possible. Certain characters take the séance less seriously than others, which ends up leading to the film's chilling catalyst. Yes, Host is pretty much another "séance gone wrong" horror flick, but it makes up for its generic roots by conveying them in a frightening virtual manner.
Surprisingly, the creators of Host decided to include and emphasize all of Zoom's wonky audio and visual faults. Character dialogue peaks and imagery lags thus creating an even more authentic Zoom experience. These additions (or lack thereof) ground this tale of terror even more in reality. The filmmakers even use grainy video quality and crackling audio to mask and unveil scares.
The laptop computer camera showcases unique backdrops for each character. One character is sitting close to her camera in her bedroom with her patterned wallpaper stretched out near a door. Another character sits in a wide-open room with a hallway and cabinets lingering behind her. These varying backdrops lure in the viewer and dial up the suspense. When the spirit makes itself known, viewers will be scanning every inch of the screen. The dark hallways, windows, and doors behind each character seem to always suggest a new fright. There's a constant sense of dread and unease oozing over every frame. While Host's 56-minute runtime is an appealing advantage, the film could have benefitted from a couple more minutes of this subtle, built-up suspense.

In terms of scares, the film is at its best when it ramps up the suspense and delivers subtle frights. Quick glimpses of a hanging man's pale toes and blurry polaroid pictures of a floating corpse end up being some of the film's most terrifying moments. Thankfully, the film keeps its supernatural antagonist hidden in the shadows for most of its runtime. When it does come time to reveal the ghastly apparition, Host does not disappoint.
What's great about this venture into computer-screen horror is that Host makes use of all of Zoom's features. Characters use eerie face filters, set comedic moving backgrounds, and even have limited call time. The filmmakers make use of these features to creatively design scares. One sequence showcases a face filter hovering in thin air, alluding to the fact that a computer is tracking an invisible face. It's effective, relatable, and downright frightening.

Host suffers the most when it recycles generic scare tactics and special effects. The cliche sequence of an invisible force dragging a body down a hallway is constantly overused. Additionally, supernatural forces throw around characters in several repetitive sequences. The higher budget scares and gags are the least effective moments in this film. It's at its best when it makes use of simple, subtle horror. Although, the haunting finale wonderfully uses maximum supernatural power to deliver a fitting finish.
While Host doesn't exactly present a wholly original concept, its ghastly use of the Zoom medium to tell a demonic tale is wonderful. Those with an hour to spare should turn off the lights, pop open their laptop, and immerse themselves in the technological horror that is Host. – Noah Levine
Rating: 8/10
Host is available to stream exclusively on Shudder.
Host is directed by Rob Savage and stars Haley Bishop, Jemma Moore, Emma Louise Webb, Radina Drandova, and Caroline Ward.
---
Trending Now