'The King of Staten Island' Review: Pete Davidson's Big Break
---
Along with horror, I am a huge comedy fan. When I'm not watching classic horror franchises, you can find me binging some Monty Python sketches. I even made a name for myself in the local stand up scene for a couple of years. I loved comedy so much I had to try it out for myself. So believe me when I say that I was excited when I found out Bill Burr was going to star in Judd Apatow's The King of Staten Island.
The King of Staten Island is a semi-autobiographical story about Scott (Pete Davidson), a slacker who never got over the death of his firefighter father. He's 24, lives at home, and smokes weed all day. We all know the type. After attempting to tattoo a child, the child's father Ray (Burr) soon confronts him. This confrontation sparks something else, as Ray and Scott's mother Margie (Marisa Tomei) start to date each other. However, Scott finds it inappropriate that his mother chose a man in the same profession as his late father. With everyone from his college-aged sister Claire (Maude Apatow) to his mother moving forward with their lives, Scott must now get it together and follow their lead.

As I mentioned earlier, the movie stars Bill Burr and Pete Davidson. Normally, that would mean "actor and actor are in a movie." But with these two being so prolific in their field, this now holds more of an implication than just "guy comes in, read lines, and leaves." Stand up comedy is more than just telling jokes to drunk people in a small room. As any comedian knows, when you are on stage, you are playing a character. You're not writing jokes for you to tell. You're writing jokes that your character would tell. So in a movie, comedy fans expect these actors to be these characters on screen.
Burr's onstage character is somewhere along the lines of "really angry guy who likes sports". Which is almost exactly what his character Ray is. We've seen Burr in similar roles in Breaking Bad and Date Night. But rarely does he ever get to stand out, which is unfortunate because his performance is very polished and refined in The King of Staten Island. Sure, Burr gives us the angry old man from down the street stereotype that his fans will find familiar. But this time, he is also a soft-hearted hero that you can respect and admire.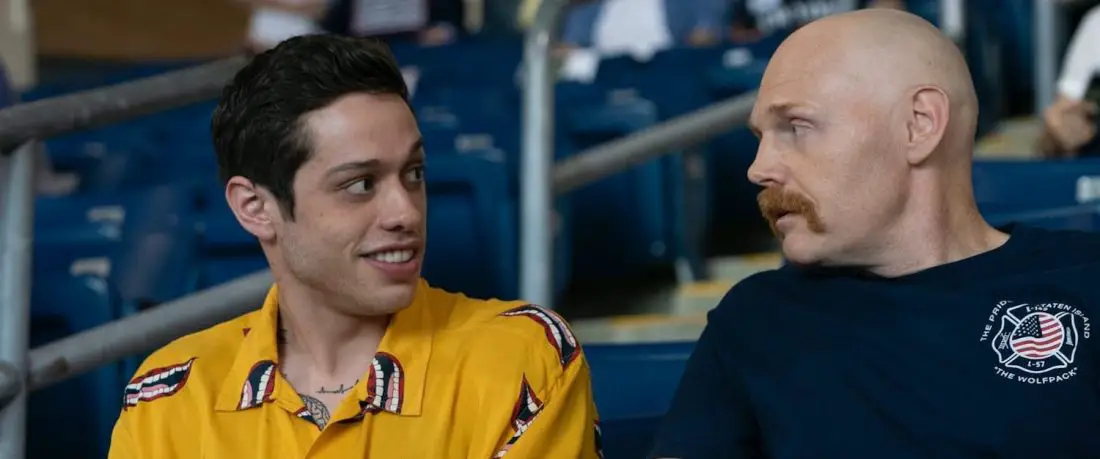 Meanwhile, Davidson's onstage persona is the polar opposite. He is a slacker from Staten Island whose firefighter dad died in 9/11. His bits are about smoking weed, knowing little about politics, and living at home. It does not take long for one to realize that this has parallels to Davidson's own background. But since this is an autobiographical story, after all, it only makes sense that his character would have a lot of similarities to the actor.
Davidson has never really been seen as a leading man, but this may be the thing that changes that. His performance was believable to the point of uncomfortable, which is exactly what Scott is supposed to be. We get to see this everyman start to become someone even Burr's character could be proud of. This may very well be the movie that launches Pete Davidson's career from lovable side character on SNL to a big-screen veteran.
With Davidson and Burr spending a lot of time together, they get to play the typical "straight man and goofball" duo. Yes, it has been done with Abbott and Costello and many others, but never this well in a comedy-drama. The two play off each other so well and make the "this is my mom's boyfriend who's trying, but I don't really like him too much" concept seem very believable. I'm sure someone watching this with their step-parents will be able to relate to their relationship. Interestingly enough, the directing has a grimier feeling than Apatow's usual style that involves broader comedy. Even in scenes that lean towards typical Apatow territory, it feels like he is showing restraint for the first time in a while.

The writing and casting are really well done. I do think it's important to keep in mind that Apatow hangs out with a lot of stand-up comedians. This is the sole reason he was able to write these characters so perfectly. A comedian writer may have gone too far. A non-comedian would not have gone far enough. Judd, being the guy who loves stand-up, but rarely does stand-up, nails it right on the head.
For all the praise I give to The King of Staten Island, this felt more like a Netflix or Amazon feature as opposed to something you rent. It's not a bad movie by any means, despite its length. Still, it wouldn't be something I'd go to a theater to see. It has all the feels of a really good Netflix or Amazon indie comedy. However, I think having to rent it at a premium price may draw people away from actually giving it a chance. Nevertheless, it's a funny, dramatic, and heartwarming movie that arguably shows Apatow and Davidson at their finest. – Derek Flores
Rating: 8/10
The King of Staten Island is available to rent or own on Amazon, YouTube, PlayStation, Google Play, Apple TV, and more!
The film stars Pete Davidson, Bill Burr, Marisa Tomei, Maude Apatow, and Bel Powley.
---
Trending Now