'Falcon & Winter Soldier' Set Photo May Tease A Classic Wolverine Villain
---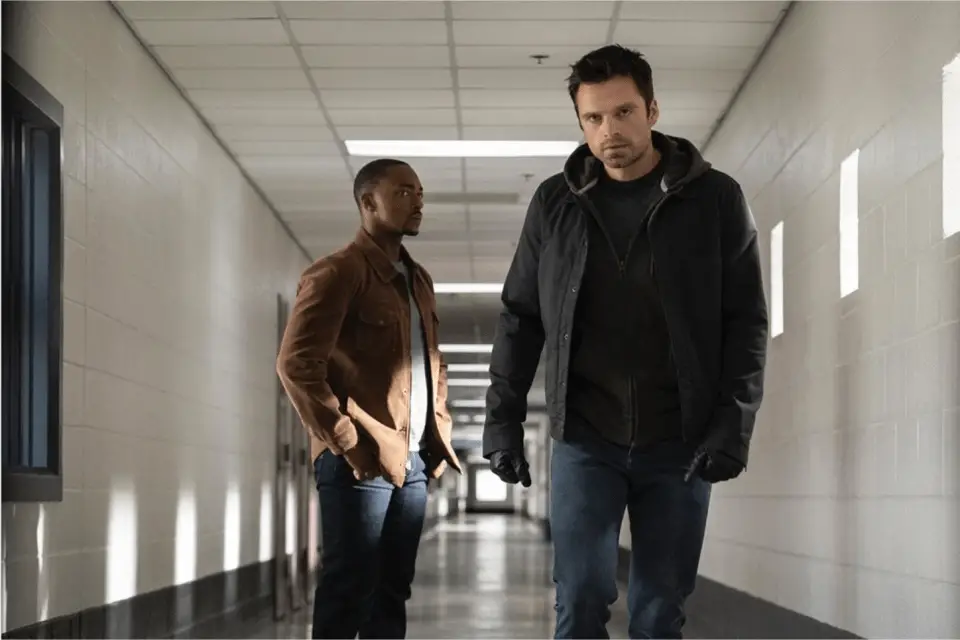 With filming on Marvel's The Falcon and the Winter Soldier on hold due to COVID-19, it has been some time since new images from the set have surfaced. Thankfully, Murphy's Multiverse was able to reveal a photo from before filming was halted, and while the image doesn't seem to hold any substantial spoilers, it may tease a classic foe from Wolverine's rogue's gallery.
The photo features what appears to be a member of a biker gang in a black leather jacket. On the back of the jacket is a symbol that resembles some kind of red-faced figure. Check out the image below:
At first, it was uncertain if this was just an easter egg or part of a larger mystery. Many have been speculating about what the symbol could be in reference to, but it most likely has ties to Wolverine and the X-Men, more specifically the villain Ogun.
READ: 'Solo' Actress Erin Kellyman Potentially Joins 'Falcon & Winter Soldier'
Created by Chris Claremont and Al Milgrom, Ogun first appeared in 1984's Kitty Pryde and Wolverine #1. A ninja and martial arts master, Ogun originally was Wolverine's mentor and helped to train him when Wolverine lived in Asia. Eventually, the character became an enforcer for the Yakuza, and Wolverine was forced to kill his former master. Ogun was a mutant with the ability to possess and control minds via telepathy, a power he used to take over Kitty Pryde's body in an attempt to turn her into an assassin.
The character has some ties to the island of Madripoor, and given The Falcon and the Winter Soldier will be partially set on the island, Ogun appearing makes sense. Additionally, by using a smaller character like Ogun, it could help to set up the idea of mutants and eventually introduce the X-Men in the MCU.
Do you think The Falcon and the Winter Soldier will introduce Ogun? Are you excited about the Disney+ series? Let us know in the comments below!
The Falcon and the Winter Soldier hits Disney+ in 2020.
Hailing from showrunner Malcolm Spellman, the series stars Anthony Mackie as Sam Wilson, Sebastian Stan as Bucky Barnes, Wyatt Russell as John Walker, Emily Van Camp as Sharon Carter, and Daniel Brühl as Baron Zemo.
—–
Did you enjoy this article? If so, consider visiting our YouTube channel, where we discuss the latest and greatest in pop culture news.
---
Trending Now