Fin Fang Foom Will Reportedly Appear In 'Shang-Chi'
---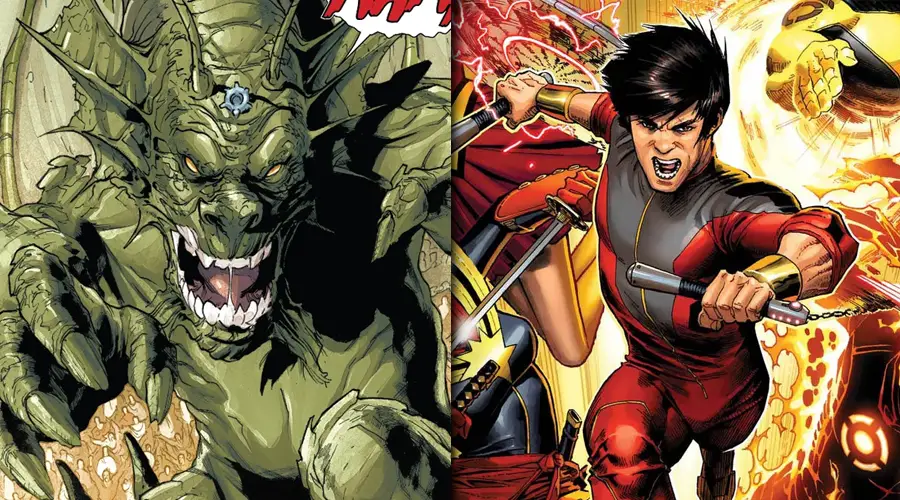 Marvel Studios' Shang-Chi and the Legend of the Ten Rings will reportedly introduce a classic Marvel character into the MCU. According to insider Daniel Richtman, Fin Fang Foom will appear in the upcoming movie.
Created by Stan Lee and Jack Kirby, Fin Fang Foom debuted in 1961's Strange Tales #89. The character is an alien being from the world of Kakaranathara. Fin Fang Foom arrives on Earth in ancient China, intending to conquer the planet. Using their shapeshifting powers to mimic human form, the aliens infiltrate human society to study it before beginning their conquest. At the same time, Foom acted as a reserve and was placed in a tomb in a catatonic state. Eventually, a man found the alien vessel and stole ten rings, ultimately becoming the Mandarin.
It seems likely that this could easily be adapted into Shang-Chi and the Legend of the Ten Rings. It was already revealed that Tony Chiu-Wai Leung will play the Mandarin, so it's not a reach they could have him steal his rings from Fin Fang Foom's vessel.
Richtman also confirmed on his Patreon that the movie will feature a tournament for the Ten Rings. This was previously rumored online and had some credibility added to it Friday by insider Charles Murphy. According to the report, Shang-Chi will enter into a Kung Fu tournament in an attempt to win the Ten Rings.
It will be intriguing to see how this all comes into play in the film as well as how large of a role Fin Fang Foom plays in to story. It will be exciting for fans of the character to see him finally make his MCU debut.
Are you excited to see Fing Fang Foom appear in Shang-Chi and the Legend of the Ten Rings? Who would you like to see appear in the tournament for the Ten Rings? Let us know in the comments below!
Shang-Chi and the Legend of Ten Rings will be in theaters on February 12, 2021.
The film stars Simu Liu as Shang-Chi, Tony Chiu-Wai Leung as the Mandarin and Awkwafina in an undisclosed role.
—–
Did you like this article? If so, consider visiting our YouTube channel, where we discuss the latest and greatest in pop culture news.
---
Trending Now