'Star Wars: The Clone Wars' Season 7 Release Date Revealed
Posted On January 5, 2020
---
Since the Disney+ streaming service was first announced, the platform promised to expand the Star Wars franchise in exciting ways. One of which, was the confirmation of the seventh and final season of the critically acclaimed animated series The Clone Wars. 
Following the success Star Wars saw at the end of 2019, 2020 looks to continue the momentum. As first published in a now-removed video by Oh My Disney!, the series is set to premiere on February 17th. Take a look at a screenshot from the video below: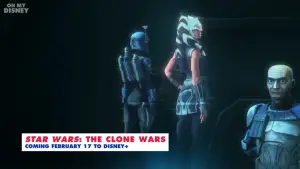 2014 was the last time fans were treated to the animated greatness of the series. Season 6 saw heroes Ahsoka, Anakin Skywalker, Obi-Wan Kenobi, and Master Yoda locked in a dangerous war with Darth Sidious and Count Dooku. In addition, it teased Yoda's discovery of new hope for the future.
The series famously established just how close Jedis became with the clones. However, Order 66, which takes place during Revenge of the Sith, is the endgame and brings an untimely, albeit temporary, end to the Jedi.
Disney+ is riding a wave of success following the season one finale of The Mandalorian. Additionally, a second season is set for later this year. Disney+ remains the go-to destination for fans of all things Star Wars. 
What do you think? Are you looking forward to the premiere of The Clone Wars season 7 next month? Let us know in the comments below!
Star Wars: The Clone Wars seasons 1-6 are currently streaming on Disney+.
---
Trending Now