Rian Johnson Retrospective: 'Looper' Review
Posted On November 24, 2019
---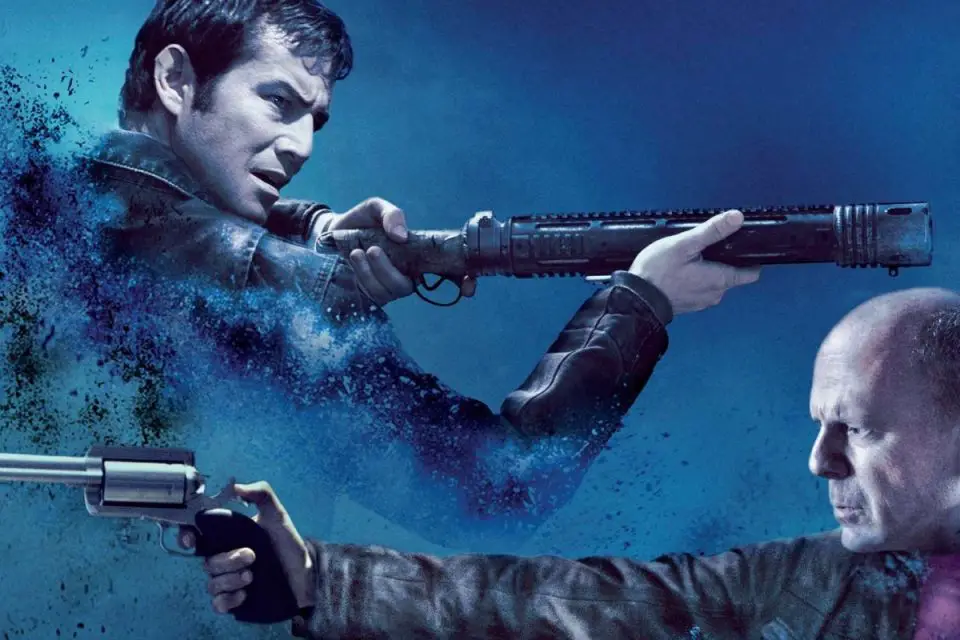 Ahead of the release of Rian Johnson's latest film, Knives Out, Full Circle Cinema will be providing retrospectives on his previous directing efforts. Third time's the charm with his next film, Looper.
Time travel films fall under heavy scrutiny. That's just the name of the game when you're dealing with such an out-there concept. What most time travel films don't have however, is a filmmaker as competent as Rian Johnson at the helm. His take on the genre, Looper, represents everything it can be when handled with care.
Building off the promise of prior features Brick and The Brothers Bloom, writer-director Johnson builds a dense science-fiction world realized on the level of something like Blade Runner. Looper takes place in the year 2044. Time travel hasn't been invented yet, but it has been invented in the future. There, it's outlawed, and bodies are harder than ever to hide. So a crime syndicate sends their marks back to 2044 where hitmen called "Loopers" dispatch them. "Loopers" are known as such because when they reach the end of their contract they're required to kill the older version of themselves. After doing so, they retire with a hefty payday for 30 years of peace.
Sharp photography by third-time returning cinematographer Steve Yedlin, there's something immediate about the world of Looper. Although new drugs, cars, and the advent of a telekinetic (TK) gene- used mostly for parlor tricks by sleazeballs like looper Seth (Paul Dano)- come about, they're mostly window dressing for an America that's more the natural extension of our current capitalistic society. For as over-the-top as characters like the pistol-twirling Kid Blue (Noah Segan) comes across, they're no different from the types of bottom feeders you might encounter in modern criminal underworlds. Vicariously living in the grimy world of Looper is a perverse pleasure that the inspired decision to give Johnson a $30 million budget makes a reality.
An increased budget doesn't at all hinder Johnson's penchant for character over all else. Joe (Joseph Gordon Levitt) is a young looper with no clear direction in his life. Making money, blowing it- rinse, repeat. Under make-up making him resemble co-star Bruce Willis, Levitt puts a quiet sadness into Joe. He portrays a man who wants more out of his existence, but can't quite articulate it. Of course, he's not given much time to ponder as one of his marks is the older version of himself (Willis), who escapes his clutches rather quickly.

For a large chunk of its run-time, Looper is a pulse-pounding chase film on a scale Johnson has never worked before. But he handles it effortlessly. Every moment is a momentous one; a fight for survival where only one Joe can survive. Johnson said that he wanted to take a different approach to the traditional time travel film. Where the film is "more about how these characters dealt with the situation time travel has brought about". His screenplay nails that to a T, as the juxtaposition between the two Joes crystallizes.
In Bruce Willis' best performance of his entire career, the older Joe is a desperate man. One who is trying to change the past, to hold on to what he gained in life. He's heartbreaking, even when he becomes a monster to attempt to achieve his goals. Meanwhile, the younger Joe just wants to prevent becoming a traditional looper, while also realizing that he doesn't want to be the man that he sees in Old Joe. Their conflict is so captivating, it's almost a shame when the action moves away from the city to a quiet farm run by Sara (Emily Blunt).
I say almost for a reason, because the scenes from around the mid-point to the end, that take place at the farm are what takes Looper from a great movie, into one of my favorite science fiction films ever made. The nexus of the film's conflict is Cid (Pierce Gagnon), a temperamental child with telekinesis living at the farm. He is slated to become "The Rainmaker", a crime boss in Old Joe's future that is closing all the loops.

Cid forces the two Joes to confront their past, present, and future. This brews a state of moral panic that causes the audience's brain to positively twist itself into knots. Looper evolves beyond the simple story of two men from different times, into a story about how everything we do, big or small, can affect the world around us. It caused me to look at my decisions in a more damning light than I did before watching the film.
Despite the magnificence of his earlier efforts, Looper is the moment where Rian Johnson became a master film-maker. Using time-travel as a device to tell a rich, human story with wide implications, he showed that stories of any caliber can be told in any genre. Looper is a perfect film, a case study in excellent filmmaking that holds up better than ever 7 years later. –James Preston Poole
Rating: 10/10
---
Trending Now