Fantastic Fest Review: 'Knives Out' Stylishly Brings The Whodunnit Into 2019
Posted On October 1, 2019
---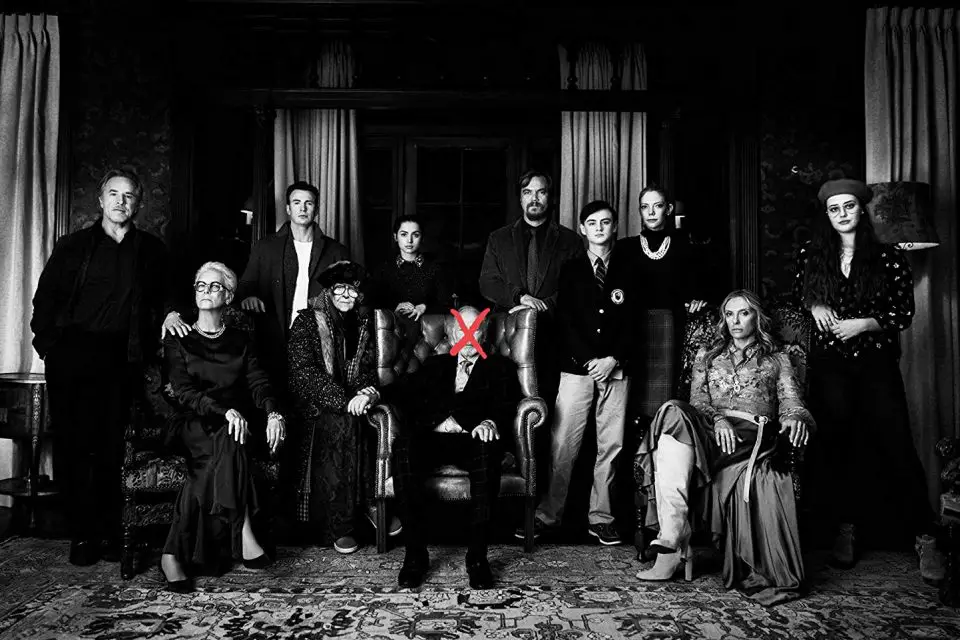 The following article is a part of Full Circle's coverage of Fantastic Fest 2019.
Rian Johnson is one of the most consistent filmmakers working today. Whether it be the caper comedy of The Brother Bloom or the existential sci-fi of Looper, Johnson's involvement in a project indicates a certain level of quality, yet he never repeats himself. Knives Out is no exception to the trend.
Knives Out, Johnson's latest as writer-director, marks his first foray into the tried-and-true waters of the murder mystery, or "whodunnit", genre. Part of the mystery of whodunnits is getting to the bottom of the mystery. Therefore, this review is going to keep plot details vague. All you need to know is that when crime novelist Harlan Thrombey (Christopher Plummer) dies under mysterious circumstances on his 85th birthday, private investigator Benoit Blanc (Daniel Craig) starts looking into the relatives and associates of Mr. Thrombey to gain further insight into his untimely demise. Anything more would be a disservice to the film. What I can tell you is that Knives Out is a total delight.

Following in the noble footsteps of mystery protagonists such as Sherlock Holmes and Hercule Poirot, Craig's Benoit Blanc is a magnetic presence throughout. With a Foghorn Leghorn-esque accent and an effortlessly cool, humorous demeanor, he's an old-fashioned hero in all the right ways. He has potential to be a franchise character all on his own. In his first outing, however, Blanc is surrounded by a stacked all-star cast that brings their A-game.
Jamie Lee Curtis. Michael Shannon. Chris Evans. Don Johnson. Toni Collette. Ana De Armas. These are only a few of the multitude of big games that give Knives Out its character. Every performance is sublime, though specifics are best left to a deep-dive, spoiler-y breakdown of the film. The two performances that jumped out to me, specifically, were Chris Evans and Ana de Armas. The sneery, sarcastic, scene-stealing brattiness of Evans bounces well off the subtle emotion Armas provides. It would not shock me to hear someone else's favorites be entirely different. These characters are just that much fun to be around!
The story these characters are placed in is even better. Rian Johnson exerts an extreme amount of control over the storytelling in Knives Out. He takes the mystery beyond homage to the stories of Agatha Christie and other notable novelists of the genre by weaving together a tight, complex narrative that fits together like a gorgeous puzzle once the pieces are all put together. The twists and turns got gasps from my audience while never sacrificing the plot as a whole for shock value.
Most of the humor worked for me as well! There are moments where it feels as if Johnson was being a little too clever for his own good in his screenwriting. As such, some tense scenes were undermined, but this is overshadowed by the others virtues of the film. Just look at any frame, for example, and you can see how gorgeous Knives Out is. Its austere exterior as shot by Steve Yedlin feels as if every mystery story has coalesced into one visual representation of the genre. Compound that with a frantic, memorable score by Nathan Johnson and you've got yourself everything you want in a murder mystery.

Yet, Knives Out still finds way to go above and beyond. One of its most notable aspects is its social commentary. Johnson absolutely skewers the rich, indifferent upper class, inviting us into the insidious, often disturbing, ways that those living among us think. Moreover, the struggle of the immigrant is examined in a way I wasn't expecting, and by the end- I found myself moved. Once again, I'm choosing to remain tight-lipped on specifics, but it's going to strike a chord with many.
Knives Out is yet another nearly flawless experience from Rian Johnson. It's tight, stylish, incredibly well-acted, and most of all a total blast. If the only negative thing that can be said about a movie is that its humor sometimes misses, then it's done a damn good job at serving its purpose. –James Preston Poole
Rating: 8/10
Knives Out hits theaters on November 27th.
The film stars Chris Evans, Daniel Craig, Ana de Armas, Jamie Lee Curtis, Toni Collette, Don Johnson, Michael Shannon, LaKeith Stanfield, Katherine Langford, and Jaeden Martell.
---
Trending Now