Rian Johnson Retrospective: 'The Brothers Bloom' Movie Review
Posted On November 20, 2019
---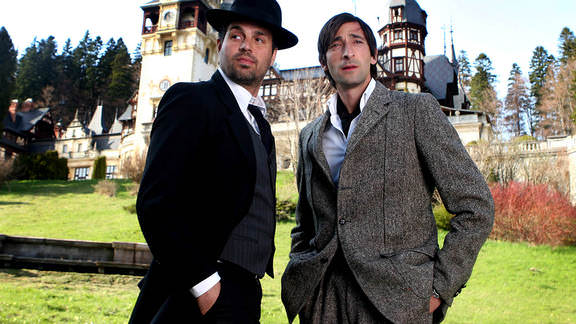 Ahead of the release of Rian Johnson's latest film, Knives Out, Full Circle Cinema will be providing retrospectives on his previous directing efforts. Next up is his sophomore effort, The Brothers Bloom.
After crashing onto the scene with the unconventional but stylistic Brick, director Rian Johnson decided to follow up with something even more different than that. Enter The Brothers Bloom, a grifter film centering around two brothers and their quest for the perfect con.  Starring Mark Ruffalo, Adrien Brody, and Rachel Weisz, this film shows what Johnson could do with a modest budget, at least compared to what he had to work with in Brick.
In The Brothers Bloom, Ruffalo and Brody play two brothers, Stephen and Bloom Bloom respectively. Together with their partner Bang Bang, played by Rinko Kikuchi, they do their best to try and scam Penelope Stamp (Rachel Weisz); a rich isolated heiress who has hardly ever left her house. From there the story takes off into an elaborate and clever adventure. One where the relationship between the two brothers is at the center. Ruffalo shines in particular as Stephen Bloom. As the older brother and the one who enjoys the con more than the other Bloom, you can tell Ruffalo had fun with this role.

It's easy to see why Ruffalo would get a role in Now You See Me, especially after watching this film. He plays the cool and collected con-man amazingly. It's almost as if he is in a constant grift and always trying to keep the illusion up. From a young age, his character has written scripts and stories for his brother to be a part of. Always making his brother someone upright and good in the stories he crafts. Unfortunately, at the end of the day, it's all fake. That can take a toll on someone. Specifically, that someone is the younger Bloom.
Adrien Brody as Bloom (that's his first and last name) plays the reluctant little brother to a great extent. The only reason he does this is that Stephen is all he has for family. The brothers do their best to stick together, but the con is something Bloom can only do for so long. Unlike his brother Stephen, he wants out. He also thinks that way out is through Penelope, someone he is really developing a connection with.

It's from this point on the line between con and reality begins to blur. The Brothers Bloom's past catches up to them in the form of Diamond Dog, a somewhat surrogate father to the brothers. With Penelope caught in the middle and the relationship between the brothers at a breaking point, the film wraps up the story with an excellent third act.
READ: 'Rian Johnson Retrospective: 'BRICK' Movie Review'
Rian Johnson is able to expand on his unique vision into the con-movie genre in an awesome way. The third act twist/final grift packs an emotional gut-punch unlike any other grifter film. Mark Ruffalo and Adrien Brody have amazing chemistry together that elevates the film. Cinematographer Steve Yedlin re-teams with Johnson to provide brilliant and bright white lights as motifs throughout the film. The way the final sequence takes place in a theater exemplifies the idea that Stephen has been telling stories his whole life for his brother, and he has finally perfected turning a con into a reality.

The single-camera approach from Yedlin and the magical and romantic score from Nathan Johnson help you realize that this is indeed a directorial effort from the person who brought us Brick. It manages to have an indie feel to it while also being having bigger ambitions and a more epic feel. The production design of the film also helps maintain its classical feel. It feels like a piece of 1970's cinema that has been put out into the present day. Not only that, but The Brothers Bloom is a certified Rian Johnson film through and through.
Overall, this was a strong second feature from Johnson, and one that is much different than Brick. This shows that Johnson wasn't a one-trick pony nor was he confined to any single genre. Moreover, he would continue that trend with the rest of his film after that. At the end of the day, The Brothers Bloom is a perfect example of a grifter film with class. The Brothers Bloom is a sleight of hand in emotional and humorous storytelling that should be discussed for years to come. – Ernesto Valenzuela
Grade – 9/10
The Brothers Bloom is available on Digital and Blu-ray, and stars Mark Ruffalo, Adrien Brody, and Rachel Weisz.
---
Trending Now