'Crisis on Infinite Earths' Photos Reveal Kevin Conroy As Bruce Wayne
Posted On November 19, 2019
---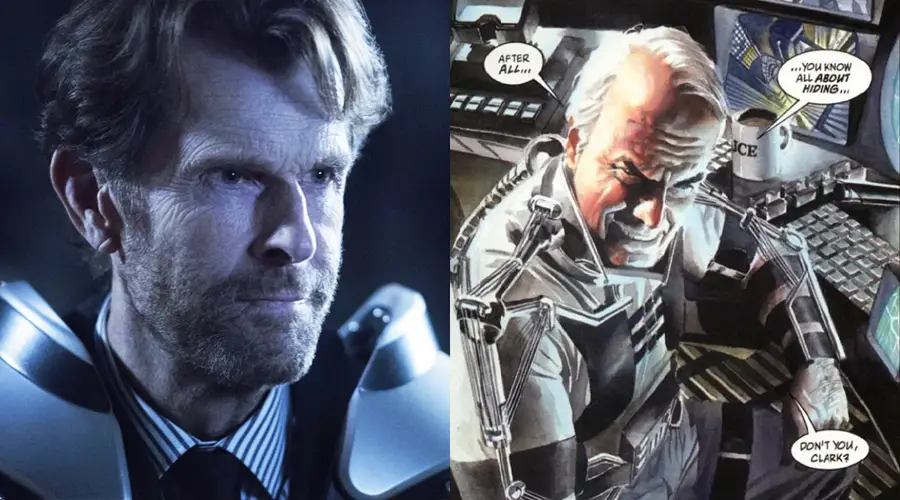 In just a few short weeks, The CW's most ambitious multi-series crossover will begin. Crisis On Infinite Earths has been highly anticipated among DC fans as set photos and videos have revealed a lot over the last few months. Now we have our first look at an older, familiar-looking Bruce Wayne that will have fans over the moon.
As first released by EW, new photos of the Batwoman episode of the crossover have been revealed. Among them is an exciting first look at Batman: The Animated Series' star Kevin Conroy as Bruce Wayne from the future. Take a look below:
Some eagle-eyed members of our Full Circle team have noted the likeness to the Kingdom Come version of Bruce Wayne. The four-issue comic book mini-series pitted more traditional heroes against a new band of more irresponsible ones. Conroy will be the first actor to portray the Caped Crusader in the Arrowverse and will likely continue to crossover with Batwoman in the future.
Additionally, EW released a bevy of other photos from the Batwoman episode of Crisis on Infinite Earths. Smallville's Tom Welling appears in the role of Clark Kent, and Legends of Tomorrow's Brandon Routh suiting back up as Superman for the first time since 2006's Superman Returns. Coincidentally, Routh's version of Superman resembles the Kingdom Come version of Superman.
This second of the five-part crossover will see three separate Supermen going to war during the Crisis. Fans are certainly in for a treat come December. Within the Crisis on Infinite Earths comic event, DC decided to eliminate their multiverse in favor of one single unified Universe. Many have theorized that the Anti-Monitor will have the same ambition when he goes head-to-head with a bevy of heroes. However, the villain will have to contest with every hero currently on the DC CW roster. Additionally, characters from other DC shows like Black Lightning and Lucifer are set to appear as well.
What do you think? Are you excited about the Kingdom Come version of Bruce Wayne on the small-screen? Let us know in the comments!
Here is the full schedule for Crisis On Infinite Earths:
Supergirl: Sunday, Dec. 8 at 8/7c
Batwoman: Monday, Dec. 9 at 8/7c
The Flash: Tuesday, Dec. 10 at 8/7c
Arrow: Tuesday, Jan. 14 at 8/7c
DC's Legends of Tomorrow: Tuesday, Jan. 14 at 9/8c
---
Trending Now