Rose Tico Will Have A Big Role To Play In 'Star Wars: The Rise of Skywalker'
Posted On October 29, 2019
---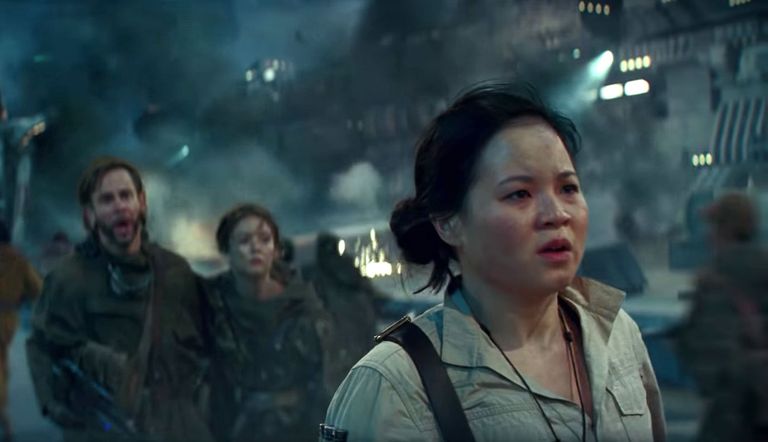 When Star Wars: The Last Jedi arrived in theaters back in 2017, many fans were unhappy with film as well as the portrayal of one of the newcomers to the franchise, Rose Tico, played by Kelly Marie Tran. During an interview with Digital Spy, the 30-year-old actress teases that her character will have a bigger role to play in the Resistance in Star Wars: The Rise of Skywalker.
When we first met Rose in The Last Jedi, she wasn't much of a factor in the Resistance before meeting Finn, played John Boyega. Rose and Finn then go on a journey in efforts to help the Resistance. Tran explains where Rose is at in her journey between The Last Jedi and The Rise of Skywalker:
"Before [in Last Jedi], Rose was a new character who was in maintenance and she was not a huge part of the resistance. But now [in Rise of Skywalker,] she's in the resistance in a big way and it's very cool."
Tran described what the training process was like in preparation for The Rise of Skywalker:
"I had to learn everything that had to do with being in a war, like holding a gun. I've never held a gun before. Things like that, that you don't even think about when you're watching this movie. We're all real people living real lives. We don't shoot arrows off horses normally, so we have to learn every little thing. There's so much detail and so much work that goes into everything."
READ: 'Star Wars: The Rise Of Skywalker' Star Adam Driver In Talks To Join Ridley Scott's 'Last Duel'
After the events of The Last Jedi, it is good to see Rose will have a more active role to play in helping the Resistance defeat the Empire. In the final trailer of The Rise of Skywalker, we were given a brief tease catching Rose in the middle of a battle between the Resistance and the Empire.
Are you excited to see Kelly Marie Tran return as Rose Tico in Star Wars: The Rise of Skywalker? What kind of role would you like to see Rose play in the film? Let us know in the comments below!
Star Wars: The Rise of Skywalker arrives in theaters on December 20, 2019.
The film stars Daisy Ridley, Adam Driver, John Boyega, Oscar Isaac, Lupita Nyong'o, Domhnall Gleeson, Kelly Marie Tran, Joonas Suotamo, Billie Lourd, Naomi Ackie, Richard E. Grant, Keri Russell, Mark Hamill, Anthony Daniels, Billy Dee Williams, and Carrie Fisher.
---
Trending Now