Fantastic Fest Review: 'Wrinkles the Clown' Is A Surprisingly Sweet & Insightful Doc
Posted On September 26, 2019
---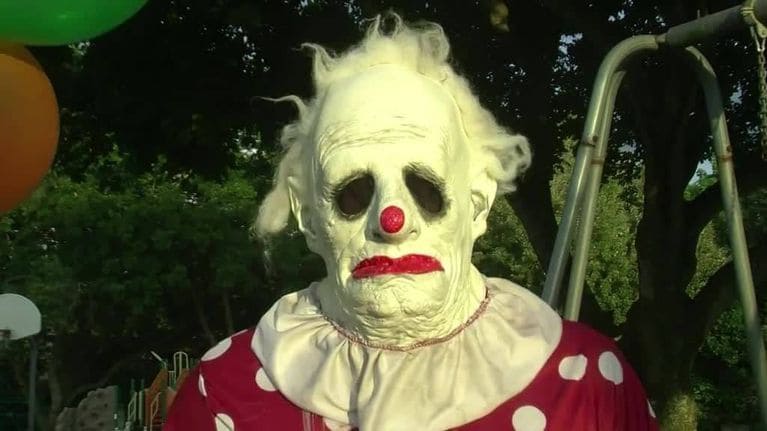 The following article is a part of Full Circle's coverage of Fantastic Fest 2019.
Clowns are scary. This is a fact. A staple of our culture, if you will. So it's a bit surprising that someone like Wrinkles the Clown didn't come about sooner.
For those not in the know, Wrinkles the Clown has become something a viral phenomenon in the past few years. An unidentified man living in Naples, Florida, Wrinkles the Clown has a unique offer: for a couple hundred bucks, he will scare your children. It's an inherently terrifying, ridiculous, and hilarious concept. Therefore, it's only fitting that new documentary Wrinkles the Clown embodies all of these descriptions, but adds an unexpected sweetness to everything.
Director Michael Beach Nichols does a solid job of setting up the mystique and appeal of Wrinkles. Children are petrified of him, some adults find him funny, and others consider what he's doing to be child abuse. It's an interesting microcosm of the online conversation that surrounded Wrinkles when he made his big debut. The film never really takes a side as to if what he's doing is ethical or not, but it's hilarious to see how this one person dressing up as a clown can inspire so many varied reactions.

Where Wrinkles the Clown gets really good, however, is when it starts exploring Wrinkles the Clown himself. There's a lot of playing around with his identity. We explore a potential identity of Wrinkles for a good while and it plays into a lot of the fears of what somebody who would dress up as a clown to scare children. He's crass, rude, quite creepy, and not the kind of person you'd want around children. For a bit, it feels like we're watching a true crime narrative.
That is, until the rug pull. A reveal comes in the film that pulls back the curtain a bit on who Wrinkles really is and it's quite unexpected. Rather than just a tool to traumatize children, the film explores Wrinkles as an artistic project. A way to do something interesting that can bring a unique sort of entertainment to people.
Juxtaposed with the fearful kids in the beginning, we see how a lot of kids love what Wrinkles is doing and find it thrilling. My favorite bit of the film involves a middle school aged kid inspired by Wrinkles who starts making his own YouTube channel. Seeing the glimmer in his eyes, as well as the (implied, he remains in the shadows) glimmer in the Wrinkles creator's eyes strikes a poignant chord.
I do wish there was a bit more exploring of the creator behind Wrinkles, since the documentary is at its most interesting whenever it goes into that territory. It feels a tiny bit constrained in trying to keep the mystery of Wrinkles alive, when the story of its creator is really struggling to break free. Moreover, I could've done with a bit of shortening of the fake-out of his true identity, as well as less clips of kids getting scared by Wrinkles. It's not that material is not good, it's just that I was so captivated by everything else.
Wrinkles the Clown could've been a movie where the entire point was "look at how crazy this viral phenomenon is!". Although there some of that in the beginning of the film, it's more a look at how someone can mine the mystique of something and turn it into a cultural phenomenon. There are certainly better documentaries out there, but Wrinkles the Clown leaves you with a warm feeling and inspiration that's hard to pass up. –James Preston Poole
Rating: 7/10

---
Trending Now