Fantastic Fest Review: 'The Lighthouse' Probes The Depths of Madness
Posted On September 25, 2019
---
The following article is a part of Full Circle's coverage of Fantastic Fest 2019.
"How long have we been on this rock?", disheveled lighthouse keeper (Willem Dafoe) mutters as his assistant (Robert Pattinson) stares off into space. Bathed in the deep black and white hues of Jarin Blaschke's steady eye, the two struggle to find their bearings. This is the beginning of the end of their sanity. This is The Lighthouse.
Writer-director Robert Eggers made quite the splash with his folk horror The Witch in 2015. Its slow unraveling of a New England family lays the groundwork for the madness enveloping his second feature, The Lighthouse. Yet, the film isn't content to just repeat The Witch. Rather, The Lighthouse goes for something far more explosive, to even greater effect.
Eggers' sordid tale kicks off on a New England Island in the 1890s. Ephraim Winslow (Robert Pattinson) arrives at the titular lighthouse, kept by the stern Thomas Wake (Willem Dafoe). They have four weeks of work ahead of them, and Winslow is content to keep his head down, while Wake tries to reach some kind of deeper level of kinship with him.
The first half of The Lighthouse could make for a fantastic drama all on its own. Its languid pace might be grating for some, and admittedly some scenes could've been cut, but it allows the film room to breathe. Moreover, room to marvel at the imagery and performances on display. Just looking at a screen cap from the film is enough to send shivers down the spine. Black and white cinematography, let alone films shot in the 4:3 aspect ratio, often feel like a gimmick, but Jarin Blaschke makes the most of every frame he's given.
Whether it be a wide of the lighthouse itself or a close-up of one of our leads, each shot feels like looking into the past, while also peering into a fairly tale. The black bars around the screen, a consequence of shooting in 4:3, maintain a sense of claustrophobia- being stuck with our leads. And what leads to be stuck with!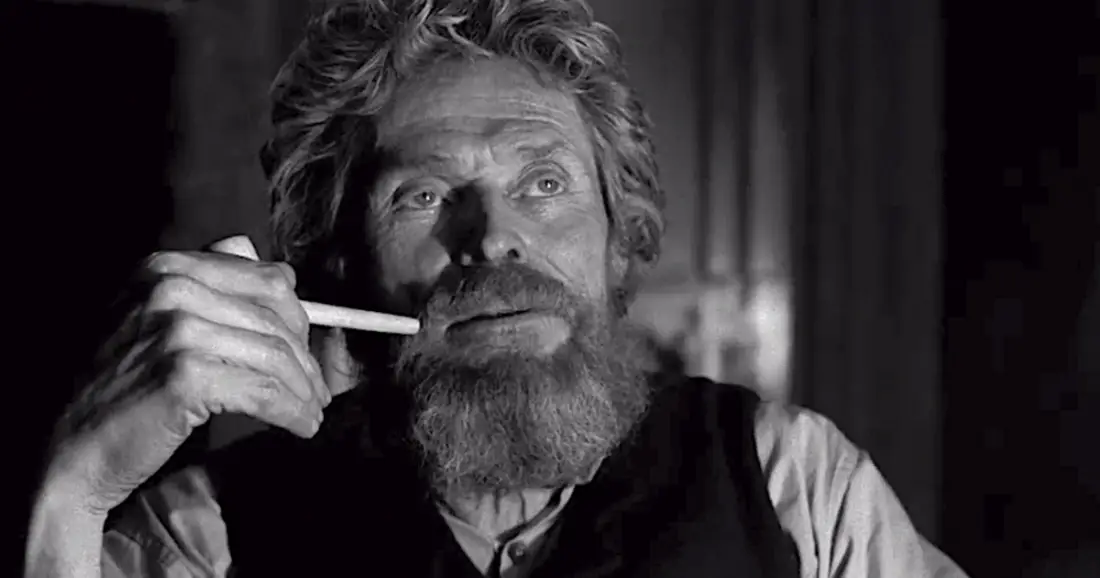 Either performance by Robert Pattinson or Willem Dafoe could be considered a career best, in the first half alone. Pattinson portrays Winslow as a quiet man, yet one brimming with secrecy. Every line out of his mouth slightly contradicts the last, as do his actions. The same man who quietly does his duties starts a petty beef with a seagull that goes on and on.
Inversely, it's easy to read Dafoe's Wake at the start. To paraphrase Winslow, he's a "parody", a living, breathing cliché of a seaman. Yet, underneath all his screaming at Winslow, there's a deep-seated loneliness in Wake that Dafoe communicates through subtle expressions of his body and eyes. Winslow and Wake are locked in an odd game, teetering over the line between friendship and rivalry.
The gripping character drama, however, gives way in the second half to something sinister. It's been four weeks and the men's relief still hasn't arrived. Slowly, they unravel. They start with drinking, then engage in delusion and… well, I should probably leave it at that.
The Lighthouse's first half echoes a large amount of what made The Witch successful, but the second half goes full Kubrickian horror, a la The Shining. Though maybe it isn't fair to compare Eggers to Kubrick, because he absolutely forges a path of his own here. Each scene has great vitality, building on the last and painting a grim picture that transforms the quiet beauty of the film into a living hell. Pattinson and Dafoe go to such lengths with their performances that talking about it any further would sully the surprise of just what their performances have in store in this film.

The way Robert Eggers and co-screenwriter Max (also Eggers) tease out information about character's pasts is brilliantly played. Likewise, Mark Korven's score rattles through each scene, building tension to such a point that it's nearly unbearable. The imagery goes off the rails to a degree I personally wasn't expecting. The effect was shocking, invasive, and invigorating. By the time we arrive at a bold final shot, there's nothing to do but sit in stunned silence.
The Lighthouse is a masterful piece of work. Although it loses some of its momentum in the first half, it is a massive step forward for a director that already made a heck of a mark with The Witch. If we are to judge a director by how they accomplish what they set out to do, then Robert Eggers passes that test with flying colors. Watching The Lighthouse makes one feel like they're losing their grip on reality, and that's precisely the point. –James Preston Poole
Rating: 9/10
---
Trending Now