'Loki' Season 2 Review: "Breathing New Life Into the MCU"
Posted On October 3, 2023
---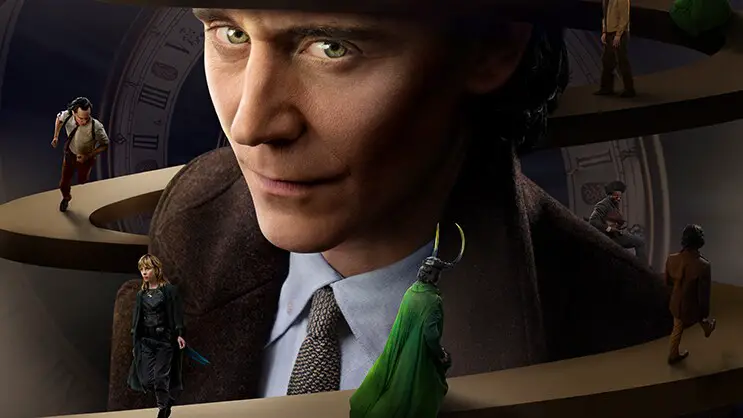 Marvel Studios' journey of transitioning to television productions has been an interesting one. Over the course of nearly three years, ten series, and two "special presentations," this venture's results have been a mixed bag. There are shows with strong starts and weak endings, such as WandaVison and The Falcon and the Winter Soldier, as well as overall duds like Secret Invasion. However, among all of those middling and sometimes disappointing series' was Loki, whose first season premiered in the summer of 2021 as part of Phase Four of the Marvel Cinematic Universe. Loki, more than the other television projects, seemed to have a firm grasp on the pacing and structure that television shows should have.
With a stellar season 1 finale also came a post-credits scene that promised a second season. This would be the first MCU television show to continue on past its initial season, with other projects like WandaVision playing out more like limited event series that ended with their sixth and final episode. Would Marvel be able to continue the success they found with Loki's first season? The answer to that is a resounding yes, as Loki Season 2 not only meets the quality of the first season but also sometimes surpasses it. 

Picking up almost immediately from where Loki Season 2 left off, the God of Mischief must work with the TVA (mainly Agent Mobius, once again portrayed by Owen Wilson) to pick up the pieces of the sacred timeline, as well as the overwhelming number of alternate timelines that are popping up as a result of the death of He Who Remains (Jonathan Majors). That's as specific as I can get without spoiling any other story details. While some may think that this multiversal, time-traveling, large-scale premise has only been created to serve the larger MCU as a whole as opposed to the story it's currently telling, you would surprisingly be wrong. 
For the first time in what feels like a long time for these projects besides Guardians Volume 3, Loki Season 2 is setting out to further develop the characters in its show rather than the cinematic universe as a whole. Hiddleston, Wilson, Sophia Di Martino, and so many others really get to shine in this character-driven sci-fi extravaganza. Most of the MCU television shows before this one, including even the first season of Loki to some extent, had never given the characters much room to breathe as this show does. In between all the time travel shenanigans, magic fights, and quirky Jonathan Majors performances, there are discussions between characters. 

Relationships and moral decisions that were first planted in the first season are brought to fruition with this one. Loki and Sylvie's interactions are a particular high point, as Hiddleston and Di Martino bounce off each other brilliantly. Moreover, Wilson's Mobius is given a new vulnerability that would obviously come with the revelation that one's entire existence is a lie. The TVA isn't the same either, and watching all the chaos unfold makes this corner of the MCU feel the most real and lived-in than all the others at this point, albeit with a lot more high-concept fantastical time travel elements.
There are also plenty of new additions to the main cast, and the best one by a mile is Ke Huy Quan as OB. The actor's erratic energy and screen presence make him feel like a perfect match for the world of Loki. Overall, the cast of the series only helps to elevate further scripts written by Eric Martin, who excels this season by making Loki and the rest of the cast reckon with decisions they made in the previous season. 

Then, there's the production design and technical aspect of the series. All of the sets, costumes, camera work, and cinematography work in perfect unison to give the series a unique feel. In stark contrast to the previous MCU Disney+ show Secret Invasion, Loki Season 2 shines in its individuality, helping break it away a bit from the typical MCU mold. It's not all entirely gone, though. There is still exposition, world-building, and blatant teases of what's to come in future MCU projects. Thankfully, though, it doesn't drag down the series as much as others.
Overall, if the first 4 (of 6) episodes are anything to go by, Loki Season 2 is a fantastic improvement of not only the first season but of the past few MCU television series as well. Hiddleston's charming and deceitful performance as the titular character helps bolster the already incredibly talented cast behind him, creating a sci-fi show that will most assuredly help breathe new life into the MCU. If future projects focused on its characters and writing as much as this one did, then this cinematic universe may still have a chance at staying relevant. – Ernesto Valenzuela
Rating: 9/10
Loki Season 2 Premieres exclusively on Disney+ on October 5, 2023, with new episodes every Thursday. 
---
Trending Now