'Only Murders in the Building' S3 Ep7 Recap/Review
Posted On September 12, 2023
---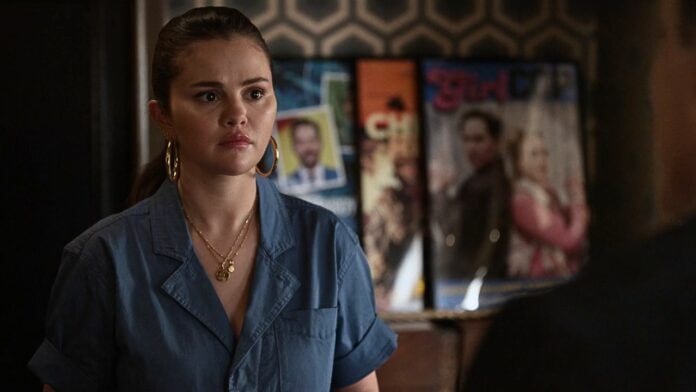 This is a spoiler review for Only Murders in the Building Season 3, Episode 7: "CoBro".
After a few weeks out of the spotlight, the incomparable Jackie Hoffman is back as Uma in episode seven of Only Murders in the Building season three. Still holding a grudge against Charles, Mabel, and Oliver over the death of her best friend Bunny back in season two, she quietly reminds Charles that the ongoing drama between him and his two besties is not worth it in the end. Especially given the way death seems to follow the trio around from day to day. Seeing the gleefully monotone and universally unimpressed Uma back in the series offers a fresh take on what's been happening during this chaotic season. Hoffman's brand of humor is a welcomed one and helps this episode stand out from its predecessors. However, as this show tends to quite expertly do on a weekly basis, a new piece of the very confusing puzzle is thrown into the mix as Charles spots the handkerchief that Ben had when he died in Uma's bag.
Bouncing back to Mabel as she prepares to leave the Arconia, the apartment building in which the murders have all occurred, viewers are greeted by the return of yet another familiar face, Theo Dimas (James Caverly). Helping her pack, he also provides a listening ear as she pines over the case of who killed Ben Gilroy and the disagreements she's having with Charles and Oliver. A pretty dynamite suggestion from Theo leads her to seek out Dickie, Ben's brother (Jeremy Shamos). It appears Mabel is the only one actively investigating the case; that is where her frustration stems.
Her frustration is valid, as Oliver is detached from the overall idea of Ben's murder. Holding auditions to replace Charles' role in the musical, he is bumping heads with his producers and displaying an incredibly growing stubbornness caused by an inflated ego and a flair for the dramatic that only Martin Short can pull off. In what is a genuinely fun and unexpected moment, Tony Award winner Matthew Broderick pops up in episode seven as Tony Award winner Matthew Broderick and nails the patter song within the audition to replace Charles. In a fun moment, it is revealed that Broderick actually beat Charles out for the role of Ferris Bueller followed by a hilarious line "Ferris Bueller might take a day off, but Matthew Broderick does not."
Like Mabel, Theo is a huge fan of the late Ben Gilroy. However, his obsession comes from Ben's superhero movie franchise, CoBro. Killing two birds with one stone, the duo attends a CoBro silent auction held by Ben's brother Dickie. Mabel's attempt to question the mourning brother is thwarted when he clocks what she's trying to do and leaves the conversation. Selena Gomez has shone a very believable tenacity when portraying the often overly inquisitive Mabel. She also sines in this bit as she attempts to hold a conversation with the deaf Theo in American Sign Language.
While Matthew Broderick dives head first into the role in Oliver's musical once held by Charles, Charles surmises and wallows in his own self-pity. In doing so, the former Brazzos finds himself once again investigating the murder of Ben by thinking back on the handkerchief in Uma's purse. Attempting to catch up with Mabel who apologizes to Dickie. However, he says he was just taking out his frustration on her and tells her that he was adopted when his parents couldn't conceive, but when they ended up having their miracle baby Ben he became the center of attention. Dickie immediately goes off on a tirade that may or may not point those of us forming our own theories in a new direction. Dickie knows the meticulous details of Ben's murder and the reasons why the suspect currently behind bars should stay there. Curious.
Suddenly realizing he cannot deal with the overbearing Broderick any further, Oliver seeks counsel with the legendary Mel Brooks via FaceTime, who rather eloquently claims that Oliver is "F*****" for being open to Broderick's creative ideas. It is yet another fun cameo in a series that nails that trope every single time. From Sting to Tina Fey to Paul Rudd and Meryl Streep, it's clear the OMITB producers have friends in high places and know how to flex that every so often.
Thanks to the details shared by Dickie, Mabel remembers a few key details that keep her investigation alive and well. Ben's pronounced time of death was 12:06 due to his watch being stopped at that time when he was pushed down the elevator shaft. However, during his rant about his can-do-no-wrong brother Ben, Dickie explains that Ben set his watch 20 minutes late. The suspect was no longer in the building at 12:26. The plot thickens.
Sadly, Mabel has quietly formed a new trio in the absence of Charles and Oliver with Theo and Tobert. However, her new friends have come up with an entirely new theory as Theo comes in with the original CoBro comic book. They look closely at Ben's signature "B. Glenroy" and realize that the B might actually be Richard. Richard is long for Dickie. "That's motive," Mabel says.
While Mabel gets closer to the true killer, Charles and Oliver reunite over their newfound shared hatred of Matthew Broderick. Moreover, Mabel clearly misses her guys, who are currently also discussing how much they miss her. They are understandably caught off guard when she releases a teaser for their podcast and claims she's "going solo" this time. The dynamic and chemistry between the three leads of the series are on full display even when separated, and it will always be enough to keep this viewer tuned in on a weekly basis. With only two episodes left, it's only a matter of time before the truth is revealed and the mystery of Ben Gilroy is solved. – Christian Hubbard 
Rating: 8:10
Season three, episode seven of Only Murders in the Building is streaming now on Hulu.
---
Trending Now