'Only Murders In The Building' S3 Ep 5 Recap/Review
Posted On August 29, 2023
---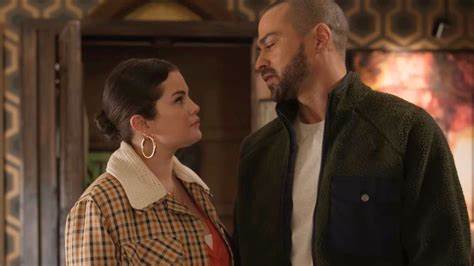 This is a spoiler review for Only Murders in the Building Episode 5: "Ah, Love". To read the review for Episode 4, click HERE.
The best murder mystery show on television is back with another episode, and our Only Murders in the Building crew is going on dates where they will find, something unexpected! Now, whether that's about themselves, or the case, it remains to be seen! We also leave the musical preparations behind this week, providing a different look at the characters, in particular, Oliver Putnam (Martin Short), from what we've seen this season.
Charles (Steve Martin) and Joy (Andrea Martin) continue to live in post-engagement "bliss". However, after being confronted by Oliver and Mabel (Selena Gomez), Charles finally gets up the nerve to confront Joy about the lipstick she was missing in Ben's dressing room. She blows it off, wanting him to trust her, and leaves him with Sazz (Jane Lynch). Sazz helps Charles realize he's been afraid of being happy this whole time. Unfortunately, happiness isn't meant to be as Charles sticks his foot in his mouth. This takes the cake for Joy, and she rips him a new one, breaking their whole relationship off. Especially after he confesses he punched Ben Glenroy (Paul Rudd) on opening night, resulting in the mark Joy needed to be in the dressing room for to cover it up.

This was a great couple of scenes for Steve Martin in particular, but also for Lynch. I must confess, Lynch's character Sazz being the stunt double threw me for a loop the past two seasons, but here in this episode of Only Murders in the Building is where the believability happens. Lynch and Martin are in sync the whole time, and the opening up for Charles was delightful. Everyone but him has been able to see that he pulls away from everything that brings him joy.
So, hopefully, Charles will be able to recoup some love in his life, whether Lucy comes back for a few episodes, or he makes it up to Joy. Speaking of Joy, Andrea Martin does a really fantastic job in this episode. She's flexed into the too-over-the-top realm for me in some of the past episodes, but she really shined in this one. Joy was serious, but still had the personality of the character, and it helped a ton.
Now, for our dear Oliver Putnam, he gets his dinner date with Loretta (Meryl Streep)! After a disastrous dinner prepped by Loretta results in Oliver losing a tooth, and a confessional by Loretta. Yes, that's right, Loretta dives into some suspicious rambling about Ben Glenroy. She uses the exact phrasing of f****** pig! This, of course, is blown off by Loretta when Oliver tries to be inquisitive. But we get more details on the second part of the date on a ferry. Loretta reveals she and Ben had a fight before he passed out on stage. That fight is what led Charles to punch Ben. Now, Loretta states she was not a stalker of Ben. But – it is revealed towards the end of the episode, after Oliver and Loretta have dessert, that Loretta has kept a photo album of news pieces about Ben in her bookshelves.

You know those times when you see couples out of your age range, and they look like they're on a date for the very first time? That's precisely how Short and Streep's scenes felt.  But I don't know if that's a good or a bad thing. They've had so much chemistry in the first three episodes, and all but the dessert scene felt insanely awkward. Again, maybe that's how that was supposed to be. I'm still not sure. Maybe the tooth loosing bit in the well-done pork chop did it in?
Time to tackle the last character of our Only Murders in the Building trio, Mabel. She ends up at a nice bar with Tobert (Jesse Williams), originally there to investigate Howard's boyfriend Jonathan (Jason Veasey). However, Tobert does his own investigation and finds Jonathan completely innocent, but wants a date with Mabel, so he reels her in. They enjoy the music, and each other's company, before Jonathan ends his set and meets with a mysterious person, known only as Dr. C. That was, in fact, Ben's doctor. Jonathan hands off an envelope of what we can only assume was cash, and ends up seeing Mabel and Tobert, but doesn't say anything! He just sneaks off backstage. Mabel and Tobert make it home, where Mabel shows him her murder board, and then they also have dessert.

Despite my love of Charles' scenes in this episode, I have to state that Gomez and Williams stole the show this week. Williams played off the naïveté, and Gomez led him through it in the only Mabel way we know how. Their chemistry was perfect, and I truly hope Tobert is not the killer, so maybe Mabel can get her time in the spotlight as a detective, with him behind the camera.
Overall, this week's Only Murders in the Building was absolutely stuffed with information about our characters, including some clues for the road. Jonathan is now a suspect, but we have known all along Loretta has had something to hide. Is she hiding a special relationship with Ben from everyone? Or was she jealous of the spotlight Ben has held for years? Hopefully, we'll find out next episode, but there's still so much to uncover. While I loved getting to see our detectives shine in their own elements, I do wish we had more time for them together on screen. This episode was one of the shortest of the season so far, and the show does its best work when the trio are working together. I don't think we've had that very much this season. Hopefully, the tides will turn soon enough. –Katie Rentschler
Season three, episode five of Only Murders in the Building is streaming now on Hulu.
---
Trending Now