'Gran Turismo' Review: 'An Enthralling Underdog Story'
Posted On August 25, 2023
---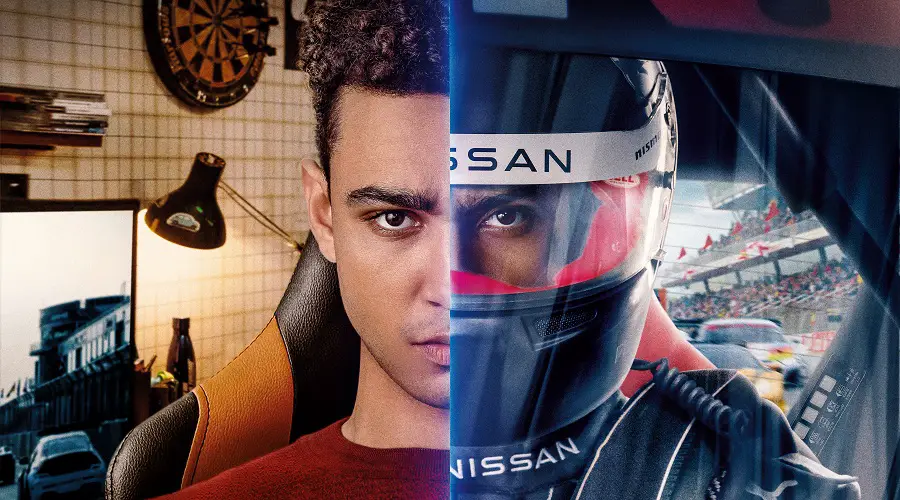 The Gran Turismo video game series, developed by Polyphony Digital for Sony's PlayStation consoles, prides itself on being the most accurate racing simulator out there. That claim was put to the ultimate test when a GT gamer made it from dominating the sim in his bedroom to becoming an actual race car driver who won third place in the storied '24 Hours of Le Mans' race. Such an incredible true story calls for a grand adaptation on the silver screen. Filmmaker Neill Blomkamp, whose early success with District 9 and Elysium gave way to the underperforming Chappie and outright obscure Demonic, takes the wheel, defying expectations with an underdog story supercharged by energetic direction and a lovable protagonist.
Jann Mardenborough's life in Wales is at a dead end. Toiling away as an underwear salesman, the young Mardenborough (Archie Madekwe) spends his evenings living out a fantasy of being a professional race car driver in Gran Turismo, custom wheel and pedals in tow. His pie-in-the-sky dreams are closer than he knows to becoming a reality, when Nissan marketing executive Danny Moore (Orlando Bloom) comes up with the novel idea of taking the best GT players in the world and having them compete for the spot to test their mettle on the track. Through his impressive skill, Mardenborough wins this opportunity, although he'll need some training. With the help of ex-racer Jack Salter (David Harbour), Jann will go further than he ever believed possible.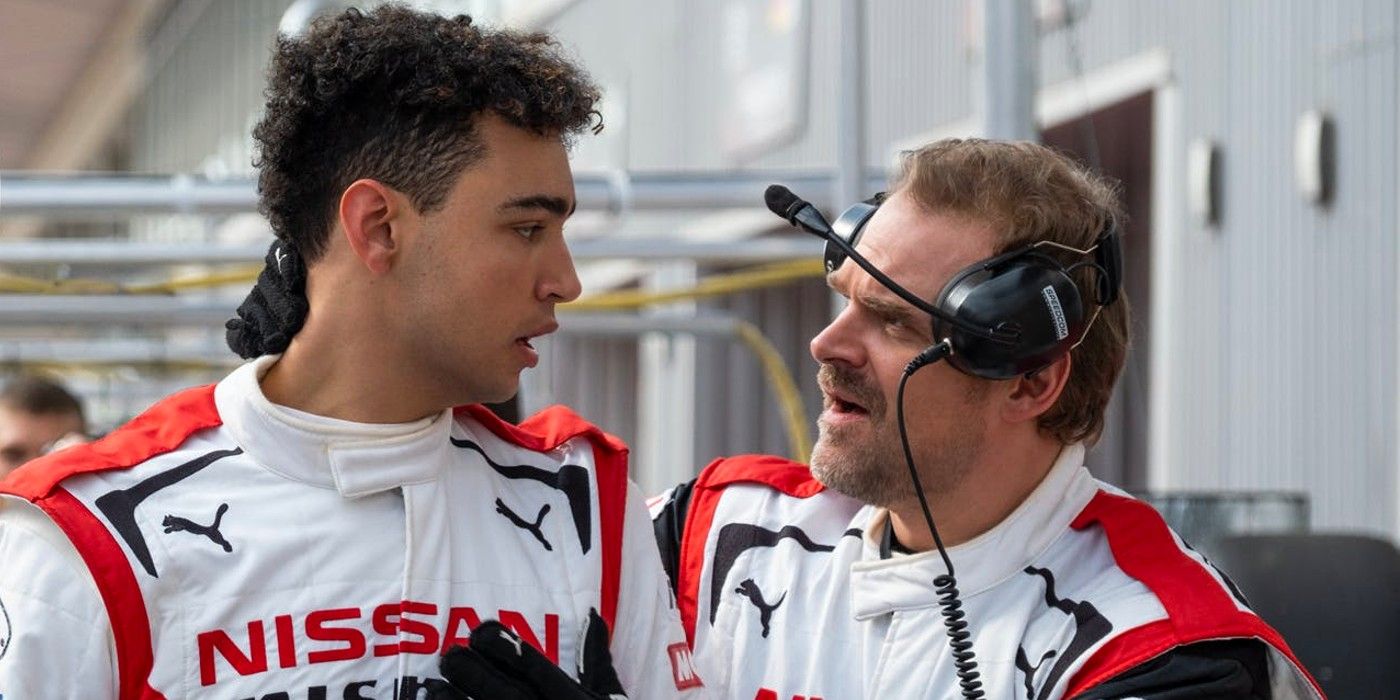 Gran Turismo is a flagrantly feel-good, heart-on-its-sleeve, earnest fest. If you can't get behind that, or find yourself shuddering at underdog story clichés, then steer clear. For those predisposed to get swept up in the melodrama of a story like that of Jann Mardenborough, well, then much of Gran Turismo will be ecstasy. As played by Archie Madekwe, Jann is compulsively likable. His single-minded drive contains no ego, even though his aloof nature bothers the camera-conscious Danny. Neill Blomkamp and cinematographer Jacques Joffert (The Purge trilogy, Father Stu) supplement Jann's aloof charm by allowing the audience to see the world as Jann does.
When Jann drives, the camera fixes itself on the top of the car to mimic one of the many camera angles available to the player in the game itself. Or, most novelly, the vehicle itself will digitally deconstruct piece by piece to unveil his gaming setup at home. To Mardenborough, the simulation and the professional courses he burns rubber on are one and the same. His analytical method of driving is a fresh perspective, supplemented by flourishes such as Jann going on the outskirts of a digital "red line" seen in the video game and in his own mind on the track. Hilariously, the blending of the video game's hallmarks – such as marking exactly where the player is and freeze-framing on each cross of the finish line – makes Gran Turismo one of the most accurate video game adaptations ever made.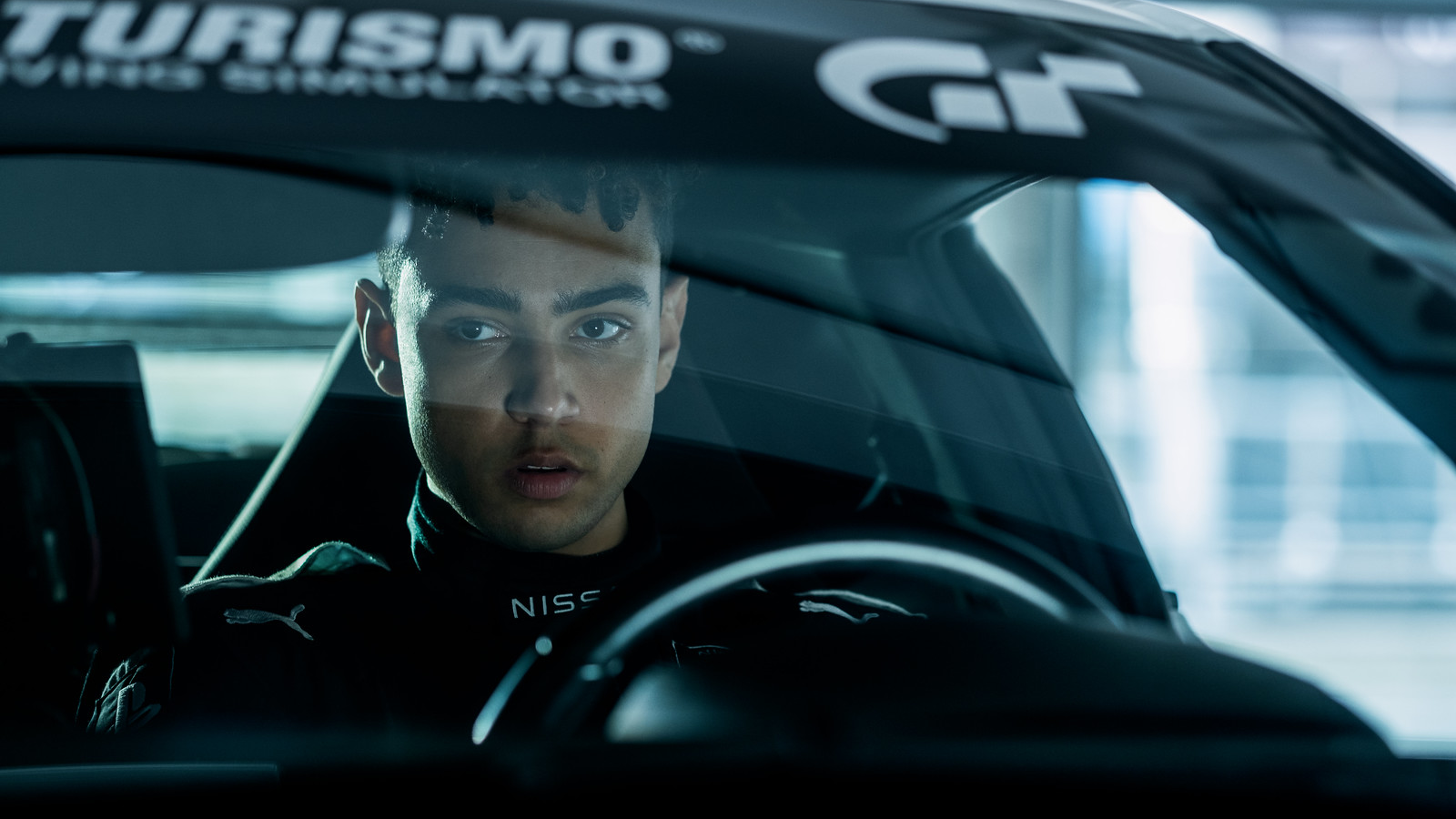 Take away that aspect entirely, though, and you're still left with top-of-the-line racing sequences. Blomkamp overwhelms the audience with sound and fury. Amongst the constant vrooms and brrs of cars whizzing by, not to mention a bone-shaking score from Lorne Balfe and Andrew Kawczynski bolstered by needle drops ranging from Black Sabbath to Kenny G of all people, is a truly visceral representation of racing. Gran Turismo portrays racing almost as a fight for survival, where each split-second is the difference between 1st or last place, life or death. It's intoxicating, meant to be seen big and loud, although my screening at a drive-in movie theater, where I gripped the wheel and mock-raced along in my consumer-grade Nissan, wasn't a half-bad experience either.
In all fairness, the fresh perspective of Jann and the rapturous racing sequences are the meat building upon the bones of the traditional sports movie playbook. And yet, those bones are as sturdy as ever. The script by Jason Hall and Zach Baylin takes us through every step of Jann's journey. A particularly memorable chapter is the first act in 'GT Academy' where Jann competes against a series of rival gamers on a real track to see who will get to proceed with trying for their racer's license. This plays as a sort of gearhead version of Top Gun, where Darren Barnet's Matty Davis is an apt stand-in for Iceman in this scenario. Once Jann clears this obstacle, the film continues to ramp up momentum.
Neill Blomkamp keeps his foot steadily on the gas. As the stakes get higher, Jann's personal relationships come to the forefront. His difficult relationship with his father (Djimon Hounsou) troubles him. He burgeons a romance with his hometown crush Audrey (Maeve Courtier-Lilley). In the face of Danny Moore's waning belief in him, the gruff Jack Salter, playing as always with asshole-with-a-heart-of-gold charm by David Harbour, pushes him ahead. A late-film tragedy nearly makes him leave behind his passion. All of this intensely personal drama, although undercut by an undercooked rivalry with Josha Stradowski's sneering villain, feels familiar, though no less palpable. It's a perfect storm of relatable tension that the audience wants to see Jann overcome. And once he does, you'll be pumping your fist to his victory.
No question about it, Gran Turismo is the sports drama to beat of the 2020s so far. Neill Blomkamp, and it must be said the man Jann Mardenborough himself, who produced the film and did his own stunts, has brought to screen an exquisite underdog story that's as inspiring as it is in-the-moment. As Jann navigates dangerous corners, on the raceway and in his private life, you're right there with him. And as his engine hums and the invigorating danger of the race plays out in front of you, there's no sweeter place to be. – James Preston Poole
Rating: 9/10
Gran Turismo is now in theaters.
—–
Did you like this article? If so, consider visiting our YouTube channel, where we discuss the latest and greatest in pop culture news.
---
Trending Now