'Vacation Friends 2' Review: "Another Solid Buddy Comedy"
Posted On August 25, 2023
---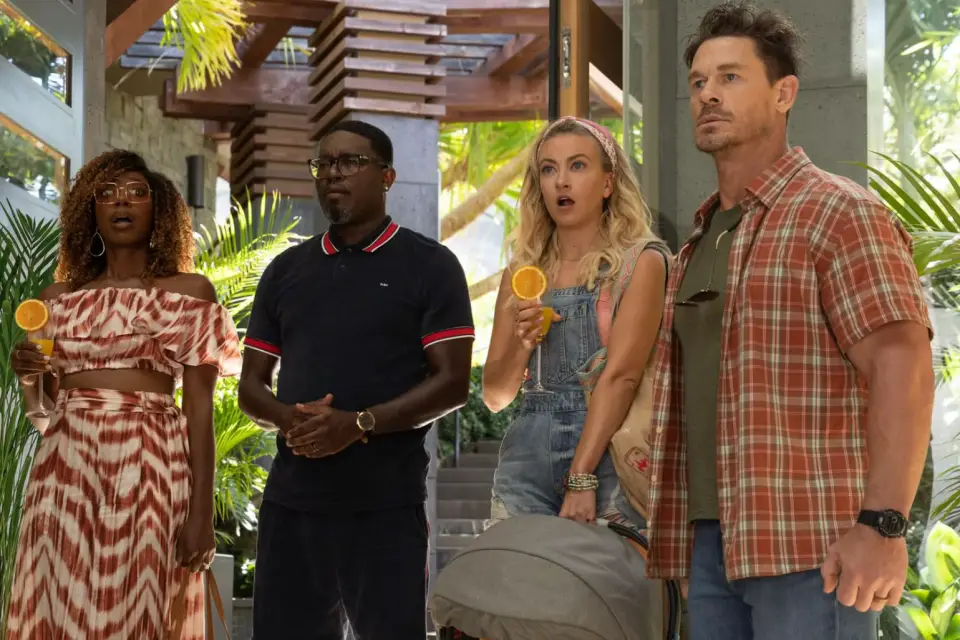 Buddy comedies hit me in all the right places. They are designed to make us laugh but also force us to believe in the characters as seemingly average individuals like you and me. They have real jobs, kids, marital problems, hopes, and dreams. In the case of Vacation Friends 2, the follow-up to the surprise Hulu 2021 hit, the buddy comedy fires on all cylinders thanks to an easy-to-follow plot, likable characters, and believable relationships seeped in both conflict and camaraderie.
Starring returning faces Lil Rel Howery, John Cena, Yvonne Orji, and Meredith Hagner, the film flips the original idea on its head and has the two couples firmly established in their friendship. Meeting each other in an airport to travel to a Caribbean resort, the pranks get off to a start quick, fast, and in a hurry with Ron and Kyla (Cena and Hagner) bringing both their baby Marcus (named after Howery's character) and Maurillio (Carlos Santos), a hotel manager from the first film, to babysit him.
The dynamic is admittedly jarring at first since a part of the fun of the original comedy is that these two very different couples just met on vacation in Mexico and suddenly immerse in each other's lives in the most hilarious of ways. But it also sprinkles a newfound wholesome found family trope over the plot. It's easy to tell that they all mean a lot to each other and that stems from the outlandish bonding moments seen in the 2021 hit.

In a twist from his usual roles, Howery portrays more of the "straight man" in these films while Cena plays the goofy comedic relief. Marcus is the owner of a construction company with a lot of ambition and drive. In Vacation Friends 2, Marcus uses this trip to set a meeting with Korean businessmen who own the resort in which they're all staying. With Ronnie Chieng joining in on the fun as a liaison for the mysterious Mrs. Kim, the stakes are high as this is a potentially big-time deal for Marcus and, of course, there are several obstacles in his way. The biggest? Kyla's freshly-released-from-prison father Reese (Steve Buscemi). The new wrinkle in the fold brings a new, unknown element into the forefront and promises to create chaos for our already quirky quartet.
Between bungalows burning down and sketchy crypto-currency schemes cooking up, the film spends a good chunk of its 105-minute runtime setting up crazy situations and them playing out. However, there are several character moments that feel sincere. Ron is desperate to impress his father-in-law and Cena plays that very convincingly. On the other side of that coin, Marcus is desperate to impress his potential business partner and Howery plays a bumbling man at his wit's end. The comedic duo displays great chemistry and offers some memorable moments that bring the laughs if not a few cringes.

When the story follows Kyla and Emily (Orji), the two continue to bond over the notion of motherhood. While Kyla is slowly embracing the role, Emily, who is actively trying to get pregnant with Marcus, reveals that she actually does not want a baby, a feeling she fears sharing with a husband who is tracking her ovulation. However, throughout the constant string of hijinx and shenanigans, it's hard for her to get real with the man she loves.
The film leans a bit hard on the silliness that comes from the additional extracurricular activities that come from staying at a resort. The drinking games set in bars and casinos fit the bill when it comes to the scenario but it does grow a bit tedious at times. However, surprising elements such as Cena getting to flex his tenacious ability to weave in and out English and Korean offer enough action and shock value to keep it feeling fresh and not a total carbon copy rehash of the first film.

A true highlight of the feature comes from a moment where Reese is being intimidated by a group of criminals and he thinks the day is saved when Ron walks over. However, Cena's sudden turn from a jacked mountain of a man into a sniveling shell of himself seeking his father-in-law's approval breaks the tension and gets a big, unexpected laugh out of me.
From snorting the ashes of Kyla's deceased mom to getting kicked out of a casino for counting cards, Vacation Friends 2 has no shortage of stereotypical, wild comedic tropes that land more often than they miss. However, if the film has a true strength, it's in the chemistry displayed by the cast members on their second outing and the way the film brings them even closer together in unexpected ways. Vacation Friends 2 is not going to make cinematic history or win any awards but it's certainly not a bad way to spend a few hours if you're looking for a few laughs and a lighthearted adventure. – Christian Hubbard
Rating: 7/10
Vacation Friends 2 streams on Hulu on August 25th! 
—–
Did you like this article? If so, consider visiting our YouTube channel, where we discuss the latest and greatest in pop culture news.
---
Trending Now