'Only Murders In The Building' S3 Ep3 Recap/Review
Posted On August 23, 2023
---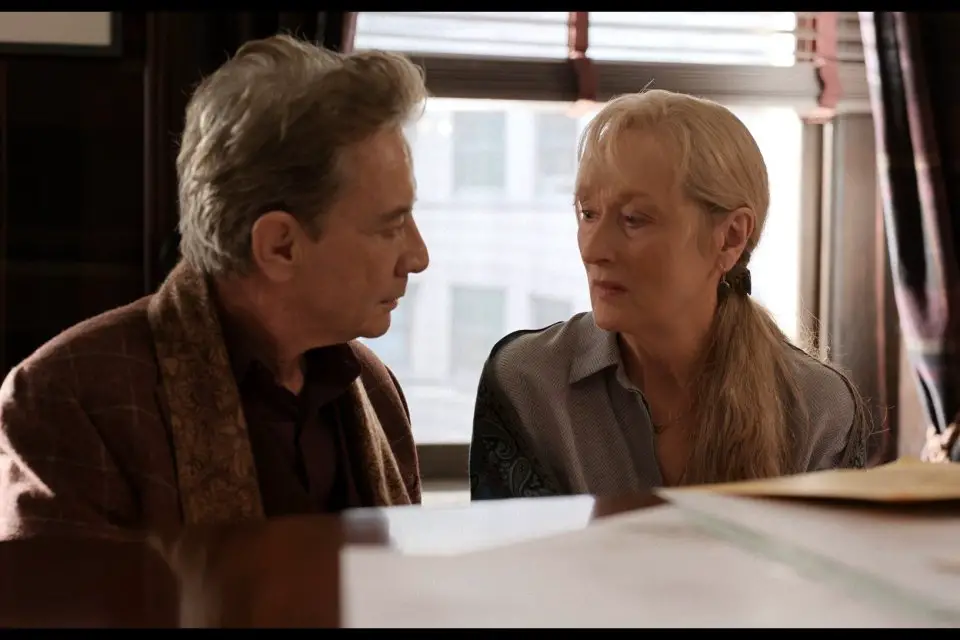 This is a spoiler review for Only Murders in the Building Episode 3: "Grab Your Hankies". To read the review for Episodes 1&2, click HERE.
Only Murders in the Building – "Grab Your Hankies" gets off and running. Mabel (Selena Gomez) and Charles (Steve Martin) are back on the case of who killed Ben (Paul Rudd), and Mabel seems more excited than ever to be back in the groove of solving a murder and podcasting about it. Charles does too, but the real reaction comes from Oliver (Martin Short), whose biggest concern is getting the show up and running on Broadway. But after your leading star passes, the idea of doing the same show is not the best. Especially after the leading critic said the show was no good! So what does Oliver do? He changes the play into a musical!
Death Rattle Dazzle is Oliver's last chance he feels like in order to rebuild his career as a stage director. But, his producers Donna (Linda Emond) and Cliff (Wesley Taylor) are only giving him a day to write show-stopping songs to impress them. His songwriting scenes are some of the best of the episode, we really get to see Short in his element.

We also get to see some truly special scenes between Oliver and Loretta (Meryl Streep) as they flesh out an emotional song together. It's nice to see, after two seasons Oliver as a character gets a chance to build relationships outside of the core trio. But, then again, we all know how that's ended in the past two seasons. And it seems to come to a head with him and Loretta. As Loretta gets the job offer of an on-screen role she's dreamed of since she was little. And instead of being happy for her, Oliver threatens her legally to stick with the musical.
Read:
At the end of the day, Loretta chooses the musical, even though Oliver says she can walk away. It's a little weird considering the dynamics of their relationship, but we'll go with it for now. During the two days of songwriting, and rehearsals for Death Rattle Dazzle, Charles is participating in the rehearsals but also investigating the crew. This is because Ben had an extra hankie with him when he died! Only the members of the play were given hankies as part of a rehearsal wrap gift. And the only one who doesn't have their hankie, is our narrator for the episode, Kimber (Ashley Park).

Mabel's job in this episode of Only Murders In the Building is to look into Ben's apartment. She ends up doing this concurrently with Tobert (Jesse Williams). They have a unique banter which makes me think of her relationship with Alice last season. But it also makes me hesitate with him, because he may be the villain simply because he was reduced to celebrity paparazzi instead of a nature documentarian. Together, they find a tape of Ben right before he went on stage, yelling at something off-screen.

Ultimately this episode shows the chaotic strength of Only Murders in the Building. This show is phenomenal, and builds up the story while maintaining the comedic parody we all know and love. Streep absolutely shines, and I hope she continues to stick around the rest of the season. Ultimately, while Kimber is the target of intrigue in this episode, I don't think she's our killer. It's too early for it to be revealed, and she just doesn't ultimately feel like a killer. The other important fact is the show has shown to be self-aware, and Charles making the comment about "not another female killer" makes me think we'll have a male killer this season.
Only Murders in the Building continues to be at the top of its game. Short has hit a new element in his character, with a lot of fun, crazy moments to be had in this episode. The top performance of the episode, however, belongs to the incomparable Meryl Streep, with some emotional moments, and an epic song performance. I can't wait to see what happens next. –Katie Rentschler
Rating: 8/10
The first three episodes of season three of Only Murders In The Building are streaming now on Hulu! 
---
Trending Now