'Meg 2: The Trench' Review: "Sharks With Extra Camp"
---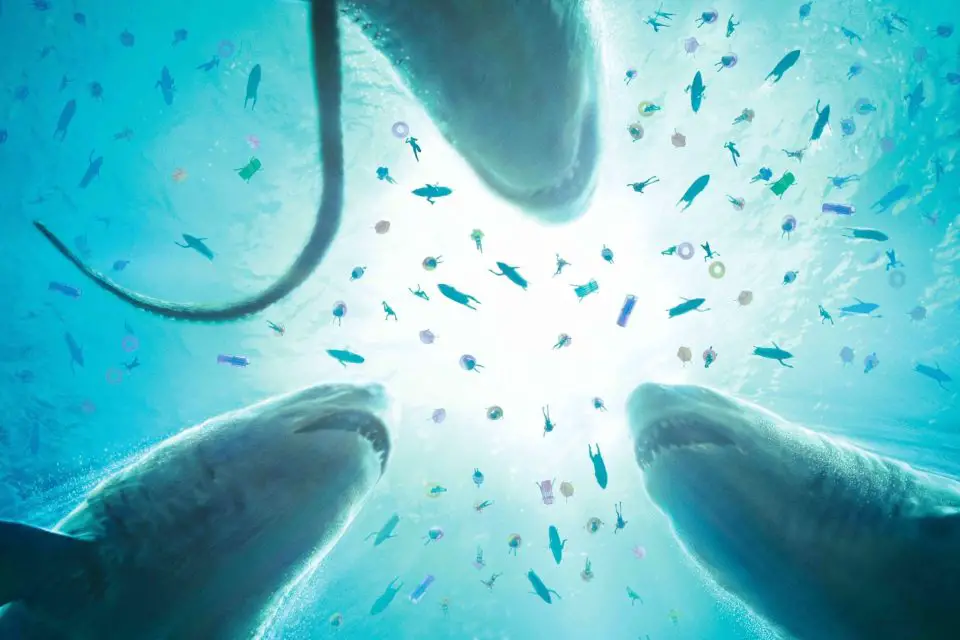 When Peter Benchley wrote Jaws, he had no idea it would begin a phenomenon. He never considered that Steven Spielberg would adapt it and create one of the biggest hits in American film history. Likewise, Steven Alten also had no idea what would happen in 1997 when he wrote Meg: A Novel of Deep Terror, and then The Trench in 1999. Warner Bros. may have struck a certain gold with their Meg series starring Jason Statham. Meg 2: The Trench is way more camp and ridiculous than its predecessor, but that's what action sequels should do right? Double down and go all out as they continue.
Meg 2 follows the Mana 1 crew after the events of The Meg. They've lost some of their scientists and friends, but they've gained new ones. Jonas Taylor (Statham), Mac (Cliff Curtis), DJ (Page Kennedy), and Meiying (Shuya Sofia Cai) are back, and they are joined by Meiying's uncle Jiuming (Wu Jing), Sal (Kiran Sonia Sawar), Lance (Felix Mayr), Jess (Skyler Samuels), and Regis (Malissanthi Mahut). Jiuming claims to have trained a certain Megalodon named Haiqi, but we find out soon that may not be the case when he tries to exhibit this training.

The crew goes on an exhibition at Mana 1 back into the Mariana Trench. The crew is also followed by Haiqi, who makes a break for it when the crew leaves and goes back to her home. They soon find out that there's a lot more than Megalodons down there when they find Montes' (Sergio Peris-Mencheta) crew. Jonas has been trying to protect the ecosystem, and soon finds out there's a lot more going on than he thought. The Mana 1 group ends up finding out they've been betrayed, and go on another adventure filled with Megalodons, a giant squid, and yes, even dinosaurs.
Much like the first film, the story centers on greed and capitalism. The Meg focused on those themes by using Rainn Wilson's character as a catalyst. In this film, we see it from a different angle. Humans not respecting the ocean, and treating the cause and effect as if they are nothing. Greed above all, and it's such a potent theme that I couldn't ignore it. Is it presented in a ridiculous manner? Absolutely, but it's there and it's very loud. Actions have consequences and the consequences for the greedy in Meg 2 are incredible.

Ben Wheatley takes over the directing for Meg 2 and does a good job with what he has. The acting is not spectacular for the most part, but acting in a campy film is usually subpar at best. Statham is amazing and electric every time he's onscreen, and Page Kennedy takes DJ to new levels. Outside of that, there isn't much good to say about the acting. The score by Harry-Gregson Williams is very entertaining and keeps the momentum alive. The Meg's theme has become a very recognizable song, and one I actually enjoy. Haris Zambarloukos' cinematography deserves all the praise. The shots inside the ocean and the shots during the third act of this film are absolutely incredible.
For me, Meg 2: The Trench is exactly what I expected. Sharknado-level ridiculousness while trying to bring the magic back to shark movies. There are shark films like Black Demon that one should only watch on the Syfy channel, but these Meg films deserve the big screen experience. While the stories may be a tad bit shallow, they want to bring awareness to underwater life. They want to preserve the ecosystems, and I can and will always support that. – Rascal F. Kennedy
Rating: 7/10
Meg 2: The Trench is in theaters now!
—–
Did you like this article? If so, consider visiting our YouTube channel, where we discuss the latest and greatest in pop culture news.
---
Trending Now