'Joy Ride' Review: "A Globe-Trotting Blast"
---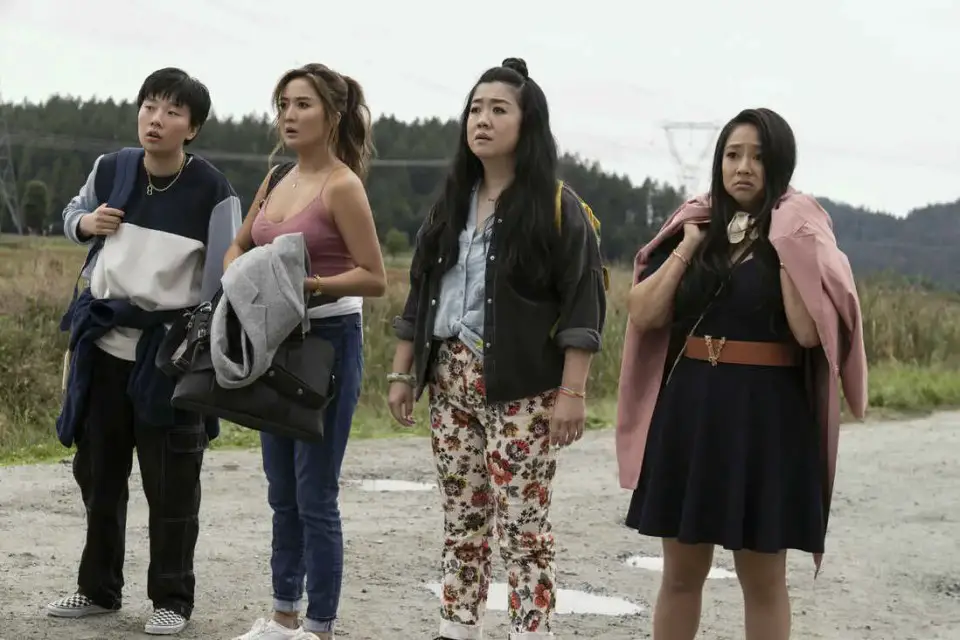 It's a cliche to use a film's title to describe one's own experience with it, but sometimes it can be the most accurate summation. This is certainly true with Joy Ride, which carves a rather unique niche for itself. Namely, it's a raunchy studio comedy that not only has people of color in the lead roles, but also that the characters' identities are instrumental to the plot and themes. The film revolves around Audrey (Ashley Park) traveling to China to close a business deal that sidetracks her to find her birth mom surrounded by her three friends Lolo (Sherry Cola), Kat (Stephanie Hsu), and Deadeye (Sabrina Wu).

What follows after they arrive in China is undoubtedly insane. Drug-induced decision-making, wild nights after losing passports, and one particularly devilish choice are just some of the few ways Joy Ride aims at drawing laughs. But the way writers Cherry Chevapravatdumrong, Teresa Hsiao, and Adele Lim – the latter of whom directs – combine the raunchy laughs with a heartfelt story about finding who you are is the highlight of the film. Giving each member of the friend group control over their own decisions sexually as well was an awesome highlight.
The main group is so impressive together, with Hsu being the standout like in Everything Everywhere All At Once. That's not to negate the rest of the cast's efforts, but put simply, Hsu takes everything up a notch. She knows the right punches to hold and throws them at the right time. I need her in everything. Park is probably my second favorite in the cast, but it's mainly because she holds all the emotional moments together. As the one trying to find her birth mother, Joy Ride doesn't have the heartfelt moments without her.
The costuming and makeup department absolutely makes the film. Especially diving into the nightclub scene, as well as K-Pop, if it doesn't work, it can take you out of the film. All four women in the film scream their individual personalities, even diving into the K-Pop scene. All the while, the film highlights Asian cultures and pushes the stereotypes of said cultures to the side. Each of the four women has their own issues in dealing with their heritage, and the expectations of others.

Joy Ride chooses to embrace the chaos of finding ourselves in the sea of life. Finding meaning and purpose while having to start our own lives is tough. Let alone trying to do it all while still managing to have fun, and enjoy life. Seth Rogen and his production crew found a gem in Lim, and I really hope they continue to do business together. And please, someone put Hsu in a leading role. – Katie Rentschler
Rating: 8.5/10
Joy Ride is in theaters now.
—–
Did you like this article? If so, consider visiting our YouTube channel, where we discuss the latest and greatest in pop culture news.
---
Trending Now