The 'Ted Lasso' Finale Leaves Everyone Where They Should Be
---
Your Ted Lasso fan theory was bad, and you should feel bad (which was the point).
*SPOILERS FROM HERE ON OUT*
The finale of Ted Lasso is now streaming on Apple TV, and it may have disappointed some of its audience. Roy (Brett Goldstein) and Keeley (Juno Temple) never (officially) reconciled. Coach Beard (Brendan Hunt) and Jane (Phoebe Walsh) tied the knot. And, the biggest surprise to many, Ted (Jason Sudeikis) and Rebecca (Hannah Waddingham) never got together. However, outside of some questionable character choices and a disjointed third season, the show stuck the landing it wanted to. It showed its audience that the expected romantic comedy fairytale endings aren't always the "happy" ending people deserve. Ted Lasso, first and foremost, has always been a show about self-discovery and growth through all stages of life, and the only person that can TRULY help you grow is yourself (with the help of your friends).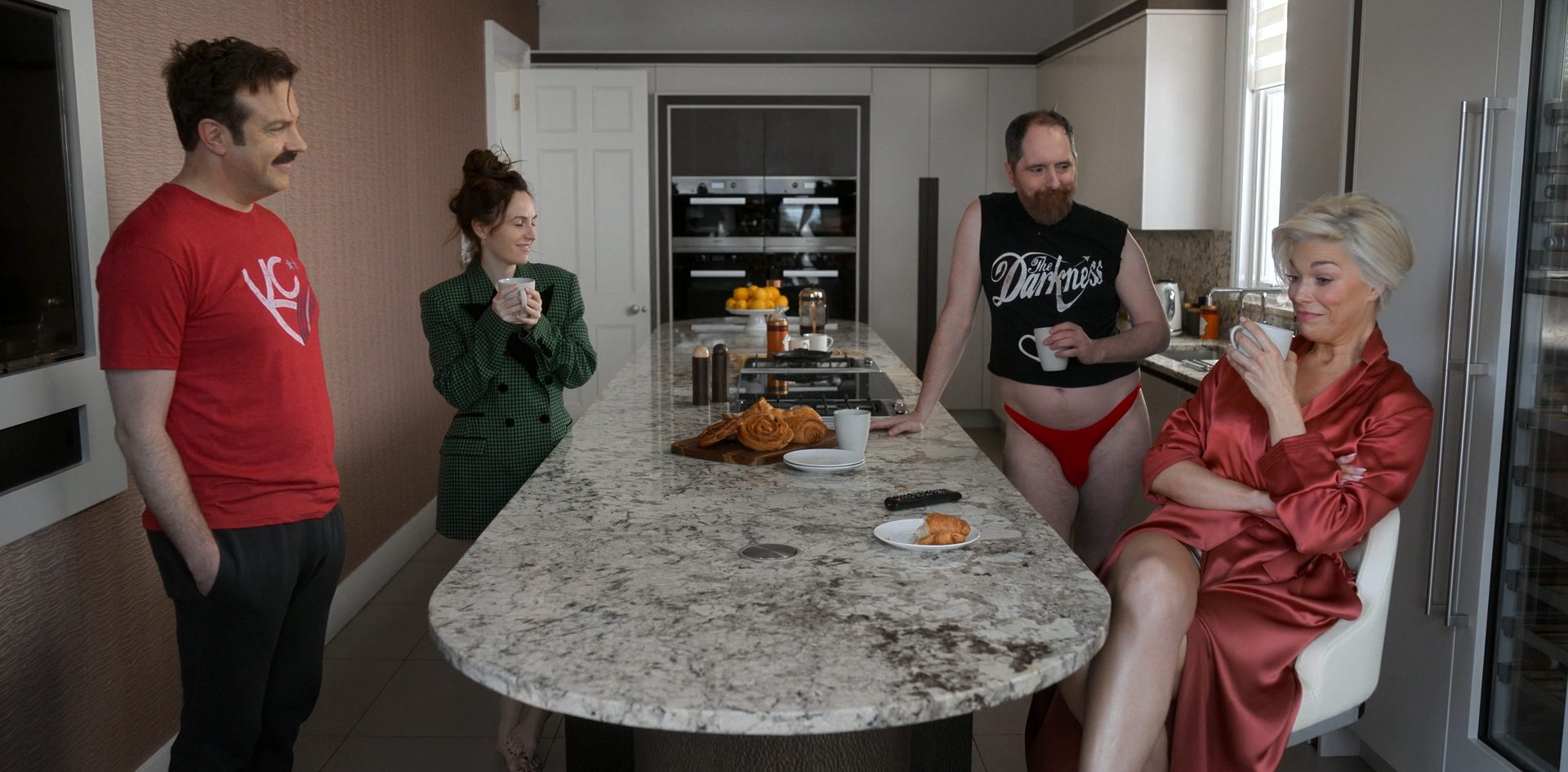 A Master Bait & Switch
The final episode of Ted Lasso begins with what you THINK you want; the morning after for Ted and Rebecca. This seemingly, flirtatious interaction is interrupted by Beard and Jane, revealing that the trio crashed at Rebecca's following a gas leak in their neighborhood.
For those who have wanted more for Ted/Rebecca these last three seasons, this probably felt intentionally cruel—showing what could be the beginning of their relationship, only to have it stripped away at the sight of Beard's tasteful banana hammock. But that's not the intention. This scene is meant to establish that a romantic future was never in the cards for these two. They are both consenting adults who have, more or less, been single the entire time they've known each other. These two have never been more to each other than platonic, kindhearted friends, and that's okay.
When we first meet Ted, he's on the cusp of a divorce. Not due to infidelity or betrayal but something that is far more terrifying: falling out of love. Ted has remained a pillar of hope and optimism throughout the series while also staring down his own demons. He needed to learn how to seek help for these chips in his armor and that there was nothing wrong with doing so. Ted's character arc for the past three seasons goes against the familiar trope of "learning to care about others." Ted cares too much about others to his detriment. His blow-up speech to his mother in the previous episode was the epiphany he needed. His mom, like him, has been selfless for the better part of his life, and she hasn't taken the proper steps to heal after the tragic loss of her husband/Ted's father. That resentment he feels towards his mom scares him that Henry may grow to resent him for abandoning him to coach at AFC. He is finally allowing himself to be selfish for the betterment of himself and his son.
Rebecca is the other side of the same coin. Unlike Ted, her marriage fell apart due to the infidelity and womanizing nature of her ex-husband Rupert (Anthony Head). Her only goal in the first episode was to destroy the only thing he's ever "loved," AFC Richmond. This starkly contrasts the Rebecca we see in season three, who works up the courage to go to a business lunch with Rupert, his pompous friends, and Edwin Akufo (Sam Richardson). Here we see her give an impassioned speech about how these football clubs are not truly "theirs" and that they must do right by their fans and communities. Rebecca is not only chastising these well-off dinosaurs but also remembering who she was not three years ago. Rebecca has found a purpose with AFC Richmond and its fans and learned to be selfless in protecting this found family. The Manic Pixie Dreamboat Captain aside, Rebecca has her whole life before her and can fully embrace the "Boss-Ass Bitch" her goddaughter Nora knows she is.
There would never be a happy ending for Ted and Rebecca getting together. For them to be together, one would have to give something up. Whether that's Ted staying in London and losing more time with his son or Rebecca going to America and losing that sense of self, she's found with AFC Richmond. This "happy" ending is counterintuitive to the very essence of Ted Lasso: evolution and growth. That's not to say the creatives behind the show couldn't have written a happy ending for the two of them. But that was never in the cards for this three-season arc and should have been much more apparent to the audience halfway through season three that it wouldn't happen.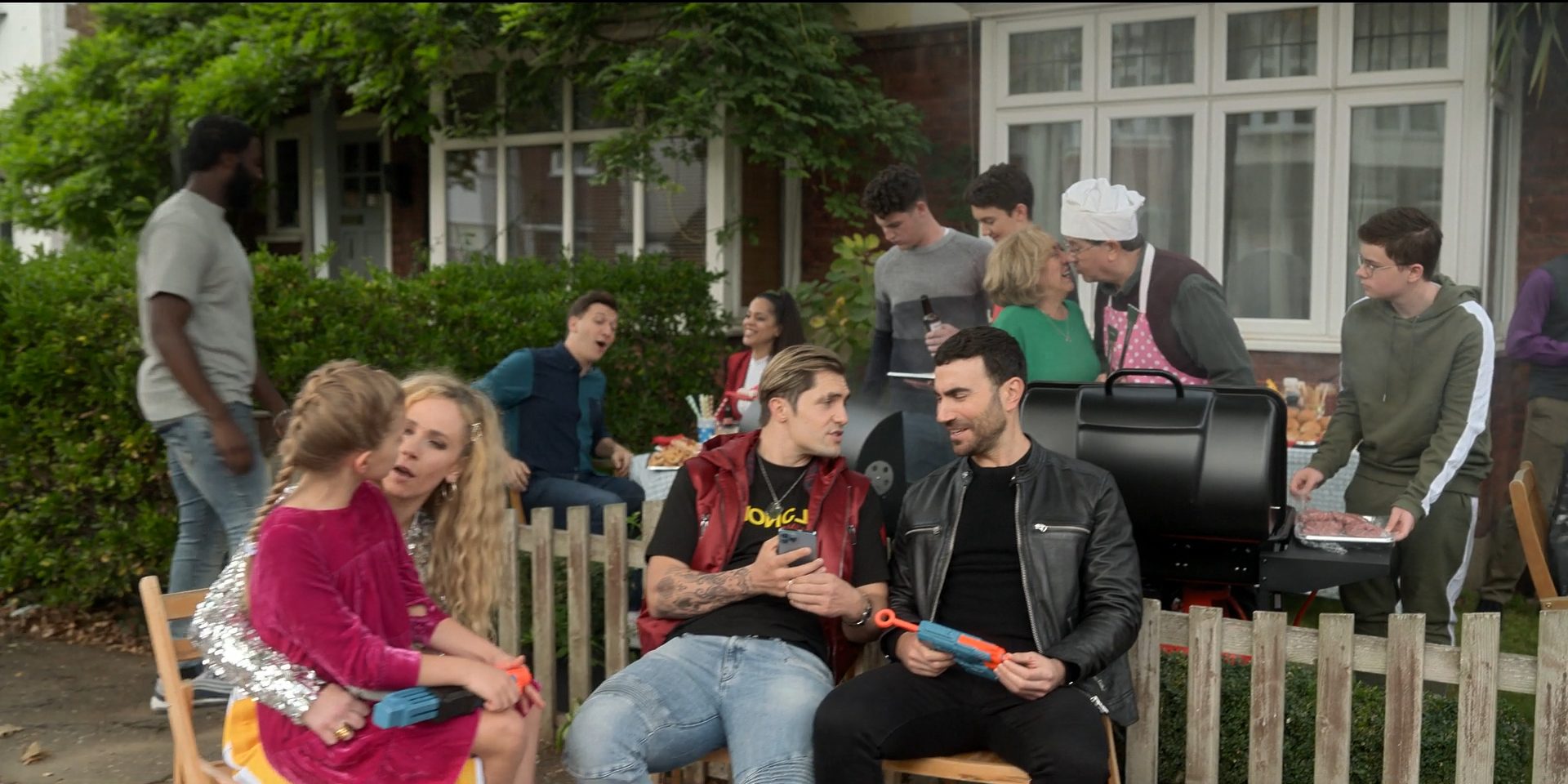 An Equilatarel Love Triangle
I want to start this section by saying the forced love triangle in the finale was insane in the worst way. Forcing Roy and Jamie Tartt (Phil Dunster) to fight over Keeley and give her the "opportunity" to decide between the two was a massive disservice to where the characters had progressed. But I digress.
Typically in romantic comedies, a love triangle usually consists of two rivals vying for the attention of a third party. These rivals tend to be diametrically opposed. A businessman and a farmhand, for example. It gives the audience a clear line in the sand between the two. But Ted Lasso took another approach. What if the two rivals are the same person, just in different stages in their life? Jamie, a superstar athlete just breaking into the sport, and Roy, a former superstar athlete on his way out. Ted Lasso took the idea of a traditional love triangle and gave each of the three active members a reason to need the other two.
Keeley, Jamie, and Roy have been intertwined since the pilot episode. Keeley and Jamie were an item while Roy and Jamie clashed in the locker room. From the get-go, the creators of Ted Lasso knew who these characters were and who they were destined to become. Jamie, always overcompensating for his upbringing; Keeley, searching for a voice and confidence; and Roy, seeking perfection without understanding what he was striving for. These three were able to grow through each other, even if it meant for them to get hurt along the way.
When Jamie and Keeley broke up, Keeley was directionless. She was able to start as the AFC Richmond publicist and get her foot wet in that world before moving on to starting her PR firm. These splits are common in romantic comedies, but it's rare to follow the douchey ex-boyfriend and watch as he grows into a better human too. Their eventual break-up forced Jamie to reconsider what he wanted from his life, personally and professionally. He found that he missed being a part of a team, even if it meant he would have to take a backseat from time to time. This self-actualizing eventually led him to want to be as good, if not better, than his new teammate, Zava (Maximilian Osinski). Where did that lead him? To Roy f*cking Kent.
Roy Kent went from one of the best players in the league to an assistant coach at AFC. His relationship with Keeley pushed him to realize that he couldn't give up football forever and that coaching would be the logical next step for him. Once at AFC Richmond, it seemed like he had it all. The only thing getting in his way was himself. Roy Kent is a man constantly getting in his way and struggling to forgive himself for the man he used to be. He was given an avenue to self-forgiveness when Jamie came to him asking for additional practice. Roy has viewed Jamie as a younger version of himself since the beginning and had an opportunity to set Jamie on a better path than he had for himself. This led to some of the season's most entertaining and heartfelt scenes.
Keeley had the most isolated storyline of the season but for good reason. She was defined in the first two seasons as "Jamie's girlfriend" or "Roy's girlfriend." Becoming the face of her PR firm was a step past her previous descriptions and on the path to becoming her own woman. Her story found her at odds with not 1 but 2 stand-ins for her ex-boyfriends. We meet her old supermodel friend Shandy Fine (Ambreen Razia), and the financier of her new firm, Jack Danvers (Jodi Balfour). Each of these women is an inversion of what she faced in seasons 1 and 2. Learning to move on from her old life when Shandy isn't ready to change and staying true to herself when Jack puts her business needs over Keeley's feelings and reputation. She could face these two obstacles because she had faced similar hurdles.
These individual relationships are crucial in where each character ends up. Realizing he wants to be the man Keeley deserves, Roy begins therapy with Dr. Sharon (Sarah Niles). Jamie, having grown and matured past his anger and resentment toward his father, seeks to make amends with him. Keeley is shown to have grown her PR firm, without the help of Jack's money, by running it her way. A love triangle built out of admiration and friendship left all three individuals in better positions than a stereotypical romantic love triangle.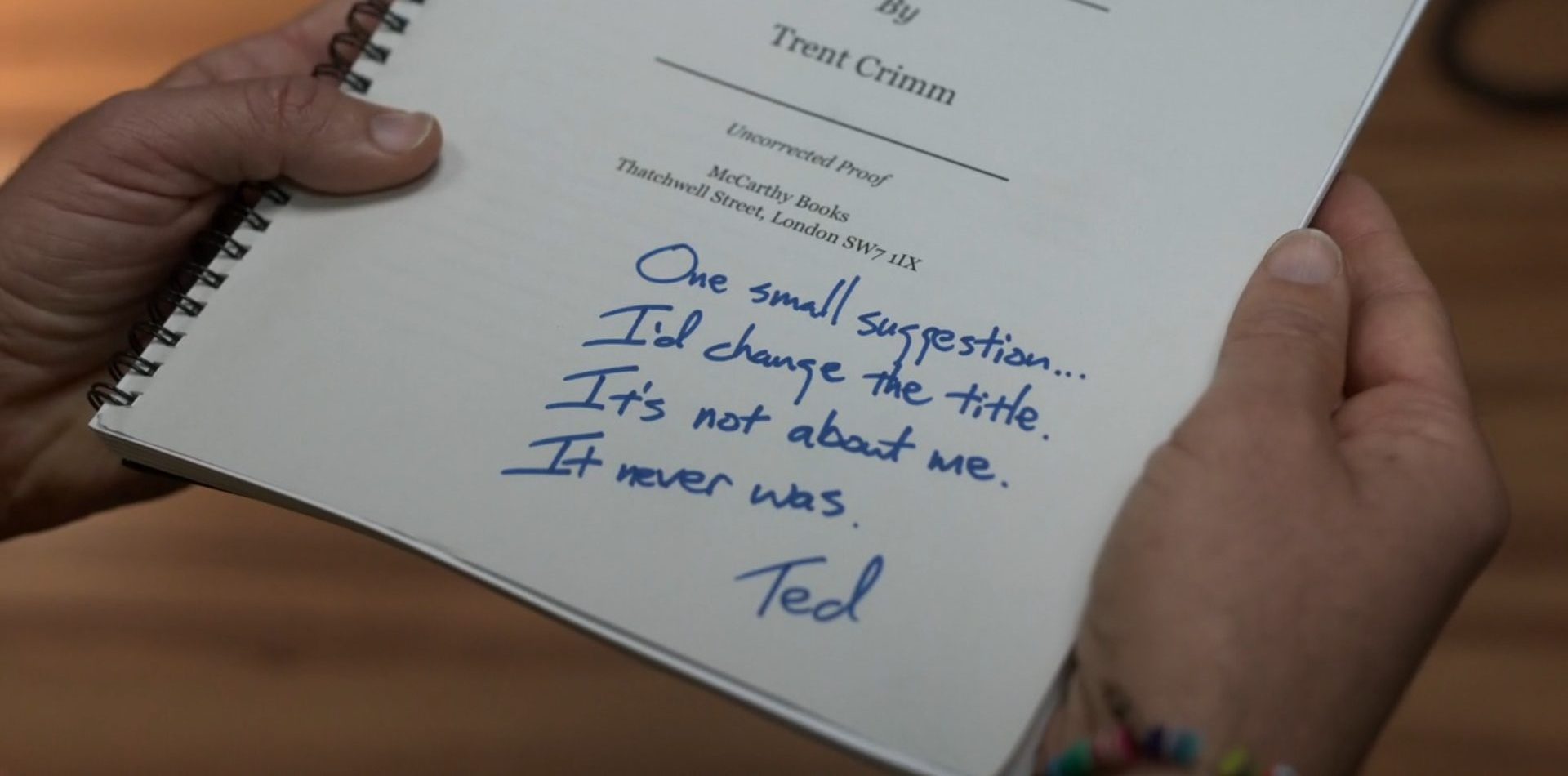 The Rom-Communist Manifesto
Ted Lasso has intentionally toyed with the idea of being another romantic comedy. A quirky guy in a failing marriage coming to London to coach a football team run by a powerful, recent divorcee. It's easy to punch down and write a show where the answer for each character's problem is a fun-loving significant other. Hell, the show repeatedly namedrops romantic comedies like "Sleepless in Seattle" and "Pretty Woman" to get the audience thinking of the tropes and expectations that come with a romantic comedy. But that's not the world of Ted Lasso.
Despite its larger-than-life premise, Ted Lasso does its best to stay grounded. This is a world where the psychological trauma of your father committing suicide sticks with you forever. A world where a talented athlete struggles to make real emotional connections because he grew up with an overbearing, abusive father. Where building your life back up after a nuclear divorce is complicated and messy. Where unintentional ambivalence towards a close friend will lead them to feel isolated and alone.
The show repeatedly brings up these films because it wants to acknowledge the expectations that come with a romantic comedy and force its audience to put these tropes and cliches to rest, whether it's the expectation that two people in similar life stages will fall madly in love. Or that when a "power couple" breaks up, it's terrible and should be viewed as such. Or even a ridiculously over-the-top toxic relationship working for the people part of it. Humans are all complex and unique, and expecting our entertainment to end with characters in predetermined boxes such as "single" or "in a relationship" is reductionist and limiting.
Ted Lasso isn't about finding a romantic partner to help you grow. It's about trusting the people you surround yourself with and trusting that they have your best intentions. True friendships are about learning from each other and helping your friends find the tools needed to grow. Surrounding yourself with people who prop you up and make you the best version of yourself is a damn good message. AFC Richmond nearly won the whole f*cking thing with this "Total Football" mindset. Who's to say it can't be beneficial in your own life? – Kellen Murack
Ted Lasso, in its entirety, is now streaming on Apple TV+. 
---
Trending Now