'Ted Lasso' Season 3 Episode 11 "Mom City" Review
---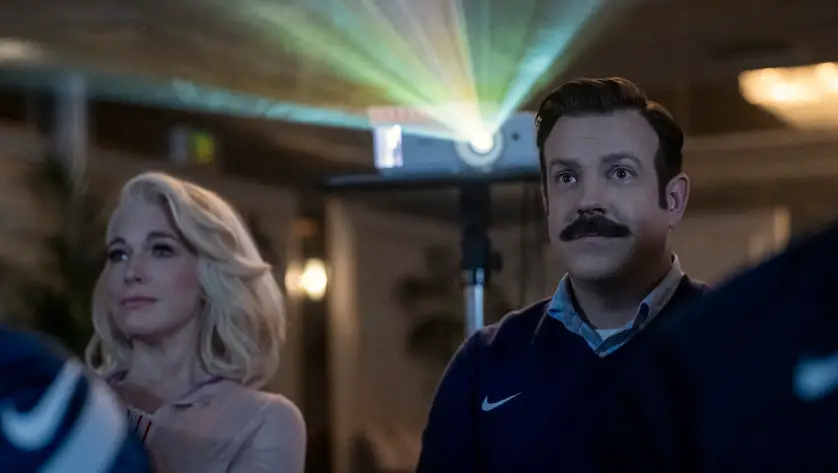 The following will contain spoilers for episode 11 of Apple TV's Ted Lasso. For a recap/review of last week's episode, click here. 
Historically, the penultimate episode serves as a sort of toss-up for a slam dunk alley-oop for a show's season finale. However, in the case of Ted Lasso, season 3 episode 11, titled Mom City, just might be the penultimate episode for a long-awaited series finale. And it certainly feels like it given the sheer high level of intense emotions on full display throughout the episode's 69-minute runtime. From the title of the episode, it's clear somebody's mom is going to be the focal point of the narrative. We've already had the pleasure of meeting Rebecca's eccentric mother and Nate's loving mother over the years. However, this time around we're introduced to Ted's mom played by the talented Becky Ann Baker. Right from the moment we meet her, it's clear she is an unexpected guest that throws Ted completely off.
From her quick-witted quips that match Ted's energy to her ability to brush things off like her son, it's clear the dynamic between mother and son has changed over the years. When we heard the story of Ted's father committing suicide in season two, many of us wondered how this traumatic event affected Ted's growth. However, that growth includes the relationships with those around him also affected by the tragedy.
Ted's relationship with his mother feels a bit waned throughout episode 11 of the current season and it's revealed why towards the end. However, before we get there, we get treated to seeing Ted's mom charm the players of AFC Richmond and hit it off with Rebecca in a memorable moment that includes her struggling to understand the accents around her. Wholesome content all around before the sandstorm of sadness that is well on its way.
While Ted deals with the sudden appearance of his estranged mother and struggles to figure out just why she's here, Jamie Tartt, the unbridled MVP of season three so far, is going through his own wave of emotions. He appears a bit broken during a press conference and in the locker room. So unlike himself that Roy immediately picks up on it and demands an explanation. In return, Jamie breaks down and cries in his hero-turned-enemy-turned-mentor's hairy arms. Jamie is emotionally distraught and it stems from, you guessed it, his relationship with his parents.
We've had the unmitigated displeasure of meeting Jamie's monster of a father a few times and it's been miserable every time. However, after years of dealing with his father's emotional and physical abuse, Jamie finds himself in a bit of an emotional limbo. He no longer cares about his dad nor does he care about what his dad thinks. With that in mind, this changes the entire way Jamie operates. When he no longer has his awful dad to wave a glorious middle finger at on his way to boatloads of success without him, what motivates him?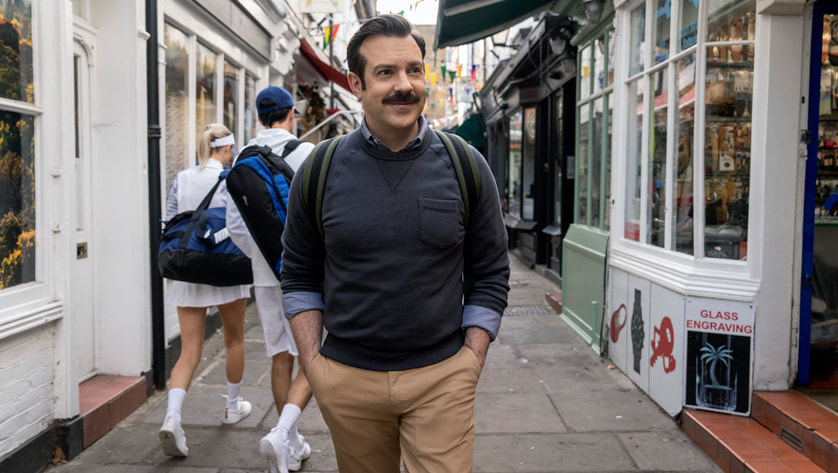 With all this in mind, AFC Richmond head to Manchester City to face their rivals once again. Following a few failed attempts to get through to him by a newly reunited Roy and Keeley (although it's not clear if they're fully back together or not), the dynamic duo trail Jamie as he sneaks out of the hotel and wanders about his hometown. Once discovered, Jamie welcomes the company and brings them back to his childhood home, complete with his own mother (a woman who Roy seems to have met before?). Turns out, Jamie is a total mama's boy and that's okay because it means while his dad is a flaming pile of garbage, he's had the kind of unconditional love one needs to survive this messed up world.
After Jamie vents to his mother, he receives a bit of reassurance from the woman who has always been in his corner. However, he interrupts a pretty vital conversation between Roy and Keeley in Jamie's bedroom (which features posters of both of them hung up on the wall) where they discuss Roy's desire to be more than friends. While this episode is clearly about closing old wounds, one is left wide open with the Roy/Keeley stans left to interpret their true intentions. For now.
During the longest game ever depicted in Ted Lasso, the mental anguish Jamie suffers from seems to manifest itself into a physical injury. Fortunately, the star player going down doesn't mean what it used to mean for the Greyhounds with Colin scoring a goal for the good guys and Van Damme being absolutely unstoppable in the goal. While it's a wholesome and touching story of forgiveness that gets Jamie back on the field, it is notable that the team has grown on the pitch just as much as it has off of it.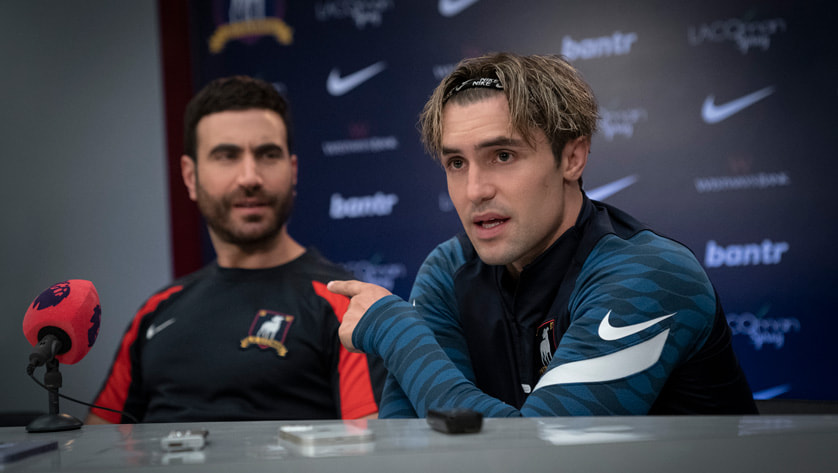 Episode 11 begins with one of the most wholesome moments in the show's history. Isaac, Colin, and the Greyhounds' kitman Will walk into the Taste of Athens to meet its newest waiter: Nathan Shelley. Nathan's story this season, and this episode specifically, is a path to redemption. And these three unexpected faces being the ones to begin the final steps towards forgiveness is a lovely surprise to be sure. Nate was awful to Colin. Nate was awful to Will. Nate was the victim of early-on locker room bullying from Isaac. Now to see these three work together to put all that behind them and ask Nate to come back home to Richmond is refreshing development and makes for a feel-good moment.
However, while all the players have voted to bring Nate back to Richmond, the coaches are not on the same page. Roy welcomes Nate back for his knowledge of the game. Beard hates the idea and seemingly hates Nate for his betrayal in season two. While Nate's journey throughout the episode sees him receiving unconditional support from his absolutely incredible girlfriend Jade, who gets him fired from Taste of Athens so he can get back to doing what he loves, it is the teary-eyed exchange between him and Beard that will truly break the hearts of viewers.
Not a lot is known about Beard besides the fact that he is truly loyal to his best friend Ted. However, on Nate's doorstep with tears building in his eyes, Beard bares his soul for the world to see. Following the theme of forgiveness seen throughout this season, and this episode specifically, Beard offers Nathan a job back at Richmond and, more importantly, offers him his forgiveness. But not before detailing a devastating story of Beard getting incarcerated and leaning on Ted for years after it while getting back on his feet. This story not only furthers the bond held by Ted and Beard but it also paves a path for the second chance of a lifetime with The Wonder Kid coming back home. Brendan Hunt is nothing short of phenomenal in this scene. Look for fans to go wild for this Beard/Nate interaction for years to come.
Finally, the strange dynamic between Ted and his mother comes to a head in the final moments of episode 11. Like a tennis match, Ted bounces back and forth between tossing "thank you" and "f*** you", Ted lets his mother know exactly the kind of pain he's been suffering since the death of his father. The moment truly feels full circle for Ted, who used to do the same things he watched his mother do, hide the emotion and keep moving without talking about it. Jason Sudeikis is synonymous with Best Actor awards at this point and this ending just might have secured even more victories in the coming months.
Mom City is everything and more. It carries a huge amount of emotional weight but also lines things up perfectly for a satisfying conclusion to one of my favorite shows of all time. The connections explored ebb and flow but everyone comes back together with those they trust wholeheartedly. Next week will see the end of an era and it will be hard to let go. – Christian Hubbard 
Rating: 10/10
Ted Lasso Season 3 Episode 11 is now streaming on Apple TV+. 
---
Trending Now